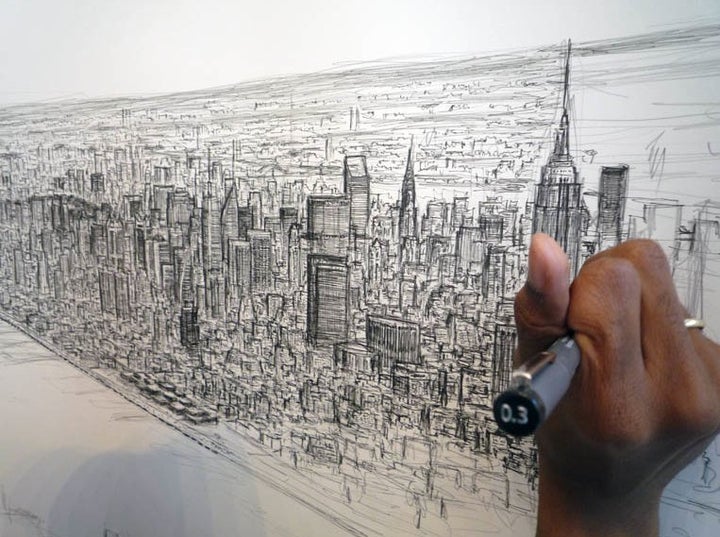 Stephen Wiltshire was mute when he was diagnosed with severe autism at the age of three. He began communicating through his drawings after being sent to Queensmill School in London, and with the support of his special-needs teachers, gradually learned to speak.
It was during those school years that they discovered Stephen's special talent, when he drew the ornate Albert Hall following a class field trip -- without the aid of a photograph. Wiltshire has the uncanny ability to draw and paint detailed landscapes and cityscapes entirely from memory.
Wiltshire can look at the subject of his drawing once and reproduce it accurately with photographic detail, down to the exact number of columns or windows on a building. He memorizes their shapes, locations and the architectural flourishes, and will do so with New York City after a brief helicopter ride.
Having tackled the iconic cities of Tokyo, Rome, Hong Kong, Frankfurt, Madrid, Dubai, Jerusalem and London, Wiltshire is more than ready to take on The Big Apple and has already begun drawing the cityscape in pen.
Watch the live-stream of Stephen drawing the panoramic cityscape of New York here.
Art and Autism: The link between autism and the arts has been known for many years, with art therapy being a beneficial treatment for individuals with autism and related disabilities. The arts can help autistic children express themselves and interact with others, as it did in Stephen's case.
The Stephen Wiltshire Gallery has prints available here. Profits from sales are donated towards childrens' charities, art education organizations and The Stephen Wiltshire Trust Fund where Stephen funds his ongoing studies from.
Related
Popular in the Community