October's new car and truck sales numbers are in, and they're worse than anyone expected -- at least publicly.
Sales at General Motors, Ford and Chrysler plunged in October, their weakest performance in a quarter century.
GM plummeted 45.1% from a year earlier. Ford sold 132,248 cars and trucks, down 32%. Toyota outsold Ford on its way to their own 23% drop. Mercedes and Honda were down more than 24%, while Nissan, Hyundai and Chrysler were all down at least 31%.
Ford's US brands -- Ford, Lincoln, and Mercury -- fell 29.2%. Volvo plunged 52.1%.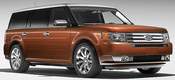 (Ford's 2009 Flex ia a good-looking, well-equipped car, but it has a fatal flaw, which you'll find out about below).
Of the four biggest automakers in the United States, only two have reported monthly sales increases this year: Toyota in April and GM in January.
For the second time in just two months, industry sales fell below 1 million. It was the US market's 12th-straight monthly decline and the second straight of more than 25%.
US auto sales have averaged 16.8 million this decade through 2007. This year 12 million might be a realistic goal. It's like 25% of car and truck sales have just disappeared.
Americans should know that only Barack Obama has offered to meet with the heads of the Detroit Three and the UAW immediately after his election, and that he still remains in favor of the original $50 billion bailout which Detroit's car-makers have asked for, not the $25 billion which the Bush White House (and, not surprisingly, John McCain) has said should be "enough."
Obama has consistently shown his support for an American car-making industry, a new, modern and green industry able to build the kinds of cars and trucks Americans, and people worldwide, will want to buy. Without the $50 billion, Obama thinks the Detroit Three won't be able to reconstruct their factories to make them able to develop and use the new technologies needed to build true 21st century vehicles.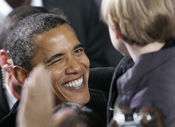 (Barack Obama winks, too, like Sarah Palin; The difference is Obama does it at appropriate times, and he knows what's appropriate for the Detroit Three for them to succeed in the world market).
Car- and engine-building factories cost about $1 billion each to build or re-build from the inside out -- and there are a lot more than 25 of those in the US run by the Detroit Three.
There are even more than 50 of them, but starting this massive industrial project, perhaps the biggest since the days of the WPA, the Tennessee Valley Authority and the Manhattan Project, requires America get started on it only if we're as serious as we need to be to make the new, green future come to pass. And that's going to cost as much money as Washington can afford to spend. We're not going to be able to fake our way out of this one.
Here's a quick run-down on the somber numbers, with help from our friends at industry journal Automotive News:
Overall, for the entire country and all dealerships, about 20,000, for the full ten months of 2008, sales are 11,604,769, compared with 13,583,993 sales the first ten months of 2007, a drop of 14.6%.
Comparing last month to October, 2007, sales were down overall 31.9%, a difference of 838,952 vehicles sold last month compared to 1,232,113 cars and trucks sold in October a year ago.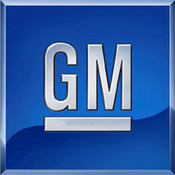 To spur sales, GM said today it is starting its annual Red Tag sale early this year. The event, which typically begins just before Thanksgiving weekend, will start tomorrow and run until Jan. 5. Under the plan, GM will offer as much as $7,250 in customer cash on some vehicles. Dealers also said the automaker has launched a pair of direct-mail incentive programs.
BMW's Mini, up 56%, and Volkswagen's Audi, which advanced less than 1%, were among the few makes to gain for the month. The VW brand dropped 7.9%.
Porsche, Isuzu, and Suzuki fell more than 45%.
Toyota's decline was paced by its Lexus unit, down 35%. The Toyota brand retained its position as the nation's best-selling brand, ahead of Ford and Chevrolet.


Jim Tidwell Ford in Atlanta sold 132 new and used vehicles in October, said Blake Dobbs, new-car sales manager. At the start of the year, the monthly average was about 250.
A 31% decline in average US gasoline prices during the month helped trucks, he said. But one new Ford vehicle, the Flex, has been a disappointment, said Dobbs. (End of Automotive News info).
Now here's where the Detroit Three could learn a big lesson: We've said before that Ford's Flex was a good product, great-looking and with all the right features, but it's saddled with big and thirsty 3.5 liter V6 engine which the EPA says offers mileage figures of only 16 in-town and 22 on the highway.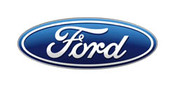 Add that to the fact that Flex weighs-in at 4,640 pounds, and you've got a combination which will scare away a lot of potential buyers.
Gas prices are on a downward trend, but Americans have figured out that they could skyrocket at a moment's notice (like when OPEC cuts production, as they have announced they will, and soon). Buyers are demanding vehicles with the looks and features of Flex - but only if they get much better mileage.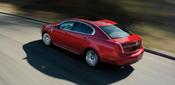 (Ford's 2009 Lincoln MKS uses the company's EcoBoost system, turbocharging combined with direct injection, for extra power - and better mileage; Why not try those fetaures on the Flex?).
Ford is making a lot of noise of their new "EcoBoost" system, which combines turbocharging and direct injection on an engine's top end for their 2009 MKS luxo-cruiser. Why not bolt a turbo on Flex and see if that helps its mpg? Just a suggestion...
So where's the big lesson? An over-4,600 pound car with a big V6 which gets, on average, less than 20 miles per gallon is not a car that America needs right now. And Americans are voting on Flex with their wallets, and so far, the verdict is "no, thanks." Barack Obama is the only candidate who understands that. He gets it.

Popular in the Community