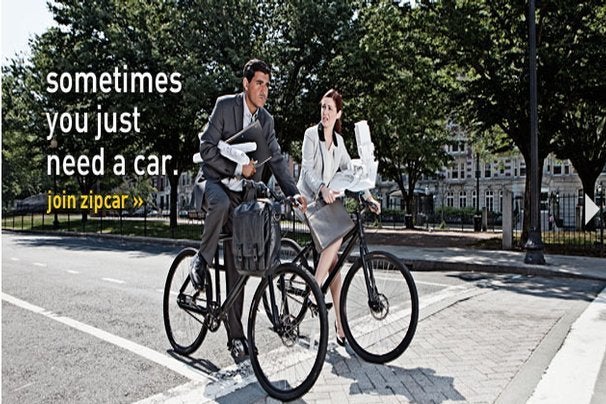 In the early 2000s, car sharing was a small-time counter-cultural service offered by community organizations in liberal and university markets. You heard about bigger companies tip-toeing around the market. Enterprise quietly started renting its cars by the hour to local residents in 2007.

Then suddenly, in the space of a few weeks, major auto companies were all over the market, announcing their entry in to the market.

Ford announced it would supply 1,000 Focus cars to ZipCar, hoping ZipCar's young customers would eventually buy the cars. GM partnered with start-up RelayRides to allow GM car owners to share their cars using a cell-phone app and GM's pre-installed OnStar system to unlock cars.

My favorite headline appeared in the New York Times on the 10th anniversary of 9/11. A small article in the "In Transit" section reported on just the kind of anti-consumerist shift that some hoped the attack would provoke: "Hertz on Demand Enters the Car-Sharing Race."

As green pundits bemoan our consumer society, the culture is quietly morphing to slow the amount we buy. We can first thank the recession. An article in the Wall Street Journal covers a new phenomenon of repairing appliances rather than replacing them and how businesses are adding help lines to aid home repairs. Sales of smaller cars surged in April due to the high cost of gas, which spurs sales of hybrids and electric cars, which slows the amount of gas we consume. Houses are built smaller. Young people value having less stuff.

Many of us, young and old, are realizing that ownership is a time-sink. Unless you are a natural mechanic, carpenter, electrician, plumber, techie and tinkerer, taking care of things is a largely unpleasant task. And if you think hard about this new way of thinking about possessions, you just might see a whole raft of new business opportunities.

And what better example than car sharing? I first heard about the concept when a board member of City CarShare (CCS), a not-for-profit start-up in San Francisco, asked me to help them. Funded by state and local grants and given free space to park its cars, CSS was a community service organization whose purpose was to reduce traffic in San Francisco and reduce the growing parking problem. CCS was founded in 2001, when a raft of city-specific car sharing services were sprouting up in small- and mid-sized cities.

At a time when CCS was losing members due to cost and operational problems, its primary positioning was the "strong sense of community" it shared with its members. How could it beat back ZipCar, the aggressive start-up intending to steal the market with lower rates, an array of cars including hip luxury models, better online app design and a more streamlined process?

In the end, there was room for both. CSS is still flourishing in San Francisco and the surrounding Bay Area. CCS' latest coup was accomplished in partnership with City government: On-street parking that will provide CSS cars downtown. ZipCar is still in San Francisco, but has also expanded way beyond. After a successful IPO earlier this year, the company now has 600,000 members in the US, UK and Canada.

But as exciting as the evolution from public to private "self-sustaining" car-sharing was, it is positively thrilling to see the big players jump in -- in spite of the fact that they will lose business to this new industry. The research firm Frost and Sullivan estimates that that every ZipCar replaces 15-20 autos.

So why is Detroit embracing this trend? Maybe the bailout made them more willing to try new ideas. Or the Prius encouraged them to jump on new markets. Or possibly they heard that corporate fleet managers have approached ZipCar.

Or maybe it really is a change in the culture. ZipCar now has locations in Laurel Heights, the shopping district for San Francisco's posh Pacific Heights, and in New York's Upper East Side, home to Gossip Girl. Hertz claims one of its advantages is that their cars are not branded with car sharing labels the way that ZipCars are. And maybe that will work better for the matrons of Laurel Heights. But for the new generation, ZipCar may be the new iconic car brand.
Related
Popular in the Community