For many in America, the sound of a revving engine is like the sound of sweet nothings in your ear. The mere glimpse of shiny chrome can't help but spark a smile and fond memories. It seems Americans have had a love affair with their automobiles ever since they started rolling off the assembly lines.
The earliest motorized vehicles were developed in Europe, but they were expensive, and factories produced less than 1,000 cars a year. Henry Ford is credited with revolutionizing the automobile manufacturing industry in the United States with the development and implementation of mass production and assembly line techniques culminating with the Ford Model T, first sold in 1908. Two decades later when production of the Model T stopped, about 15 million units had been sold and America's love affair with automobiles was a reality. Ford's mass production techniques became the standard for American manufacturers and the "Big Three"--Ford, General Motors, and Chrysler--emerged as the world's leading car manufacturers.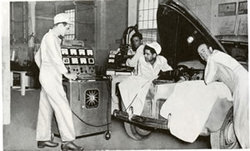 Automobiles and the transportation industry played a major role in the early growth and prosperity of the town where I now reside and work. In 1911, when one of the first cars was delivered to Okmulgee, Oklahoma, from Pittsburgh, Pennsylvania, it was considered an oddity. Many believed the automobile would never replace the horse, but less than a decade later, cars had become the main mode of transportation throughout this bustling city. Downtown Okmulgee even had its own Model T showroom ("Images of America: Okmulgee" by Beth Kieffer). The rapid upsurge of car ownership in Okmulgee was fueled by the oil boom of the early 20th century that brought tremendous wealth and vitality to this community. But the automobile became more than just a status symbol; it became an American dream--a symbol of independence and freedom.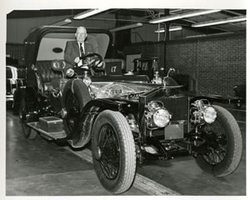 Public demand to maintain and repair their automobiles was so great, when Oklahoma State University Institute of Technology (OSUIT) opened in Okmulgee in 1946, automotive mechanics and auto body repair programs were some of the earliest training programs offered.
During the first four years of the school's operations, the automotive technician training programs expanded and resided in several buildings on campus. Donations of equipment and vehicles worth thousands of dollars began pouring in, and that industry support continues to this day ("OSU at Okmulgee" by Larry D. Davis). Auto repair was becoming an industry unto itself as more and more Americans were buying cars and growing dependent on their vehicles. The automobile was quickly becoming a mainstay in American life.
Style over substance began to dominate the industry post-World War II with American cars becoming larger, heavier, more expensive and less safe. In the 1960s and '70s, American manufacturers struggled as federal standards related to safety features and pollution emissions as well as higher gas prices caused buyers to turn to international manufacturers who were making smaller, more efficient vehicles in Japan, which would become the leading automobile producer in 1980.
In 2008, just as Ford was celebrating the 100th anniversary of the Model T, the U.S. automobile industry was in the midst of the Great Recession. The seasonally adjusted annual sales (SAAS) of cars and trucks dropped from a projected 17 million in 2006 to just under 11 million in 2008 according to the Economic Policy Institute's (EPI) report "Decline and Resurgence of the U.S. Auto Industry." But by 2012, the U.S. auto industry was once again posting profits, and with 250 million vehicles on the road, Americans' need for cars and trucks isn't going away and neither is the need for trained technicians to design, maintain and repair these vehicles.
In a report funded by the U.S. Department of Labor (Driving Workforce Change) that speaks to the changes happening in the auto industry, personal passenger vehicles are now the most high-tech purchases households make, and cars today contain more computer chips and lines of code than the first vehicles launched into space. To support this growth of automobile electronics and software, the industry will demand more electrical and electronic engineers as well as technicians with expertise in radio frequency, computer science, software engineering and cyber security. These areas of specialized technical training are fields where job growth is projected, and OSU Institute of Technology and other schools like it are trying to help fill this automotive skills gap by offering programs and training in these highly-skilled fields.
Where many of the most challenging jobs on an assembly line are now entirely handled by robotic automation, software and computer operations are now pervasive in all aspects of a vehicle's operation. According to the EPI report, General Motors increased its staff of software engineers from 1,400 to 8,000.
Just as the country has evolved to embrace and rely on technology, so has the U.S. auto industry. While it was once the archetype for mass production and assembly-line efficiency, it is now changing into a knowledge-based, technology-driven industry that will likely continue to transform manufacturing into the next 100 years.

Images: (right inset) 1948 - Auto Mechanics class at OSUIT; (left inset) 1969 - OSUIT President Covelle sitting in an early model Rolls Royce before an auto show on campus.
Calling all HuffPost superfans!
Sign up for membership to become a founding member and help shape HuffPost's next chapter