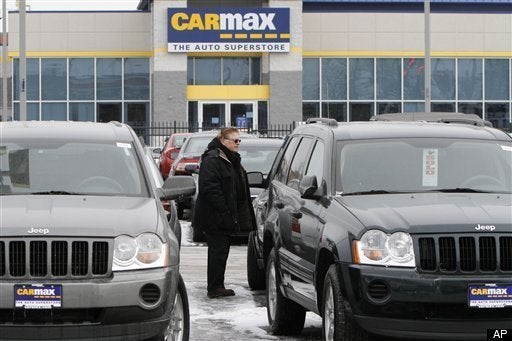 For automakers, December delivered 2010's strongest monthly sales totals, invigorating industry hopes for a more prosperous year to come.
Auto sales for all of last year hit 11.6 million, a gain of more than 11 percent compared to 2009, when sales reached their lowest level in three decades. Most encouraging for the industry, an annualized rate based on December's sales figures would work out to more than 13 million vehicles sold.
"We're in a really healthy place for profitability and for future growth," said Dan Montague of Autofacts, the forecasting unit of PricewaterhouseCoopers, who predicted 12.5 million units of sales in the next year, a modest increase he calls "another stair-step up."
The fortunes of the auto industry tend to be a useful gauge of broader economic health and job opportunities. When times are good, Americans have been inclined to trade in older cars for late-generation models. When the economy is weak and people are worried about paychecks, new car purchases tend to be deferred, spreading pain across communities in the Midwest and southern states, where making cars is a major source of jobs.
Economists portray the recent uptick in auto sales as a reflection of a generally more positive trend in consumer spending during the holiday season. It also appears to reflect the fact that, for many households, the impetus to buy a car has been set aside so long amid the Great Recession that the appetite for new vehicles is now strong.
"There's been a buildup in pent-up demand," said Sophia Koropeckyj, managing director at Moody's Analytics. "Consumer households now are increasingly in need of replacing their vehicles after several years of not replacing them."
But many factors still weigh on those households in the United States, constraining likely growth for the auto industry. The unemployment rate remains near double digits, and tighter credit conditions may prevent even motivated carbuyers from driving out of dealerships in new vehicles.
"The big question facing the industry is just how quick or aggressive is this recovery." said Ed Kim, director of industry analysis at AutoPacific, a marketing research and consultancy firm for the automobile industry. "We've had some very, very real problems of unemployment being well over 9 percent, and that's not going to change overnight. If you don't have a job, you can't buy a car. It's simple as that."
The 2011 auto market is a slimmed-down model of its pre-recession self. Average annual sales of 16.8 million dating from the 2000-'07 period seem like distant memories. Still, many economists stressed that those numbers were inflated by loose credit and the real-estate bubble it nurtured -- neither of which is expected to return anytime soon.
Gone are the days in which average homeowners could turn rising real-estate values into cash in hand through home-equity lines of credit and use that money to buy new cars. Gone is the mindset that Americans could perpetually borrow and refinance without ever confronting a day of reckoning.
Today's auto industry has been forced to try and produce more value with fewer people. Thrift and the elimination of unprofitable enterprises have governed.
"Deep restructuring has helped the auto industry become a leaner, more agile operating entity," said Montague.
This refashioning has been wrenching for communities from upper Michigan to South Carolina, leaving a trail of of layoffs and plant closures in its wake. Yet analysts said the pain has granted automakers a survivalist savvy that makes those that remain more competitive going forward, raising the prospect that growth will eventually translate into meaningful job creation.
"The domestic vehicle industry is in a very different place," said Koropeckyj. "It's much smaller and more profitable and being run in a much smarter way."
Breaking the legacy of century-long domination by the Big Three -- GM, Ford and Chrysler -- the field of automakers controlling 5 percent of market share or more looks like it will broaden to seven, according to the Wall Street Journal, letting Honda, Nissan, Hyundai and Toyota into its ranks.
But for Toyota, the past year has been distinctly grim. Two separate recalls in 2009 and 2010 affected over 6 million vehicles afflicted with dangerous acceleration problems, resulting in a public-relations disaster. Toyota is the only major automaker reporting both monthly and yearly sales decreases, with a 0.4 percent decline from last year.
Ford has capitalized on Toyota's misfortune. Posting a 19 percent increase in sales from 2009, the largest increase for any full-line automaker, Ford has seized back the No. 2 place in sales from the Japanese giant for the first time since 2006. The shift restores the company to a position it had held for 76 years before Toyota bumped it down.
"While there is increased parity in terms of market share across the board, everyone's vying for a smaller piece of a smaller pie," said Montague. "The domestic industry is doing all the right things."

Related
Popular in the Community