The United Auto Workers announced Friday that it would expand its strike at Ford and General Motors to include another 7,000 workers, increasing the total number of strikers at the "Big Three" automakers to 25,000.
UAW President Shawn Fain told members in a Facebook Live broadcast that the union had "momentum" in discussions with Stellantis, so it would not be calling on additional workers there to walk out at this time. Stellantis is the owner of the Dodge and Jeep brands.
Meanwhile, Fain said negotiations had been less encouraging at the other two companies.
"Sadly, despite our willingness to bargain, Ford and GM have refused to make meaningful progress," he said.
Fain said workers at Ford's Chicago Assembly Plant in Illinois and GM's Lansing Delta Assembly facility in Michigan would be walking out at noon Friday, hitting SUV production at both companies. The Chicago facility produces the Ford Explorer and Lincoln Navigator, while the Lansing Delta facility produces the Chevy Traverse and Buick Enclave.
The UAW began its historic strike two weeks ago, calling a concurrent work stoppage at all of the Big Three for the first time in the union's history. But rather than strike every unionized facility at once, the union has walked out at only targeted sites while reserving the right to escalate.
Last week, the union expanded the strike at only GM and Stellantis parts distribution centers, citing progress at Ford.
Fain cautioned Friday that talks had not "broken down" and the union was confident it could still secure deals at all three companies.
Ford said in a brief statement Thursday night that "talks continue" with union leadership.
"Our focus remains on working diligently with the UAW to reach a deal that rewards our workforce and enables Ford to invest in a vibrant and growing future," the company said.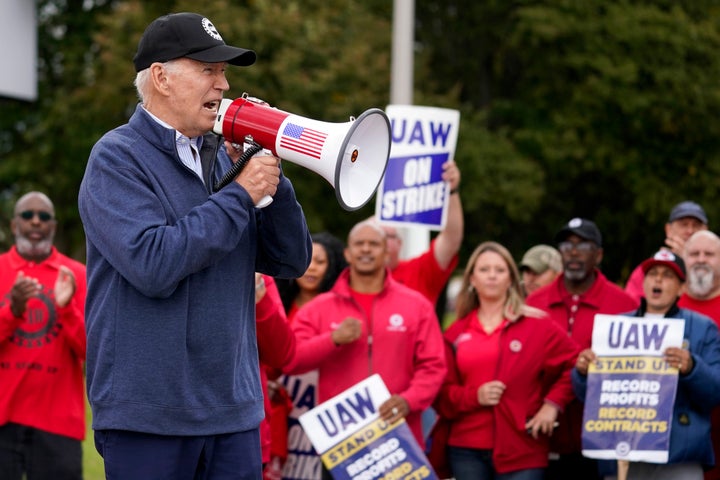 As HuffPost previously reported, workers are expecting to make significant gains in new four-year contracts after making major concessions in previous deals.
The UAW is calling for big double-digit raises, the restoration of cost-of-living increases, better profit-sharing formulas and protections against plant closures, among other demands. The union also wants to eliminate the "two-tier" system inside factories whereby longer-term employees are on a higher payscale than newer workers.
The auto companies have said giving the union everything it's proposed would wipe out their profits and hinder their pivot to electric-vehicle production. Profits at the Big Three have increased 92% between 2013 and 2022, for a combined total of $250 billion, according to the Economic Policy Institute.
The union has said that "record profits" call for "record contracts" at the companies ― a call echoed this week by President Joe Biden himself. Biden stood on a GM picket line in Wayne, Michigan, on Tuesday, in an unprecedented show of support for striking workers by a sitting president.
Fain credited members for making the president's visit happen.
"The most powerful man in the world showed up for one reason only: because our solidarity is the most powerful force in the world," Fain said. "When we stand together united…there's nothing we can't do."
This is a developing story. Please check back for updates.
Support HuffPost
The Stakes Have Never Been Higher
Popular in the Community