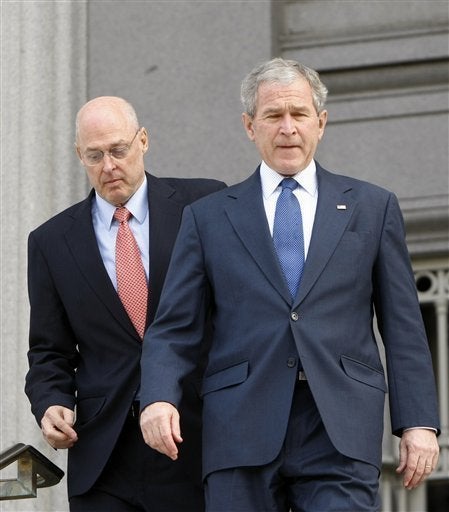 President Bush addressed the nation this morning about Chrysler and GM, announcing a bridge loan auto deal that has been under discussion ever since the Senate shot down the previous automaker bailout proposal.
General Motors Corp. and Chrysler LLC will get $13.4 billion in initial government loans to keep operating in exchange for a restructuring under a rescue plan announced by President George W. Bush.

The money will be drawn from the Troubled Asset Relief Program and the automakers will get an additional $4 billion from the fund in February for a total of $17.4 billion in assistance, according to a statement from the Bush administration. The funds would allow GM and Chrysler to keep operating until March.
President Bush said that chapter 11 "is unlikely to work at this time." He later added that the short-term loans are designed to either allow the auto companies to prove that they can become viable or to prepare themselves legally and organizationally for an orderly chapter 11 bankruptcy.
The aid package being spearheaded by the White House would demand that both automakers restructure by seeking new concessions from unions and creditors, two people briefed on the talks said.

Both GM and Chrysler have been forced to idle plants and lay off thousands of workers across North America as they try to shore up cash and have warned they could face bankruptcy without federal assistance.
CONDITIONS OF THE AUTO DEAL
CNBC and Bloomberg have reported on some details of the deal that Bush announced:
*The loan to the automakers is intended to keep them afloat through February
*Automakers must show positive net present value by March 31 -- this is an element of what has been called an "orderly bankruptcy" plan -- or loans must be repaid
*Companies must accept executive compensation limits
*Labor costs much be competitive with those of foreign automakers working in the US
*There will be no "car czar," but the deal will be overseen by a presidential designee, in this case Treasury Secretary Henry Paulson
*Government officials will watch the companies' financial statements and can veto any transaction in excess of $100 million
*The deal can be renegotiated by the Obama administration once Obama is in office, prompting commentators to call it a "Bridge to Obama" loan
REAL LIFE. REAL NEWS. REAL VOICES.
Help us tell more of the stories that matter from voices that too often remain unheard.