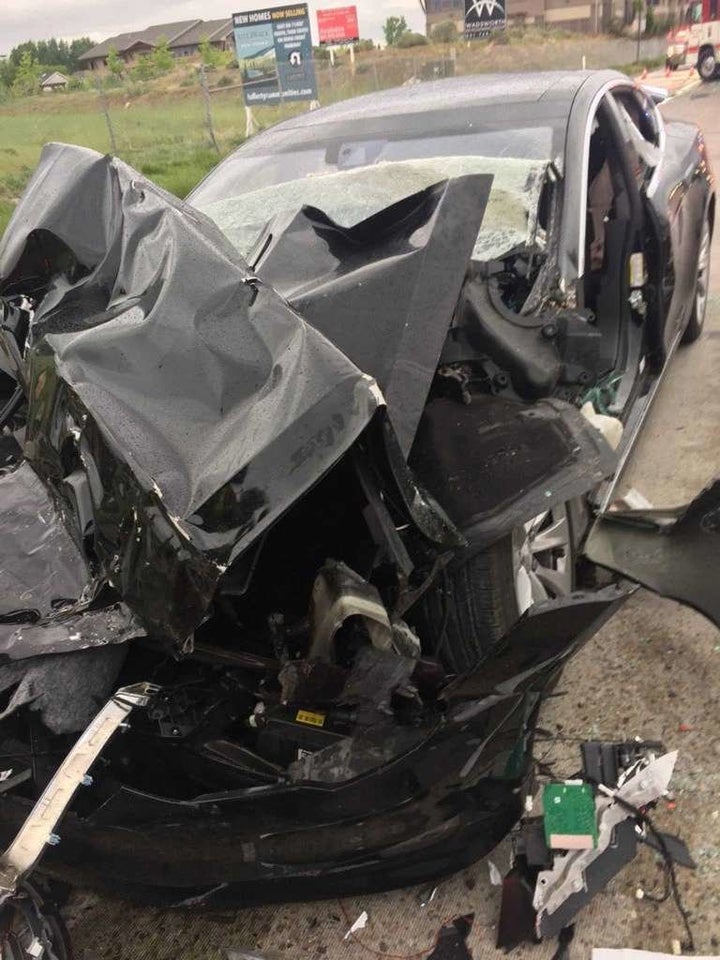 The Tesla Autopilot system was engaged when a Tesla Model S sedan was crushed as it rammed into a stopped truck at 60 mph in Utah last week, the driver has told police. The driver luckily escaped with only a broken foot, though the car suffered extensive damage.
When interviewed by police, the Tesla's 28-year-old driver "said that she had been using the 'Autopilot' feature," and was looking at her phone shortly before the accident in South Jordan, near Salt Lake City, according to a statement Monday from South Jordan Police Sgt. Sam Winkler.
Winkler told The Deseret News that the diver, who hasn't been identified by police, had entered an address into the car's GPS and was looking on her phone for possible alternate routes. She "looked up just as the accident was about to happen," he said.
Tesla CEO Elon Musk responded to the accident in a tweet Monday, saying that it was amazing the driver wasn't more seriously injured. He also complained that the crash was being unfairly covered by the media, which he said often overly focuses on the Autopilot system while ignoring regular fatal highway accidents.
But Musk also admitted that the system "certainly needs to be better."
The semi-autonomous Tesla Autopilot system is supposed to maintain certain speeds, automatically brake when necessary and even change lanes. But Tesla emphasizes that "every driver is responsible for remaining alert and active when using Autopilot, and must be prepared to take action at any time."
There was no indication that brakes were used when the car crashed. "Based upon witness information, the driver of the Tesla did not brake or take any action to avoid the collision," Winkler said in his statement.
The Tesla driver could face charges for failing to maintain the safety of her car, which would be a traffic infraction, Winkler told The Associated Press.
Police are "currently working with technicians from Tesla to gather and review data stored within the vehicle, which may take several days," said Winkler. Police have contacted the National Transportation Safety Board about the accident, but the NTSB has not yet launched its own investigation.
The NTSB is already investigating the Autopilot system in a crash of a Tesla Model X in California in March in which the driver was killed. The NTSB and the National Highway Traffic Safety Administration are also probing a fiery crash of a Model S earlier this month in Florida that left two teens dead. Officials are reportedly investigating the emergency response to the serious battery fire that occurred.
Popular in the Community