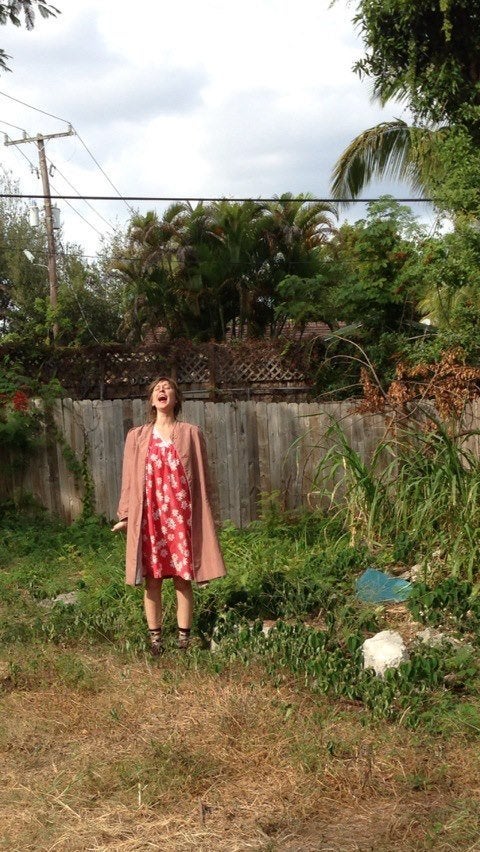 If an artist screams during Art Basel Miami Beach, does anybody hear it? One of Miami's most promising artists, Autumn Casey, is putting that to the test quite literally as the white tents of the international art fairs open late next week.
Casey, represented by gallery Primary Projects and recent winner of North Miami's Museum of Contemporary Art's Optic Nerve Festival, will appear at various well-attended Basel events and spontaneously scream.
"The actual idea came from the pressures of feeling like you have to do something for Basel -- like now is your time because the whole art world is going to be here," Casey tells HuffPost Miami. "So I thought, what if I just scream? Like a release of this frustration from the pressure."
"I seem to have a preconceived notion that many people will just continue about their business," Casey anticipates. But a scream in a crowded place isn't just a scream anymore in a post-9/11 jumpy world.
"I would pull for the freedom of expression card," Casey says if authorities were called. "Also I hope people running art fairs wouldn't be so uptight about someone expressing themselves. And I guess the possible danger of it is what's also exciting about it."
Casey named the project "Cicada" after the insect that makes such a clamor. She says she thought she heard their "screams" recently while riding her bike past a swamp.
"In a way, how all the cicadas migrate up to the surface from underground once a year to all scream at once, I thought that was a pretty fitting metaphor for Art Basel."
Click below for Casey's "Getting Rid Of All My Shoes" that was purchased by MOCA in North Miami:

REAL LIFE. REAL NEWS. REAL VOICES.
Help us tell more of the stories that matter from voices that too often remain unheard.
BEFORE YOU GO
PHOTO GALLERY
Miami Performance International Festival