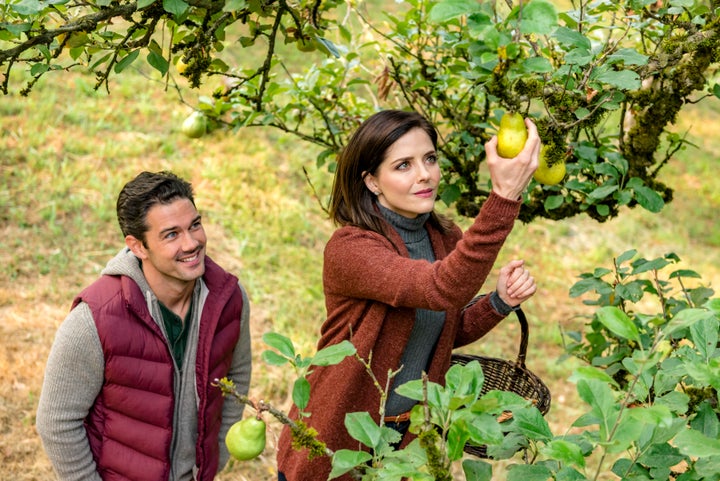 I've been feeling autumnal recently (who hasn't?), so I've been doing all the autumnal things: layering cable-knit pullovers and going for long walks, baking cinnamon scones, finally flipping my heating/cooling unit to "heating," knitting blankets, ordering three sweaters from Madewell and then returning two of them, sipping hot apple cider with Fireball.
A crackling fire would be an ideal backdrop to all of this, but I don't have a working fireplace, so I turn to the next-best way to zhuzh up a home's seasonal vibe. I flip to the Hallmark Channel.
October has brought a bumper crop of fall-themed Hallmark movies, in which big-city wedding planners and financiers find love with farmers who are also ― twist! ― groundbreaking agronomists. Did you underestimate that humble farmer? Well, I hope you learned your lesson. Women wander cornfields in V-neck pullovers and flirt amid pumpkin displays in A-line dresses; the costuming inspiration for these films seems to be "emoji outfits by way of TJ Maxx." Men pluck apples from trees with their brawny hands, rhomboid necks cozy beneath shawl-collar sweaters. The foliage flames against cerulean skies.
Compared to the orgy of Christian-gilded consumerism that is a Hallmark Christmas flick, the autumn iterations show an almost pagan appreciation for the elemental rhythms of Mother Earth. Everything must make way for the Harvest, an event that is evoked with alternating alarm and ecstasy. You're getting married on Saturday? But it's the Harvest! You're going back to the city? But you'll miss the Harvest! Glen broke his wrist? He won't be ready for the Harvest! You're working too hard harvesting? You need to take a break and enjoy the Harvest Festival!
But there is nothing pure in Hallmark America. The channel exists to sell us seasons so that they can sell us seasonal greeting cards and stuffed animals; capitalism is the engine driving their brightly lit romantic comedies, which is why seasonal spirit, such as baking pumpkin spice shortbread instead of vanilla cake, is framed as a moral imperative. And if Hallmark Christmas movies, at heart, are fairy tales of consumption, autumn Hallmark movies are, predominantly, another kind of capitalist fantasy: romances of the land ownership class.
Fundamentally, any Hallmark movie can revolve around either of these ideals, but Christmas is for gift-giving and thus shopping malls, and fall is for the harvest and thus for farms that have been in the family for generations. Generations, I say! Why, you can't sell this orchard; the Hockermans have owned it for years! The townspeople will revolt! Mervin the elderly black caretaker who ruined his knees tending those trees for his wealthy absentee employers will be heartbroken!
One 2018 film, "Under the Autumn Moon," features a rancher who lumbers about in righteous indignation that his failing dude ranch might have to be sold, when the land has been in his family for four generations. Before that? Oh, let's not talk about whom the land belonged to before that. What's important is that this nice white family owns the land now, and for them to be forced to sell it for a huge chunk of cash would be a moral outrage.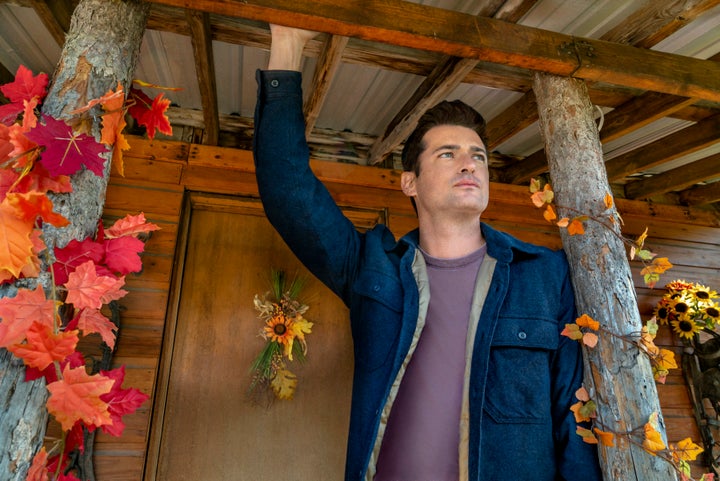 Critiquing the politics of Hallmark movies may be futile and foolish. It's also difficult to stay focused on such a critique because they're crammed with basic continuity and plausibility problems. In a flick about two dueling bakeries, 2016's "Pumpkin Pie Wars," the couple spends one scene baking together. They've finished preheating the oven and started mixing the pumpkin pie filling when, a couple of lines later, they announce that they're tired and should call it a night. They remove their aprons and skip out, bowls of raw pie filling everywhere. These are professional bakers.
But enough digressions. I need to talk about "Harvest Love," the 2017 movie that broke this story wide open for me. "Harvest Love" is perhaps the most egregiously pro-landowner of all the Hallmark fall films I watched this month, and its sins are only sharpened into focus by the fact that it has more charms than most of its ilk. Leads Jen Lilley and Ryan Paevey are telegenic and lively (the bar for star turns in these movies is low), and the pear orchard where it takes place looks so crisply gorgeous you can almost feel the bite in the air.
Lilley plays Luna Gilson, an overworked surgeon and widowed mother to a young son. As a treat for her lonely kid, she takes a last-minute week off work during his fall break, and they head a couple of hours out of Seattle to a farm that has apparently been owned by her family for generations. It continues to be the Gilson farm despite the facts that she hasn't even visited for many years, that her grandparents are dead and that her parents live overseas. It has been tended for years by an elderly black man, Jim (I think??), who receives her like a cherished daughter rather than the useless presumptive heiress of land he has devoted his life to farming in her stead.
But the years of manual labor have been hard on his joints, and he's had to pass the torch to a hot, young orchardist, Will Nash. (Will, who is white, is more of a temporarily embarrassed landowner, as his family lost their farm recently. He is also an agronomist.) Luna doesn't know about this, so when she rolls up to this working farm to use it as a convenient and free vacation home, she sees Will working in the pear orchard and asks her son to call the sheriff. He's stealing the pears! Those are HER PEARS! She is not nearly embarrassed enough when it turns out that Will has far more right to the pears than she does. "Whoops, called the cops on you for petty theft but it turns out you just work for my family!" is, to put it lightly, not a cute look.
Though Will, of course, falls madly in love with Luna ― Harvest love ― he is the only person who treats her sudden presence with any suspicion or distaste. In town, she's like a movie star; neighbors fall over themselves to befriend her, to beg her to stay for the Harvest Festival, to beseech her to stay for the Harvest Festival. It would mean so much if a Gilson were there for the Harvest Festival this year!
These scenes exude palpable nostalgia for a time when big landowners were the celebrities, when the nobility or plantation owners or feudal lords held not only wealth but, they might hope, uncritical devotion. Domestic staff in Hallmark movies aren't just acquiescent and efficient but grateful to and admiring of their employers. This is a world with class but without class consciousness.
The plot devolves into a mishmash of implausible Harvest crises, but Luna's heroic turning point comes when she learns her parents plan to sell the orchard. Sell the orchard! But it's their orchard! She didn't really want it before, but now she wants it, and it's so unfair that it might be taken away from her! Her sense of entitlement to the land, as irrational as it may be, comes through as a virtuous impulse in the movie. It demonstrates that she appreciates Harvest, and small towns and the seasons. Eventually, Will buys part of the land, or all of it ― they're clearly getting married so those resources will be consolidated anyway ― and they live happily ever after.
A nice ending, if you can afford it.
Support HuffPost
The Stakes Have Never Been Higher
Related
Popular in the Community