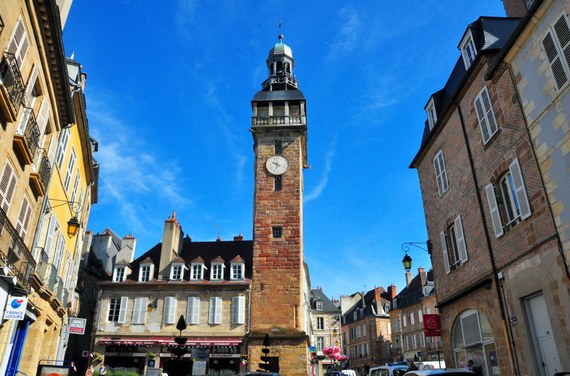 Central Moulins and its distinctive clock tower

Once an area of great volcanic activity, now the central French region of Auvergne presents a tranquil landscape of trees and rivers, with picturesque towns and villages. A fertile land of well-preserved waterways where creatures such as otters and salmon are reasserting themselves, the excellent cheese and meat, combined with French culinary skill, means there is much satisfying eating to be done.
Its dormant volcanoes, including the popular Puy de Dome, frame the region and offer many outdoor activities, while the thermal waters bubble through the area's traditional spas. Five designation-of-origin cheeses, seasonal fruit such as cherries and pears, and Charolais cattle for succulent beef are among the culinary attractions.
Lonely Planet has included the Auvergne on its 2016 "Best in Travel" lists and a wonderful way to discover Auvergne is to motor through it. More travelers are discovering the area is particularly well-suited to a driving holiday, and could be combined with visiting the South of France.
Moulins, now known as a center of art and history, was home base for the powerful Dukes of Bourbon for two centuries and this is reflected in its winding streets filled with atmospheric buildings. Cultural attractions include the Maison Mantin, an impressive mansion filled with Aubusson tapestries and curiosities that was left to the public by the wealthy and slightly mysterious, self-described bourgeois, Louis Mantin. Fashion designer Christian Lacroix is a huge fan of the treasures at La Visitation museum, devoted to the jewels and sumptuous clothing made by wealthy women entering a religious order. Feast the eyes on gold and diamonds, and there is even a vestment made from a dress worn by Marie Antoinette.
Friendly Hotel de Paris is where meat lovers will find La Cave à Viandes, which has a wood-fired grill waiting to smokily sear all kinds of carnivorous delights, particularly the succulent local beef which reflects its terroir. Try a juicy helping of côte de boeuf, perhaps after wine-tasting in the hotel's cellar, or a visit to the serene spa in a converted chapel crypt.
Before leaving Moulins, stop for coffee and chandeliers at the Art Nouveau Grand Cafe, which is brasserie, historical monument and the place where it is said an aspiring designer called Gabrielle Chanel sang a song about a dog called Coco, and became known as Coco Chanel.
Mammoth tooth used to make the handle of this Robert David knife

The peaceful nearby village of Souvigny is home to the largest collection of Romanesque buildings in the Bourbonnais, with a priory cathedral that was once an important pilgrimage site. Medieval barns house a museum set in vibrant gardens, and Le Point d'orgue cafe across the road serves artisanal teas and juices. To stay in the area, try the priory's listed 17th-century gatehouse at La Porterie B&B.
While in Clermont-Ferrand, make time for a visit to Royatonic, a popular indoor/outdoor volcanic-themed spa complex, and a meal Le Panoramique, located on the 7th floor terrace of the Princess Flore hotel. The menu features lots of fresh local produce put together with flair. Get a table near the windows facing the city center for wonderful views of the city.
More good eating is found near by at La Belle Meuniere, with modern French cuisine in a delightfully airy dining room next to the river. Chef Laurent Jury offers a number of multi-course gourmet menus featuring ingredients such as local truffles, and recently started offering accommodation reflecting distinguished local personalities, including the Art Deco Coco Chanel room.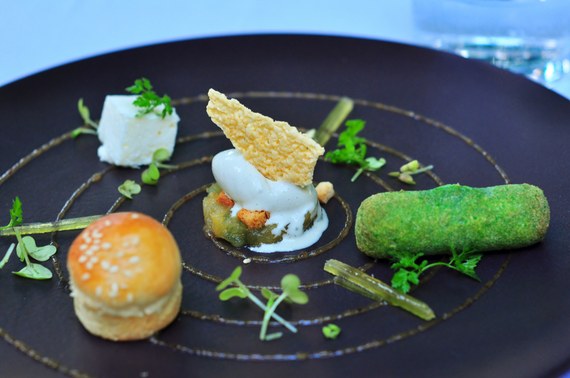 Auvergne cheese a la chef at Chateau de Codignat

Outside Clermont-Ferrand the historic Chateau de Codignat is set in lush countryside and at its Michelin-starred La Tour du Château restaurant Mathieu Barbet presides over local ingredients (and Valrhona chocolate) in refined cooking. An evening on the outdoor terrace, eating his fine food under a huge chestnut tree will be memorable (but bring mosquito repellent).
While still on the subject of food, the village of Thiers is renowned for its knives. Visit the Robert David factory to learn about the craft of quality knife making, using material such as ancient mammoth tooth for handles. If you want distinctive cutlery, this is where to find it, or have it made.
Heading south towards Issoire lies Montpeyroux, listed as one of the most beautiful villages in France, which sits on a hilltop with a distinctive medieval keep. While in the vicinity stop for lunch for the menu du jour at Le Diapason, a restaurant that offers bright seasonal cooking in elegant, contemporary surroundings with huge windows to admire the views.
Once largely overlooked by tourists, the Auvergne is gaining popularity and rightly so. There is much there to enjoy, with its seductive blend of landscape, history and wonderful food.
Related