By the time "Selma" opened on Christmas Day, its rapturous critical reception had the film on course to become a clear Oscar front-runner. But as is par for the course with most awards-caliber biopics, Ava DuVernay's civil-rights drama has faced scrutiny in certain circles for allegedly taking liberties with historical facts. The director, a former publicist whose second feature claimed the 2012 Sundance Film Festival's directing prize, addressed the controversy on Tuesday in New York City during a luncheon celebrating "Selma." She'd done so already, but this time another notable figure was by her side to echo the sentiments: Gay Talese, who reported on the 1965 march from Selma, Alabama, to Montgomery, Alabama, for The New York Times.
"I approached [the movie] with a lot of skepticism," Talese said during the Q&A portion of the luncheon, moderated by Gayle King and also featuring David Oyelowo, who portrays Martin Luther King Jr. in the film. "I'm a reporter -- back then I was a New York Times reporter -- and we care a lot about factual accuracy. We do not appreciate the imagination. It has to be right -- or it has to be as right as it can be -- and my feeling was, at the time, 'Hollywood is not going to do well by this story,' in terms of the verifiable truth. And so I sat through the first five minutes and I thought, 'Well, this is terrific so far, but it's not going to go on. She's going to screw it up sooner or later.' And then I came to the end of that fabulous film and I thought, 'God, she got it! How did she do it?'"
Talese, 82, was on the Edmund Pettus Bridge during what is now known as Bloody Sunday, when hundreds of peaceful protesters marching for equal voting rights were greeted by Alabama troopers armed with billy clubs and tear gas. "I watched the mayhem, the madness of Sheriff Jim Clark," he said. "[DuVernay] got it. I was there, I saw it. She wasn't there, but she got it. When I was seeing the film, I was seeing what I remembered, truly remembered."
Many of the historical inaccuracies leveled at the film stem from a Washington Post op-ed written by Joseph A. Califano Jr., a former domestic affairs assistant to President Lyndon B. Johnson, who was in office during the height of the American civil-rights movement. Califano wrote that credit for the march belongs to Johnson rather than Martin Luther King, and that there was little tension between the two political leaders. "The movie should be ruled out this Christmas and during the ensuing awards season," Califano wrote, prompting some to argue that his column conjured up the many smear tactics hurled at fact-based films during Oscar campaigning.
DuVernay countered the arguments on Twitter after publication of the Washington Post column, but she spoke again of the controversies during Tuesday's luncheon.
"Everyone sees history through their own lens and I don't begrudge anyone from wanting to see what they want to see," the 42-year-old director said. "This is what I see. This is what we see. And that should be valid. I'm not gonna argue history. I could, but I won't. I'm just gonna say that my voice, David's voice, the voice of all the artists that gathered to do this [and] Paramount Pictures, which allows us to amplify this story to the world, [are] really focused on issues of justice and dignity. And for this to be, I think, reduced -- reduced is really what all this is -- to one talking point of a small contingent of people who don't like one thing, I think is unfortunate, because this film is a celebration of people. It's a celebration of people who gathered to lift their voices -- black, white, otherwise, all classes, nationalities, faiths -- to do something amazing.
"If there's anything that we should be talking about in terms of legacy, it is really the destruction of the legacy of the Voting Rights Act and the fact that that very act is no more in the way that it should be protecting all voices to be able to be heard and participate in the electoral process," DuVernay continued. "That is at risk right now. There's been violence done to the act that we chronicle its creation in our film. So I would just invite people to keep their eyes on the prize and really focus on the beautiful positives of the film. And that was our intention."
DuVernay received several rounds of applause and a standing ovation during the hour-long luncheon at Manhattan's swanky Metropolitan Club, where "Selma" stars Carmen Ejogo, Andre Holland, Alessandro Nivola, Ruben Santiago-Hudson and Common were also on hand. Common joined John Legend for an intimate performance of their Golden Globe-nominated song "Glory" as the likes of Henry Louis Gates, Harry Belafonte, Phylicia Rashād, Joel Grey, Celia Weston, Isaiah Whitlock Jr., Nora O'Donnell, Lawrence O'Donnell, publicist Peggy Siegel and journalist Tina Brown looked on.
Before You Go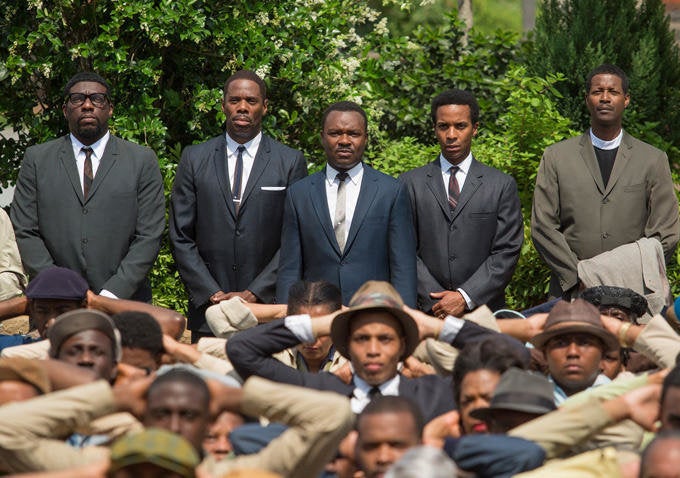 'Selma'
Popular in the Community