I love New York for so many reasons. One reason is for the seemingly limitless number of cultural sites to discover. Last week I went to The Ukrainian Museum in the East Village for an ArtTable sponsored tour of the exhibition, "Staging the Ukrainian Avant-Garde of the 1910s and 1920s." ArtTable, a non-profit organization for women in visual arts professions, organizes great museum tours, which I hop on as often as time permits. Maybe I had heard of The Ukrainian Museum in the periphery of my museum-going consciousness, but I confess, I'd never been. That's kind of a shame because I'm a quarter Ukrainian on my maternal side. I feel a certain sense of pride about this slice of my heritage, given that Russia is fighting to absorb the southeastern part of the country into Greater Russia, while Ukraine fights to preserve its political independence.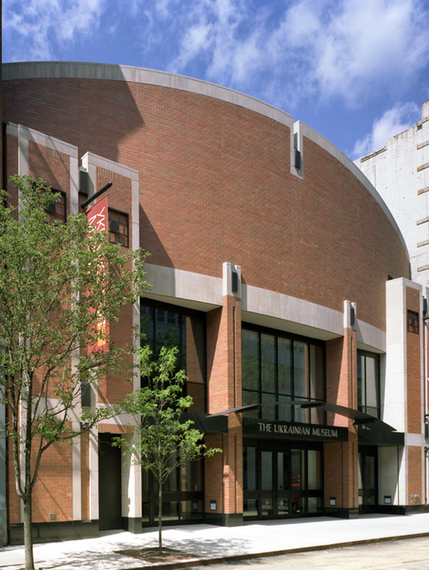 Our tour guide, Curatorial Assistant Ali Kinsella, pronounced the Ukrainian artists' names as if she were from Kiev (which she pronounced Keeve). So, I assumed all along that she was of Ukrainian decent, with her perfect Slavic accent and her brightly colored embroidered skirt. I speculated that she got this great gig at the museum because of her brilliance, coupled with her ethnicity. Turns out, Ali hails from southern Illinois and learned Ukrainian after college during a three-year Peace Corps stint in a tiny Ukrainian village. And her embroidered skirt was actually from Burma.
The museum opened in a brownstone on Second Avenue in 1976, and moved to its current site in 2005, after building on the site of what was formerly a meatpacking warehouse, director Maria Shust explained. The museum is ensconced in Alphabet City in the East Village, the ever-gentrifying, but still edgy neighborhood, home to such New York treasures as Little India on 6th street, Tompkins Square Park and countless artisanal pastry shops, independent coffee houses and hipster boutiques. Fitting the museum should settle here, given that the East Village was home to waves of immigrants from Germany, Poland and especially Ukraine, beginning in the 19th century.
On loan from the Museum of Theater, Music, and Cinema Arts of Ukraine in Kiev, the exhibition consists of 125 original costume designs for theater by 13 artists, along with a selection of ephemera, film footage and models of set designs This is the first time these artworks have been seen outside of Ukraine, and the largest exhibition of its kind ever.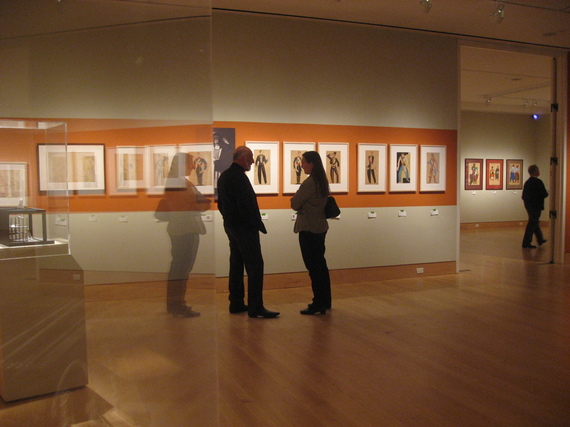 Made in the 1910s and 1920s, the small paintings in this show ring every wall of all eight galleries, offering a surprising feast for the eyes. The exhibition offers a rare glimpse at this active and short-lived era when Ukrainian artists, free and independent, worked closely with their counterparts in theater, dance, music and literature, resulting in a rich cultural cross fertilization and a dynamic output. Many of these Modernist artists were subsequently exiled or executed during the Stalinist purges of the 1930s for their perceived political beliefs.
Right away I noticed an amalgam of styles in each brightly colored, beautifully rendered work. Think Ukrainian folk art meets Russian Constructivism meets medieval icon. And throw in a fair bit of Italian Futurismo and French Cubism. Many of these artists had traveled and studied in the west, and had exposure to European Modernist trends. But these paintings are not self-conscious pastiches of various styles, but thoughtful expressions of current artistic trends outside of Ukraine, assimilated with their own strong Ukrainian cultural heritage of folklore, embroidery, theater, architecture and design.
In one of the first galleries, Ali points out a costume sketch by Anatol Petrytsky for a production of "In the Catacombs" (1921). The sketch shows a woman wearing an orange and blue striped dress, and flattened against a plain gold background. Her hair, stylized as geometrically as her dress, coupled with her enormous dark eyes and veil, evoke both Art Deco and medieval icon at the same time.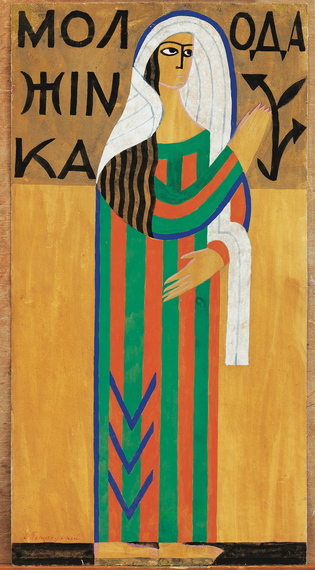 Around the corner is a suite of paintings of costume sketches by Vadym Meller for dance productions. Pulsing with movement and reflecting the choreography, these Cubist inspired paintings are stunning, and are some of my favorites in the exhibition. Among these sketches are several for productions choreographed by Bronislava Nijinska, sister of famed dancer Vaslav Nijinsky, who opened a dance school in Kiev in 1919 called L'Ecole de Mouvement.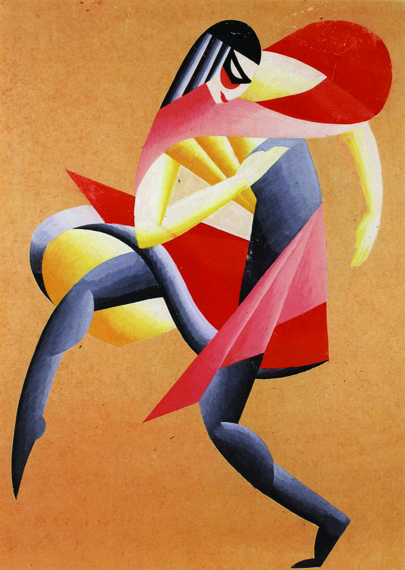 In the next room, a costume sketch of a Wood Nymph by Matvii Drak for a production of "Forest Song" (1926) is captivating. Wearing a diaphanous dress in white, accented with fern green and a bold sash of yellow across her chest, she is the saddest looking, most expressive wood nymph perhaps on the planet. I couldn't take my eyes off of her. The partial tree the nymph leans on, decorated with wavy green ribbons to symbolize foliage, hints at a forest. Her impossibly long and lean arms and legs also feel arborial, as if branches of a tree.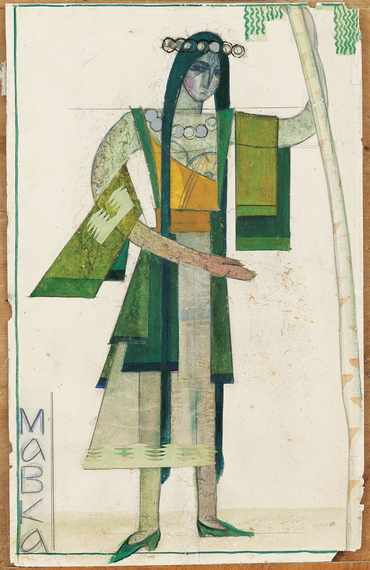 To call these fully realized paintings sketches hardly does them justice. And yet they were just that--visual guidelines for artistic directors, choreographers and others in the theater world. The art dealer in me couldn't help but be amazed that there isn't a marketplace for these lovely paintings, but this is understandable given that they live in the permanent collection of a museum in Kiev. Unless you are planning a trip to Ukraine, this exhibition, on view through September 13, might be your only chance to see these paintings en masse and outside of their homeland.
A 280-page fully illustrated catalogue accompanies the exhibition.
Photos: courtesy of The Ukrainian Museum
Captions

1. Anatol Petrytsky
Lesia Ukrainka. In the Catacombs
Costume sketch "Young Woman"
Watercolor, gouache,
bronze paint, and appliqué on paper
21⅛ x 11 in.
First Taras Shevchenko State Theater, Kyiv
Dir. A. Zagarov
2. Vadym Meller
Masks (music by Frederic Chopin)
Sketch for choreographic movement
Watercolor on cardboard. 23⅝ x 16⅞ in.
Bronislava Nijinska's
School of Movement, Kyiv
3. Matvii Drak
Lesia Ukrainka. Forest Song
Costume sketch Wood Nymph
Watercolor on paper. 21 ¼ x 13 in.
Ivan Franko Theater, Kyiv
Dir. Ye. Kokhanenko
REAL LIFE. REAL NEWS. REAL VOICES.
Help us tell more of the stories that matter from voices that too often remain unheard.