Un Ballo in Maschera
AVA, Philadelphia
Through May 11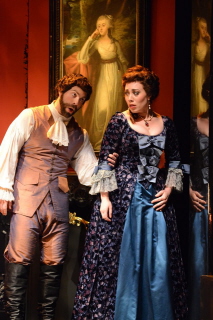 Photo: Paul Sirochman
Giuseppe Verdi's Un Ballo in Maschera, currently at the Academy of Vocal Arts and locally toured is brought to its full Verdian power under the direction of Tito Capobianco and AVA conductor Christofer Macatsoris. Earlier this spring, they also teamed up for Massenet's Don Quixote, but Ballo proved the vocal stunner of the whole AVA season for many reasons, not the least of which is that Macatsoris ignites Italian repertoire.
Ballo's political intrigue, romance, mysticism, betrayal and murder mirrors is based on a real life incident concerning Gustavo III of Sweden, who was assassinated at a masked ball he gave and Verdi had to change the setting to colonial America, because of political censors at the time. But the potent story remains and is tons of operatic fun. Renato, Gustav's confidant and aide, warns the king him that his enemies are plotting against him. Gustav he tries to find them out before he gives the ball and disguises himself with other courtiers in front of the sybil. He finds out his fate, but tries laughs it off. Later, he has a chance encounter with Amelia, Renalto's wife and they fall in (chaste) love. Renalto discovers the secret romance and confronts Amelia. The plot even get murkier when Renato and Gustav his inner circle enlist Amelia in their plot to kill Gustav.
Macatsoris' score draws fully committed vocal performances that Ballo requires a lot of technical skill to bring the scenes to full bloom. Margaret Mezzacappa is spellbinding as the fortuneteller Ulrica, who is reluctant to reveal all. Her presence is both mystical and earthbound, she even has moments of humor, the breadth of the vocal line deep mezzo soaring to dramatic heights is given such heart by Mezzacappa. But those are divertissements to the technical clarity and interpretive power she achieves, this is a great performance.
Zachary Nelson, was the embodiment of empathy and pathos as Sancho in DonQlast winter, just seethes as the jealous husband, standing over Amelia with his sword there is no doubt that there is consumed with revenge. The key dramatic arias, that continue to get into his heart of darkness is full-throated and baritone vibrancy without over singing. It is no surprise that this young baritone is racking up competition prizes and is this year's recipient of the Sarah Tucker Award.
And AVA's two powerhouse Patrick Guetta and Musa Ngqungwana are basso slimy as those scheming counts out for political revenge. A breakout star is Dominick Chenes as Gustav, a powerhouse lyrical tenor, even if he could strengthen his characterization. Chenes, in his first year at AVA, had some pacing issues in the third act, but his vocal quality just kept giving. Marina Costa-Jackson has sonic soprano power and makes the most of them as the wayward wife. Costa-Jackson over dramatizes in her gestures in moments, but vocally she delivers with sterling control.
Mostly, Capobiacco's scene focus keeps things from getting too melodramatic and in fact, his pacing, orchestrates this Ballo as much as Macatsoris. AVA chorus and orchestra on fire throughout. Among the many standouts, the fine line voicings from cellists Vivian Barton Dozor and James Holesovsky.
REAL LIFE. REAL NEWS. REAL VOICES.
Help us tell more of the stories that matter from voices that too often remain unheard.