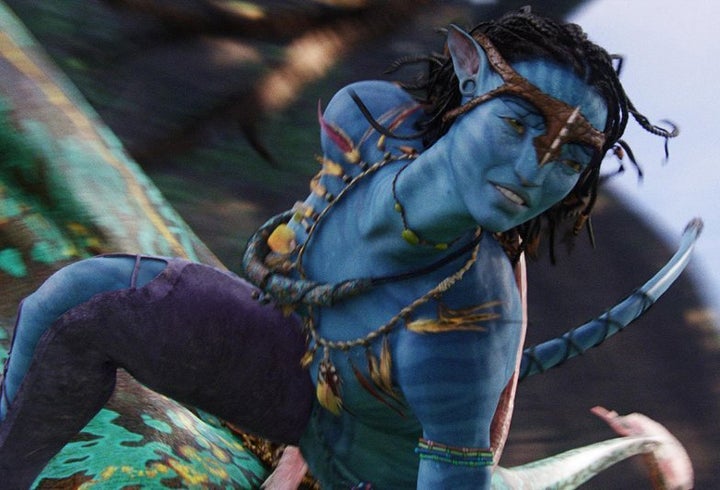 So when exactly does the story of The Walt Disney Company's desire to build a theme park version of James Cameron's AVATAR begin?

A long time ago in a galaxy far, far away.
Okay. It's the Spring of 2011. And Thomas Staggs, the Chairman of Walt Disney Parks and Resorts, is down at Disneyland reviewing the works that WDI has done on that theme park's soon-to-be-opened "Star Tours: The Adventures Continue" ride. And Staggs is very pleased with what he sees. The Imagineers have taken a 24 year-old attraction and -- through the use of 3D technology, digital high-definition video and a multi-branching ride film -- have created something entirely new. A sci-fi / fantasy-themed attraction which virtually guarantees that -- each time the Guests ride "Star Tours" -- they will then have an entirely different experience.
And while Tom is down at the Disneyland Resort, he also drops by the Cars Land construction site to see how that work was going there. And though this 12-acre addition to Disney California Adventure was still a full year away from opening to the public, Staggs just loves what he sees. How -- thanks to the great way that the theme park version of the Cadillac Mountain Range looms over this part of DCA and the terrific job which Imagineering did with building that full-sized version of Radiator Springs -- you really feel like you've entered the world of Pixar's Cars movies.
And as Tom was standing there... Well, he kind of wished that there was an intellectual property out there that would allow the Imagineers to take everything that they had learned from working on the "Star Tours: The Adventures Continue" project and the construction of Cars Land and then combine it. Create a hybrid, if you will. The theme park version of some sci-fi / fantasy world that the guests could actually enter. Where -- through the use of innovative ride systems and cutting-edge technology -- they could then have this incredibly immersive experience. One where it felt like the guests weren't just passively viewing, they were actually visiting this far-off place.
According to Company insiders, it was this exact moment that Staggs suddenly flashed on the idea of reaching out to James Cameron and seeing if this Academy Award-winning filmmaker might be interested in working with Disney to create a theme park version of AVATAR.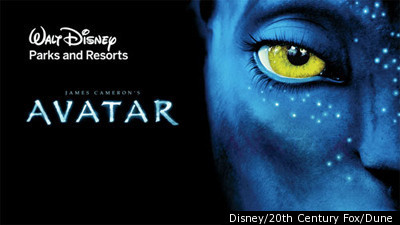 Copyright Disney Enterprises, Inc. / Twentieth Century Fox Film Corporation and Dune Entertainment LLC. All rights reserved
So Staggs approaches his boss, Bob Iger, with this idea. And Disney's President and Chairman immediately gets behind this concept. To the point where Iger arranges for a breakfast meeting at the home of Jim Gianopulos, the co-CEO of Fox Filmed Entertainment. Where together Bob & Tom pitched Gianopulos, Jon Landau and James Cameron on the idea of Lightstorm Entertainment & Disney maybe doing something special with AVATAR in a theme park setting.
Mind you, this wasn't the first time that WDI had reached out to James. As Cameron revealed in yesterday's news conference, he's made a couple of trips to 1401 Flower Street over the past 25 years.
"I toured around Imagineering, which I've done several times over the years and always sort of flirted with projects," James explained. "(So when Disney called), I thought okay, this will be about an attraction, a ride attraction for Avatar. Came over and met, and met Tom Staggs. And I quickly realized that their vision for this thing was far beyond what I had imagined, and I've got a pretty good imagination."
Yes, what the Imagineers are really looking to do with this IP was create an entire land for Disney's Animal Kingdom. One where -- through attractions, entertainment, shops, food and beverage -- the guests will then be able to immerse themselves entirely in the world of James Cameron's AVATAR. So as soon as James realized what Tom was actually proposing, he quickly got on board. More to the point, he got Jon Landau (who's the Chief Operating Officer of Cameron's production company, Lightstorm Entertainment. More importantly, the producer of AVATAR) as well as the folks at Fox Filmed Entertainment to sign off on and support this deal with Disney.
So what kinds of rides, shows and attractions can we expect to see? More importantly, when will the theme park version of James Cameron's AVATAR be opening to the public. At yesterday's press conference, Staggs basically said that it's really too early to get into specifics. "We are just beginning the development phase of this project," Tom stated. "But our Imagineers really are already dreaming up incredible ideas that guests of all ages are going to love."
That said, Staggs did admit that Disney is looking to begin construction at Walt Disney World in 2013. And if all goes according to the plan, the first guests will be able to experience some of the wonders of the theme park version of James Cameron's AVATAR in late 2015. Which is just about the time the third film in this series will be opening in theaters. (According to what Cameron said at yesterday's press conference, AVATAR 2 is now scheduled to open on Christmas Day 2014).
Of course, the other big question here (given that the original "Star Tours" has become a guest favorite at Tokyo Disneyland and Disneyland Paris) is can we expect to see AVATAR -themed attractions to soon begin popping up at other Disney theme parks around the globe? The Company insider that I spoke with yesterday afternoon quickly put the brakes on that idea.
"Right now, we're just concentrating on what we're looking to build at Animal Kingdom," This unnamed-insider explained. "Honestly, this deal is so new and came together so quickly, we haven't really had a chance yet to discuss the possibilities with our international partners. Though I'd imagine we'll begin having those conversations with them very soon. See what we can possibly do with the AVATAR characters at those theme parks."
Yeah, this is an IP that -- if all goes according to plan -- will eventually have some sort of presence at all six of the theme park complexes Disney has built / is building around the globe. As Staggs put it yesterday, " ...we can't think of a better first home for an Avatar land" than Disney's Animal Kingdom in Florida.
"And what might that land be like?," you ask. Well, again, given how early the Imagineers still are in their development of the theme park version of James Cameron's AVATAR, Tom didn't really want to get into any specifics. But that said, Staggs did talk at length about what happened when this movie was recently screened at WDI.
"One of the things that we found when we screened (AVATAR) was that the scenes that people liked best were not the obvious things, like the big battle scenes, and that sort of thing. It was the creatures. It was learning to fly. It was being in the forest at night. The impression that we got was people just like to go to Pandora," Tom continued. "So here's an opportunity to use (our) animatronic technology, and all of these amazing craftsmanship and design capabilities of Imagineering, and possibly rolling in mixed-media, 3-D projections, holography. Whatever makes sense to build, bring this world to life and actually get to wander in it and explore it, and see things you didn't see either in the first film or in the subsequent two."
Long story short: If you like the recently-opened "Star Tours: The Adventures Continue" ride at Disneyland Park and WDW's Disney's Hollywood Studios theme park, then think about how much you're going to enjoy an attraction that not only flies you to a far-off place like Pandora but also allows you to exit that craft and go off and explore this world.
Well, that's what Disney is hoping to bring to Animal Kingdom in the not-so-distant future. So keep an eye on this Central Florida theme park. Because -- sometime in late 2015 / early 2016 -- The Wizarding World of Harry Potter will have some brand-new competition. Thanks to the world of James Cameron's AVATAR.
Jim Hill is an award-winning entertainment writer who lives in New Boston, N.H. Over the past 30 years, he has interviewed hundreds of veterans of the animation and themed entertainment industry and written extensively about The Walt Disney Company. For more of his musings on movies, TV shows, books and theme parks, please check out his blog, jimhillmedia.com.
Popular in the Community