WASHINGTON ― The Donald Trump TV Show and Presidency, accustomed to hogging the nation's attention, may be facing its greatest threat yet from a brand new series: The Porn Star and Her Lawyer.
In mere weeks, Stormy Daniels (whose real name is Stephanie Clifford) and her California-based trial attorney have taken her tale of 2016 hush money to hide an affair with the soon-to-be president from a gossip magazine to the heights of serious journalism ― and forced Trump to shift from simply denying it all to getting personally involved in litigation.
And at every stop along the way, Michael Avenatti has been amazed at how Trump's lawyers have reacted by escalating the situation rather than tamping it down.
"From moment one, we've been playing three-dimensional chess, and they've been playing tic-tac-toe," Avenatti told HuffPost on Monday. "And they haven't even been playing that well."
The latest example came shortly after CBS's "60 Minutes" aired in interview with Daniels on Sunday that recounted a previously published story asserting an affair with Trump in 2006 but added a previously unreported detail: a threat against her and her baby daughter in a Las Vegas parking lot in 2011.
"A guy walked up on me and said to me, 'Leave Trump alone. Forget the story,'" Daniels said. "And then he leaned around and looked at my daughter and said, 'That's a beautiful little girl. It'd be a shame if something happened to her mom.' And then he was gone."
Daniels did not mention Trump's longtime lawyer, Michael Cohen, in relation to that story. Nevertheless, an attorney for Cohen shortly after the interview was broadcast sent Avenatti a letter demanding that she stop telling it.
The letter also insisted that Daniels and Avenatti "immediately retract and apologize to Mr. Cohen through the national media for your defamatory statements," the letter said.
Cohen did not immediately respond to HuffPost queries. 
There can be no question where this threat came from. It could only have come from one place.

Michael Avenatti
Trump's White House, though, did choose to comment. At the daily press briefing, deputy press secretary Raj Shah said there was no threat against Daniels. "The president doesn't believe that any of the claims that Miss Daniels made last night in the interview are accurate," he said Monday, and added: "There's nothing to corroborate her claim."
By weighing in, Trump and Shah made Daniels' antagonist the White House itself, rather than just Cohen, the lawyer who in January claimed that he alone, and not Trump, had just 10 days before the 2016 election paid the porn star $130,000 of his own money to buy her silence.
That repeated an already established pattern. Three weeks ago, Daniels and Avenatti filed a state lawsuit in Los Angeles seeking to void the October 2016 "hush agreement" that delivered the $130,000 to Daniels because Trump had failed to sign it. Rather than merely insisting on arbitration – as the original agreement stipulated – Cohen and Trump through their lawyers moved the case into federal court and asserted the right to sue Daniels for at least $20 million for violating the original deal.
Avenatti, when informed of the likely federal filing on March 15, could not believe his good fortune, offering at the time that it would be cause to pop open some champagne should it actually happen.
"Over the course of my 18-year career, I have been honored to litigate against some of the best, most strategic lawyers in the nation," he said Monday. "This thus far does not fall into that category."
That career has seen him win a number of giant payments for his clients from juries, including more than $450 million last year from Kimberly-Clark Corp.
Avenatti, though, in his battle with Trump has not been shy about employing some theatrical devices in addition to the technical lawyering. During a CNN appearance last week, he brought along a cardboard cutout of Cohen's face during his debate with one of Cohen's lawyers, David Schwartz.
During the buildup to the "60 Minutes broadcast," he published a tweet with a poorly lit image of a CD in its paper envelope. "If 'a picture is worth a thousand words,' how many words is this worth?????" he wrote on Twitter, Trump's medium of choice.
Sunday night, the 47-year-old Avenatti was back on Twitter with this tease about Daniels' threat story: "There can be no question where this threat came from. It could only have come from one place."
And then, following CBS News' announcement on Monday that its broadcast had drawn 22 million viewers, Avenatti noted that the figure was more than Trump's appearance on that show in 2016, as well as the biggest audiences for the reality show that made Trump a household name.
"Since this is what really matters (LOL), the ratings for my client's @stormydaniels appearance on @60minutes last night CRUSHED (BY MILLIONS) any Apprentice show in the last ten years as well as Mr. Trump's Nov 2016 appearance," he wrote.
Avenatti, who got his undergraduate diploma from the University of Pennsylvania ― by chance, Trump's alma mater ― and his law degree from George Washington University, downplays any attempt at showmanship.
"We haven't created a reality TV script," he said. "I am doing what I do, and that is proceeding in a methodical, strategic and surgical manner."
By Monday afternoon, that strategic and surgical method included a modified lawsuit with claims that Cohen has defamed Daniels by calling her a liar, as well as the assertion that Cohen's $130,000 payment violated campaign finance laws. The amending lawsuit was filed right in time for evening newscasts.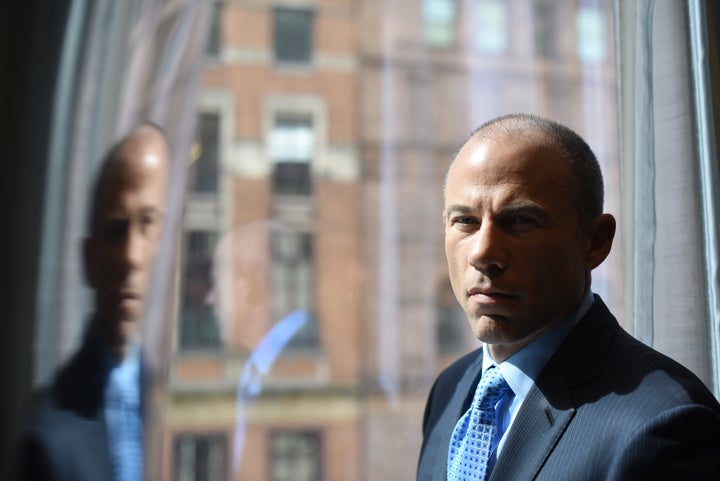 Calling all HuffPost superfans!
Sign up for membership to become a founding member and help shape HuffPost's next chapter