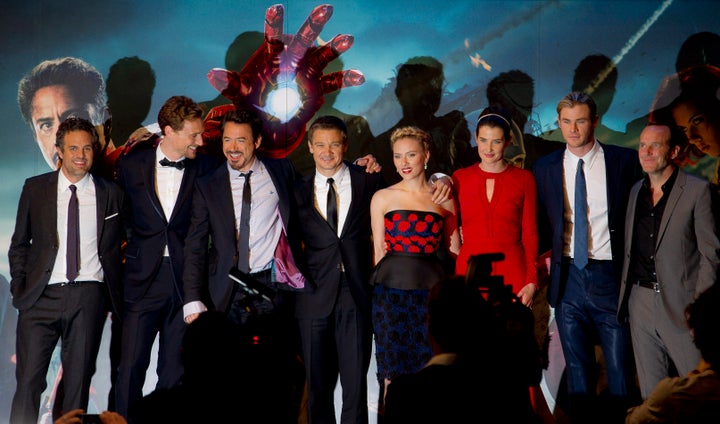 "It's hard to imagine that anyone with an appetite for the trademark's patented brand of fantasy, effects, mayhem and strangely dressed he-men will be disappointed," McCarthy mused.
For the uninitiated, "Marvel's The Avengers" focuses on the Avengers, a superhero supergroup that consists of Iron Man (Robert Downey Jr.), Captain America (Chris Evans), Hulk (Mark Ruffalo), Thor (Chris Hemsworth), Hawkeye (Jeremy Renner) and Black Widow (Scarlett Johansson). Together, the good guys must team up to stop the villainous Loki (Tom Hiddleston), Thor's ne'er-do-well brother.
"Hiddleston gamely handles his villain-in-chief duties, which mostly consist of issuing petulant putdowns ('You crave subjugation!') to the entirety of the human race," noted Variety critic Justin Chang of the actor's performance.
Like McCarthy, Chang is a fan of what director Joss Whedon accomplished.
"Whedon's buoyant, witty and robustly entertaining superhero smash-up is escapism of a sophisticated order, boasting a tonal assurance and rich reserves of humor that offset the potentially lumbering and unavoidably formulaic aspects of this 143-minute team-origin story," he wrote.
"Unfortunately, this being a comic-book movie, the need for biff-bang-pow tends to prevail," Barnes stated in his three-out-of-five-star review. "The hero-against-hero slugfest that the comics have been trading on for decades is entertaining at first, but the various combinations of Hulk v. Thor v. Iron Man quickly blow themselves out."
"What Whedon and Marvel have created here is not just extraordinary, but one of the most entertaining and satisfying comic book movies yet."
For more thoughts on "Marvel's The Avengers," check out the slideshow below. "Marvel's The Avengers" opens in the U.S. on May 4.
Twitter Reaction To "The Avengers"
Calling all HuffPost superfans!
Sign up for membership to become a founding member and help shape HuffPost's next chapter
BEFORE YOU GO