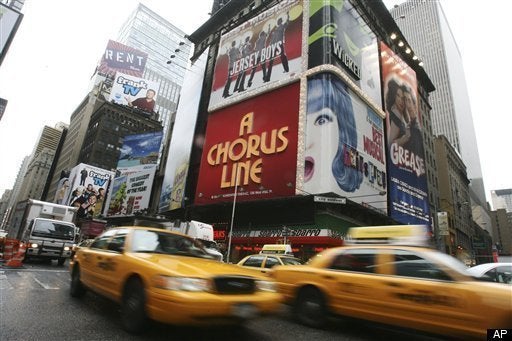 When Avenue Q moved off-Broadway in 2009, I regretted not having seen it during its half-a-decade run. It got rave reviews, and delighted audiences of all ages. The concept of puppets leading the drama -- and song -- was enough to pique my interest. Thankfully, the show didn't close, but just moved to New World Stages, where theatergoers like myself can still catch the show for the first time, or longtime fans can experience the puppetry again. And from the reaction of the crowd I sat with, the production is as good as ever.
Everyone knows the basics about Avenue Q -- the puppets, the music, the post-college angst. But what surprised me most was how well the show still resonates with the audience, particularly those who haven't seen it before. This show is as strong as its songs, and the songs remain as relevant to a younger crop of audience members. Even those who have since grown up and moved on from those troubling post-college years will find a healthy reminder of how difficult and confusing they were. Princeton, the newcomer to the block, must find his way, with the aid of a surprisingly supportive and lovable bunch of people and puppets. At times, the puppets seem so real and expressive that the puppeteers behind them merge into the shadows. Only when the lead performers step to the front of the stage for their soliloquies or songs are you brought back to reality.
It's a real testament to how timeless this show is -- the set and situation look just as current today as they did when the show first debuted a decade ago. What's more, the music is so beloved that even those who came in knowing some of the production's best tunes -- the program deliberately leaves them out to keep the jokes under wraps as best it can -- still found themselves taken in by the absurdity of some of the monsters' reactions and the characters' one-liners. Beneath the show's marvelous music, though, there's also a certain sweetness to the narrative. It's a case where the pursuit of a life's purpose obviously outweighs the importance of achieving any tangible goal. You can't not root for Princeton and company to find themselves. You'll want to believe in them.
Related
Popular in the Community