But that won't happen until we learn more about the culture that drives gun ownership in the first place, according to Dr. Bindu Kalesan, a gun violence researcher at Columbia University's Mailman School of Public Health. In a first step toward understanding who the typical American gun owner is, as well as the role guns play in their lives, she conducted a nationally representative online survey of 4,000 U.S. adults in 2013. The findings, published Monday in the journal Injury Prevention, reveal a wide range of gun ownership rates across the country as well as the profile of an average gun owner in America.
He's white, married or divorced, high income, and over 55 years old. Unsurprisingly, he's also more than twice as likely to be a member of "social gun culture" than those who don't own firearms. In all, almost one in three Americans owns at least one gun, but gun ownership rates vary widely across states. At 61.7 percent, Alaska has the highest rate of gun ownership, while Delaware has the lowest, at 5.2 percent.
Kalesan's study defined "social gun culture" as a phenomenon in which friends or family would think less of you if you didn't own a gun, and if your social life with friends and family involved guns. Any survey participant who answered "yes" to any of these statements was categorized as being part of social gun culture.
Figuring out the dynamics at play in social gun culture, according to Kalesan, will be key to sparking social change about the attitudes and practices that inform gun ownership in the first place. She said educating Americans about the health dangers of having a firearm in their homes will change the way people feel about gun ownership, which in turn could drive laws that make guns more difficult to obtain.
"A public health approach, much like the anti-tobacco effort, is necessary, first to facilitate a social change and then political will to form effective policies," Kalesan told HuffPost. "We also need research to understand the public health consequences in different communities and to identify effective social interventions in different populations."
It's estimated that there are about 310 million guns in the U.S. -- almost enough to arm every citizen in the country, Kalesan noted. For every three people who are fatally shot in the U.S. each year, eight are injured by guns and go on to live difficult lives after shooting because of their injuries.
"In 2013 alone, 33,636 persons were killed using a gun, while 84,258 were shot non-fatally," said Kalesan. "Those who are injured have a difficult journey during recovery, some remaining paraplegic and injured often with PTSD for the rest of their lives."
Kalesan, who moved to the U.S. from India, first became interested in firearm safety when she noticed America's unusually high rate of firearm injuries and deaths as compared to other developed nations. Moved by her research, she became vice-president of the Gun Violence Survivors Foundation in 2014 and, in addition to continuing her research, helps coordinate crowdfunding campaigns to help victims and their families cope with the aftermath of a gunshot wound.
"I feel that being a researcher should not just be about doing research studies. It is impossible not to feel the social responsibility when I speak with gun violence [survivors]," Kalesan concluded. "Information is the key to social change."
Graphic by Alissa Scheller for The Huffington Post.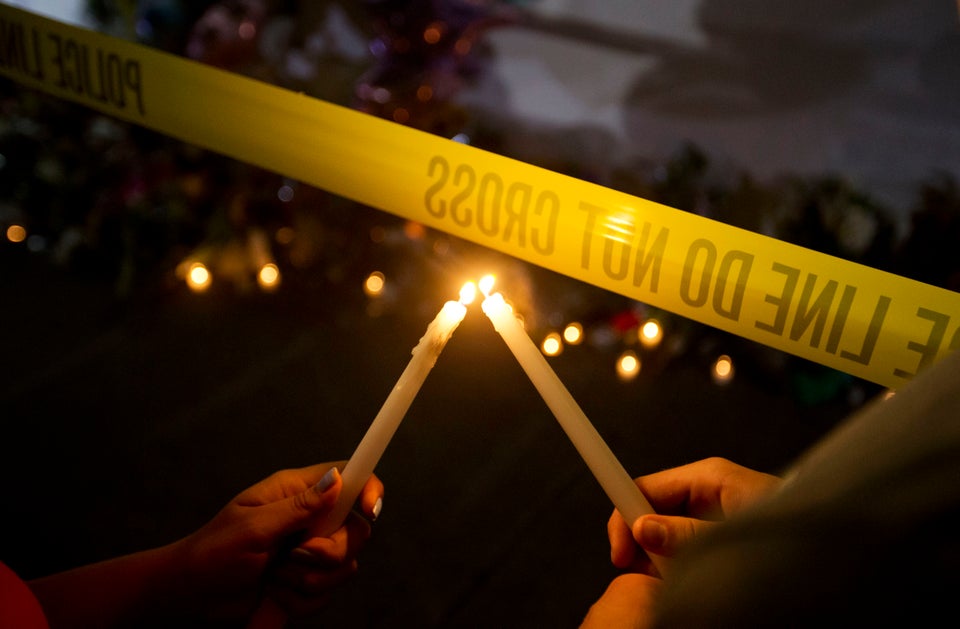 Charleston Vigils
Popular in the Community