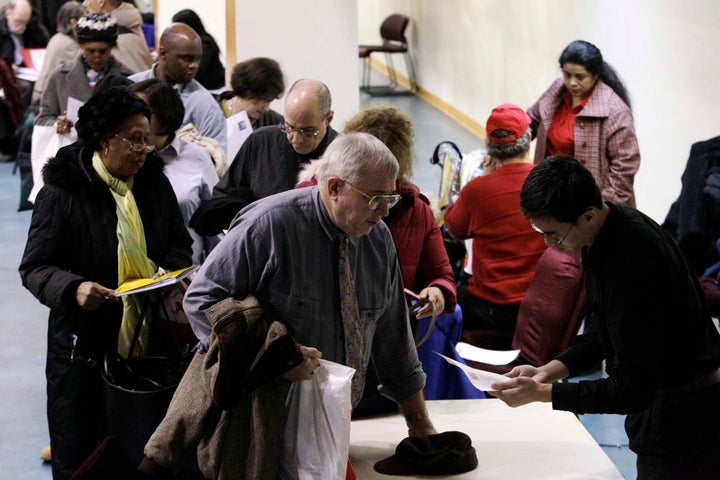 WASHINGTON -- For workers age 55 and up, the economy is adding jobs and the unemployment rate is low. But older workers who do lose their jobs face a tough situation: an average jobless spell that now lasts longer than a year.
According to Friday's jobs data from the U.S. Department of Labor, older workers gained 203,000 jobs in April, while the 25-34 cohort lost 184,000 jobs and workers aged 35-34 lost 164,000. The unemployment rate for older workers held steady at 6.5 percent from March to April, even as the overall jobless rate rose slightly to 9 percent.
Yet according to an analysis of the Friday numbers by the AARP Public Policy Institute, the average jobless spell for the 55-plus crowd lasted 53.6 weeks in April, compared with 51.5 weeks in March and just 20.2 weeks at the beginning of the recession in December 2007. The average bout of unemployment for workers younger than 55 is 39.5 weeks, AARP said.
"If you're out of work and over 55 you are having a really tough time finding employment," Sara Rix, a policy adviser with the AARP Public Policy Institute, told HuffPost.

Older workers face extra barriers to new employment, Rix said, including age discrimination and concerns among potential employers that older applicants have been out of school and away from training for too long. Dozens of jobless workers in their 50s have told HuffPost their age makes it impossible to find new work.
Long-term unemployment has been a distinctive feature of the current jobs crisis, with people out of work six months or longer comprising nearly half the total jobless for the past year. But the overall picture improved a bit with Friday's data, as the number of long-term jobless declined by 283,000 to 5.8 million.

The extension of unemployment benefits to 99 weeks in some states may be another explanation for the long jobless spells -- more workers have been classified as "unemployed" instead of "discouraged" or "marginally-attached" to the labor force.
"The extension of benefits almost certainly has increased duration," said Dean Baker, co-director of the Center for Economic and Policy Priorities, a progressive Washington think tank. "Not because people are taking longer to find jobs -- the bigger reason is they stay unemployed as opposed to dropping out of the labor force."
As for the job gains among older workers, Baker and Rix said that the Baby Boom generation is well educated and healthy and thus able to take a larger share of available jobs than older workers may have in the past. Rix also noted that many older workers feel financially unprepared for retirement, and so will continue working as long as they can.
REAL LIFE. REAL NEWS. REAL VOICES.
Help us tell more of the stories that matter from voices that too often remain unheard.