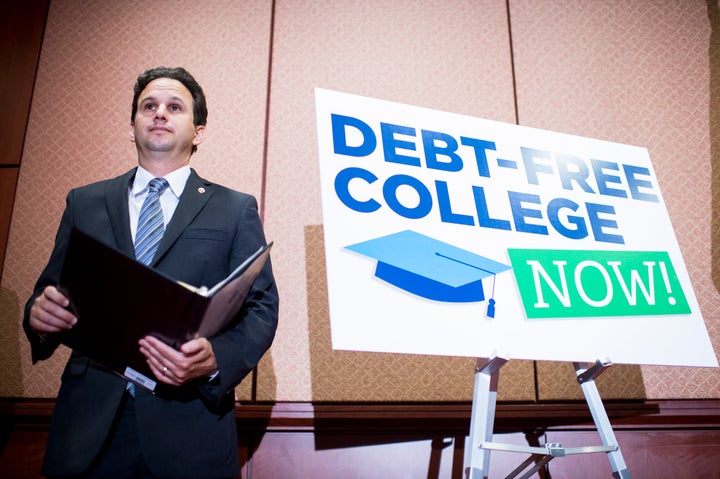 College graduates from the class of 2014 owe an average of nearly $29,000 in student loan debt, according to a report released Tuesday.
Last year's report also showed only one state -- New Mexico -- had graduates who on average owed less than $20,000 in debt. This year, both New Mexico and Utah made the cut. Still, TICAS found the class of 2014 graduated with a record high amount of debt.
"Student debt has rightly become a major policy issue," said TICAS President Lauren Asher in a statement. "Students and families need better information and better policies to make college more affordable and debt less burdensome."
The report included which states have graduates with the highest and lowest amount of debt. The Midwest and Northeast tended to have more debt, while states in the West typically had lower amounts.

Americans collectively owe $1.3 trillion in student loan debt, and federal officials and lawmakers have increasingly paid attention to the issue in recent years.
TICAS highlighted in its report that during the decade it has tracked student debt, the average burden increased from $18,550 to $28,950 -- a jump that's at least twice as fast as inflation. Part of the reason for the increase, the report suggested, is that financial aid grants have not kept up with the rising cost of attendance.
"Over the last decade, the share of public college funding provided by states has declined (from 62 to 51%) while the portion students and families are asked to pay has increased (from 32 to 43%)," the report says. "This shift in college funding from states to students has led to increasingly heavy burdens on students and families. After adjusting for inflation, per-student state spending on public colleges decreased 12 percent over the last decade, while the per student revenue coming from tuition increased 43 percent."
The report only examines public and nonprofit private colleges, and looks at data from 56 percent of those institutions. TICAS said that this data represents 81 percent of graduates in these types of schools. But, the group cautioned, students may have private loans that aren't counted because the school isn't aware of that debt.
Popular in the Community