 After being profiled as nothing more than a button masher who can't stand other DJs who plays songs he likes, Swedish producer Avicii took aim at GQ and writer Jessica Pressler in a lengthy Twitter post. Among the charges he levies: That Pressler wrote an article with "little truth" and "subjectively twisted" his quotes to fit her purposes.
"The problem was that a journalist that knows nothing of electronic music was sent on the road with me for a couple of days and then tried piecing together what it's all about," Avicii, whose real name is Tim Bergling posted. "She failed miserably."
Pressler followed Bergling and his staff around to a number of shows, including an extended New Year's Eve club gig in Las Vegas. Her descriptions of dance music fans are less than flattering; Festival attendees are described as "California girls in itty-bitty bikinis, sunburned cubicle jockeys, belching frat boys in coral necklaces, ravers with giant pupils" and fans waiting in line outside a Miami club get branded "increasingly skinny and haunted and desperate," reminding Pressler of "a Soviet breadline in Herve Leger."
But it's quotes surrounding Bergling's view of DJ'ing that struck a nerve with other big-name DJs. Bergling is quoted as saying that performing is "mostly before work," and that reading the room "feels like something a lot of older DJs are saying to kind of desperately cling on staying relevant." Pressler also writes that Bergling "shrugs" when she says he seems to only be controlling the volume while performing. "Yeah, it's mostly volume," he is quoted as saying. "Or the faders, when you're starting to mix into another song, you can hear both in your headphones, you get it to where you want and you pull up the fader."
So there's an Avicii article in GQ Magazine where he says his sets are completely pre-planned & reading the crowd is a thing of the past. He also complains about opening djs who play the same big songs from his set...which are the same songs everyone else plays. So if I understand correctly, DJs should be robots and each pre-planned robot should know their place...?

By the way I think Avicii makes great music, sincerely. But if you play the same thing every night you're not a DJ. Some dudes live in a bubble and think what they hear in bottle service clubs and at festivals is djing. That's just entertainment. Enjoy the entertainment, I play at those spots too. It wouldn't hurt to be a bit creative though.
Bergling immediately protested, tweeting that he was misquoted.
Just how much he "actually DJs" was a big part of Bergling's response to GQ. He sought out to set the record straight by describing his method:
How on earth the fact that I complain when an opening DJ plays some of the peak time tracks I usually play somewhere in my set becomes the conclusion that I only touch volume faders is beyond me and even though I could beat mix in my sleep doesn't allude any kind of respect which I find deeply insulting. I would never lay down a pre-programmed set and performed to a pre-mixed CD, I would never cheat my fans like that. Period. For the record, the only planning I do is check transitions so that I don't have to pre-program anything and still make sure I bring it to my fans. A lot of work and thinking goes into my DJing. I want the entire night to progress seamlessly and when I have to adapt the energy on the fly for the crowd on any given night, I can do so with harmonic mixes that I've practiced over and over again. I am far from the only DJ that does this and it's something I take pride in being able to do.

Pressler's GQ article seems like it was meant to be from an outsider's perspective. In one passage, she refers to waveforms (something anyone who uses Soundcloud, Ableton, Garageband, Traktor or any other music manipulation program is familiar with) as "cardiogram-like shapes." Pressler jokingly tweeted that EDM fans looking to take her to task would likely be disappointed, as it's not a subject she regularly covers (she has since started retweeting hate tweets):
UPDATE: A GQ spokesperson told HuffPost Entertainment in a statement, "Jessica Pressler's piece is not only fair and accurate, it pays considerable respect to Avicii and his talents. And the quotes have been quadruple-checked and verified, on tape. We'd also point out that it was Avicii himself who describes some of the incidents as 'douche-y.'"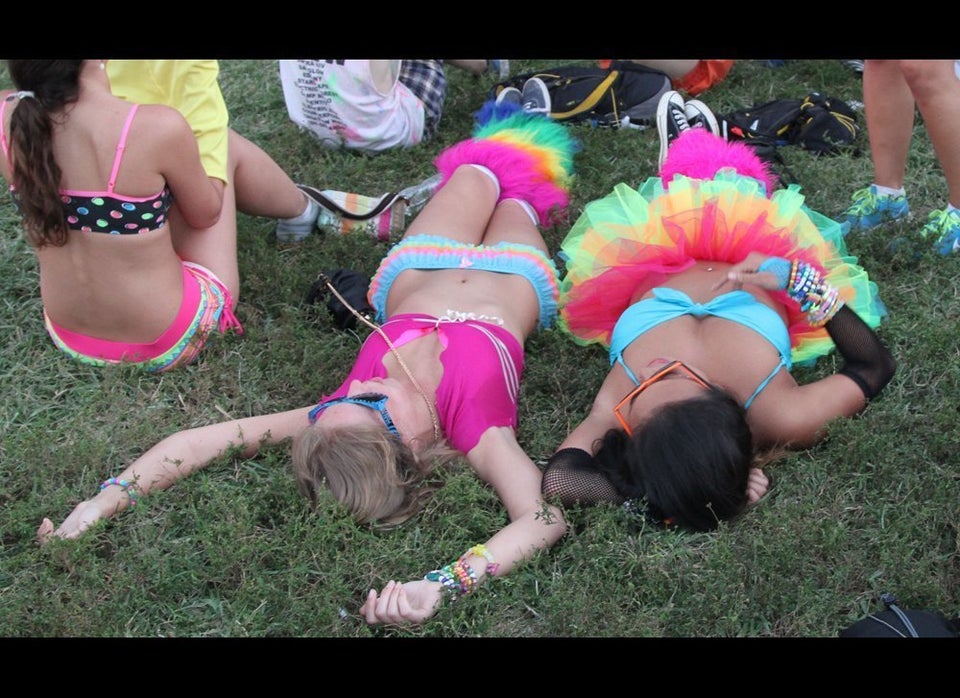 Ultra Music Festival 2013: Weekend 1
Popular in the Community