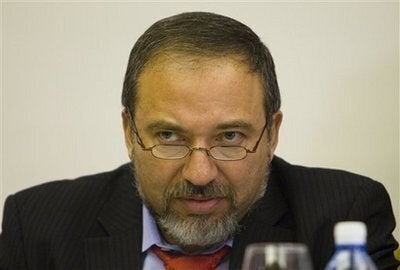 WASHINGTON, Apr 3 (IPS) - Israeli Prime Minister Benjamin Netanyahu's government was sworn in Tuesday - just one day later his foreign minister, Avigdor Lieberman, set off a firestorm by saying he judged Israel was no longer bound by agreements reached at the late-2007 peace conference convened by the U.S. in Annapolis, Maryland.
Egyptian Foreign Minister Ahmed Aboul-Gheit was one of the first to react. He said he would not shake hands with Lieberman until Lieberman reversed his position on Annapolis - and also retracted some public slights he had earlier voiced against Egypt. Given Egypt's close alliance with the United States, the verbal battle between the two allies spelled big trouble for Washingon's posture in the Middle East. Lieberman's words also increased the numbers of voices in the region calling for the U.S. to distance itself from the Netanyahu government.
In Ramallah, leaders of the Palestinian Authority (PA) continued to insist they would not return to the peace talks that were interrupted during Israel's recent war on Gaza unless Israel followed through on promises - made at Annapolis and elsewhere - that they would halt all new construction in the settlements in the occupied West Bank.
Lieberman also made several other diplomatically inflammatory statements in his first two days in office. He publicly questioned whether Israel had gotten anything of any value from the landmark agreement it concluded in 1993 in Oslo with the Palestine Liberation Organisation (PLO). And he said that Israel should base its stance toward Syria on a formula of trading "peace for peace" rather than the traditional formula of "land for peace."
On those issues, too, the new foreign minister was openly challenging policies long pursued by Washington.
Pres. Barack Obama, Secretary of State Hillary Clinton and their top aides have all been in Europe this week, conducting urgent business on the world economy and the hard-pressed relationship with NATO allies. Perhaps for that reason, there has not yet been any official reaction from the administration to Lieberman's frank and defiant declarations.
On Thursday morning, Lieberman's office told journalists Clinton had called to congratulate him on his assumption of his new post, and that the two had agreed to meet "as soon as possible." State Department spokesman Robert Wood refused to say whether Clinton said anything during the call about the statements Lieberman had made the day before.
It is possible that some in the Obama administration may simply be hoping the "Lieberman problem" will quickly go away. On Thursday, Israeli anti-fraud detectives questioned Lieberman for more than seven hours about aspects of his own and his party's business dealings, the latest in a series of probes that have continued for two years now.
However, many longtime analysts of Israeli affairs doubt whether these police probes, on their own, will cause Lieberman to leave office. They recall that Israel's last two prime ministers, Ariel Sharon and Ehud Olmert, and the last president, Moshe Katsav, were all dogged throughout their terms in office by police probes into alleged improprieties, and none of those probes, on their own, forced any of the men to resign.
When Netanyahu was prime minister in the 1990s, he too was investigated for corruption. The charges damaged him politically at the time. But later they were dropped; and the memory of them did not prevent him emerging as a strong prime minister from the Feb. 10 election. Indeed, Netanyahu has now assembled such a large and ideologically diverse ruling coalition that he looks easily able to play any one or two parties in it off against the others, if necessary.
This makes him captive to none of his individual coalition partners. But of the many parties in his coalition, Lieberman's Yisrael Beitenu is one of the strongest. In the hard, inter-party negotiations that follow any Israeli election, Yisrael Beitenu won five seats in Netanyahu's unprecedentedly large, 33-person cabinet.
To what extent did Lieberman's undiplomatic words represent the actual preferences on peace-process questions of his boss, Netanyahu? There is considerable suspicion that they very much did. The two men are close. Indeed, before Lieberman formed his own, now-powerful party, he was in Netanyahu's Likud. He was even Netanyahu's chief of staff during Netanyahu's earlier term in office.
After his swearing-in Tuesday, Netanyahu expressed his commitment to re-engaging in "peace negotiations" with the Palestinians, but he has refused to express any support for the goal of the fully independent Palestinian state - alongside Israel - that was defined at Annapolis. He has spoken a lot about trying to conclude an "economic peace" with the Palestinians that would fall far short of full national independence.
Regarding Syria, early on his previous term as prime minister, Netanyahu also said - as Lieberman does today - that his goal was "peace for peace." Later in that term, Lieberman engaged in secret negotiations with Syria in which, in return for full peace, he offered Syria a large portion of the Golan Heights, which were occupied by Israel in 1967. But that offer fell short of the complete Israeli withdrawal that Syria has always required, and led nowhere.
Amman-based political analyst Mouin Rabbani told Reuters that Lieberman's latest comments may well have represented Netanyahu's real preferences - but that "Netanyahu would have very much liked to fudge things."
Lieberman's plain speaking - and the policy stance of the Netanyahu government in general - pose many challenges for the Obama administration as it tries to win the linked goals of revitalising Palestinian-Israeli peace efforts and assembling a strong coalition of Middle East governments with which to confront and contain Iran's growing power in the region.
The prospects for revitalising talks on the Palestinian track do not look good, anyway. PA President Mahmoud Abbas, a long-time pillar of the negotiation effort, lost a considerable amount of his already weak political support from Palestinians when his last Israeli "peace partner", Ehud Olmert, acted with such brutality towards Gaza during the recent war.
His U.S.-chosen prime minister, Salam Fayyad, has resigned. Back in February, Fayyad told IPS categorically that the PA should not return to the negotiations unless Israel halted all new construction in the settlements completely. Under Netanyahu, that is not likely to happen.
The State Department's Wood has said that peace envoy Sen. George Mitchell will be heading back to the Middle East for his third tour in the coming days. Many in Washington are mystified that Mitchell has been so quiet in recent weeks - and also, that he has not yet appointed a functioning staff for his office.
After Mitchell achieved a hard-won success in his earlier peace mediation effort in Northern Ireland, some people started to talk of the role "the Mitchell Magic" had played in bringing the warring sides together. This time around, increasing numbers of pro-peace policymakers and analysts in the Middle East say they cannot wait for magic to happen any more. They say they need Washington to define, and start working wholeheartedly for, its own solution to the problem.
*Helena Cobban is a veteran Middle East analyst and author. She blogs at www.JustWorldNews.org
Related
Popular in the Community