 In little-noticed remarks last month, Israel's foreign minister declared that a war with Iran would "be a nightmare," drawing in countries from around the region and leaving "no one...unscathed."
During a diplomatic visit to China, Avigdor Lieberman told the Israeli daily Yedioth Ahronoth:
"If, God forbid, a war with Iran breaks out, it will be a nightmare. And we will all be in it, including the Persian Gulf countries and Saudi Arabia. No one will remain unscathed. We have to do everything we can to urge the international community to assume responsibility and take action to stop the Iranians … The State of Israel keeps all options open. However, we do believe that if we make the required effort and present a unified international front, we may yet talk the Iranians into giving up their nuclear aspirations … Let me make it clear: The right way to prevent [an all-out flare-up] is to present a solid unified front of the international community."
Portions of Lieberman's March 18 remarks were translated from Hebrew to English by the Israeli paper, but the quotes received virtually no coverage in U.S. news outlets. A columnist in Israel, Aviad Kleinberg, similarly noted that Lieberman's statement had been ignored by the Israeli media as well:
Who, do you think, has said these rational and sensible words? Try your guess. Was it Israeli opposition leader and head of the centrist, liberal Kadima party Tzipi Livni? Or could it rather have been longtime member of the rightist Likud party and Israeli Minister of Intelligence and Atomic Energy Dan Meridor? Or perhaps ex-Mossad chief Meir Dagan, who is known for his outspoken opposition to attacking Iran under the present circumstances?

Believe it or not, the statement was made by none other than the far-right leader of the ultra-nationalist Yisrael Beiteinu party, Foreign Minister Avigdor Lieberman. And it was not in foreign ears that these words were said. Rather, Lieberman said them in an interview to the Israeli daily Yedioth Ahronoth Sunday, March 18, while on an official visit to China. True, his statement did not make it to the headlines, but it was published -- if not on the front page, then on page 6, next to the report on the sanctioned Iran banks being cut off from the international bank-transfer system SWIFT. Surprisingly enough, or maybe not quite so surprisingly, there has been no echo in the media of his unexpected statement.
Lieberman's statements about military action in Iran contrast starkly with those made by Prime Minister Benjamin Netanyahu and Defense Minister Ehud Barak, who rarely discuss possible negative consequences of an attack. Indeed, Barak has proclaimed that an Israeli strike would not be prolonged nor would it risk mass casualties. "There's no chance in such a situation for 500,000 killed, not 5,000 or even 500 killed," he said last year.
On Monday, Israel's ambassador to the United Nations Ron Prosor said that the increasingly comprehensive sanctions regime on Iran is producing results. Foreign Policy reporter Colum Lynch reported:
[Prosor] credited international sanctions, particularly a set of financial measures imposed by the United States and the European Union, with exacting a steep enough price that it may force Tehran to change its behavior. Prosor cited a recent decision by the Belgium-based Society of World Wide Interbank Financial Telecommunications, or Swift, blocking dozens of Iranian firms from doing business as the latest evidence the sanctions are having an impact.

"I think the international community at this stage has really moved forward and have made at least clear to Tehran that there is a certain price tag for continuing" its pursuit of nuclear weapons, he said. "The decision on SWIFT, the issue of the sanctions by the EU, are important and have an effect on Iran…I do see really a movement on the international stage, especially on the economic side... It's much more effective than people think and it might change, hopefully it might change behavior patterns if we continue with it."
Related
Before You Go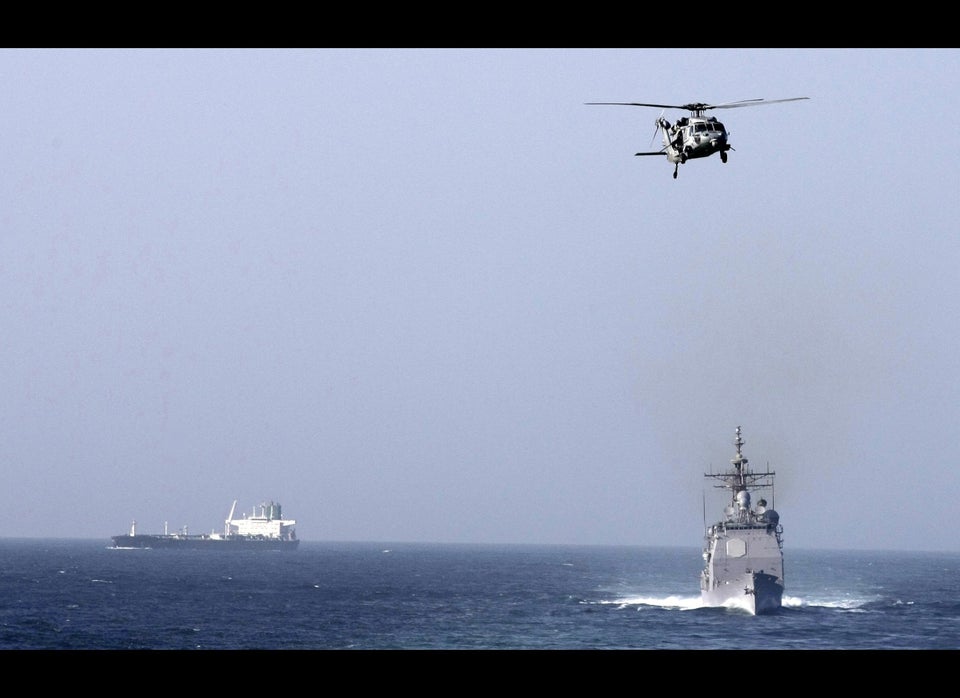 U.S. Navy In The Strait Of Hormuz
Popular in the Community