According to recent articles by Forbes and CNBC, the adult industry is experiencing a decline -- but you'd never know it judging from the week-long AVN/AEE extravaganza held in Las Vegas recently. The AVN/AEE Expo is a five-day event where the world of adult entertainment and products are on display. Consumers, fans and the industry can see and showcase the latest in everything within a world that is seemingly becoming more mainstream and it's a lot to see. The floor is where it all happens, from FanFest to the Adult Novelty Expo.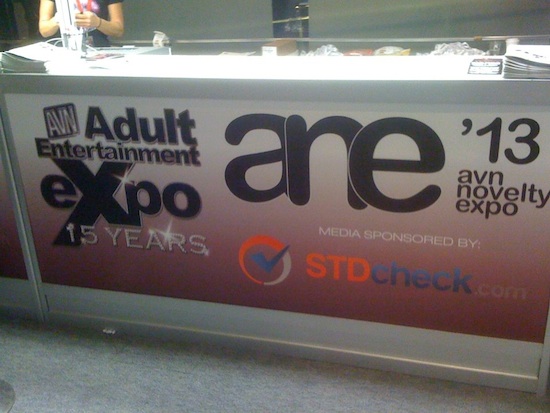 I picked up my press badge and saw Brian Scott Gross, publicist for AVN Adult Entertainment Expo. His company, BSG PR, oversees all public and media relations duties for this event. Gross's favorite part of 2013 was the ribbon cutting ceremony that signals the start of the week. "We had some of the most beautiful women in the industry come together and open the gates to what was an incredible expo" says Gross.
Incredible is right and some may say, overwhelming. This event caters to the world of "adult;" from porn performers and directors, to the 'toys and novelties' being featured. Sexual enhancement products have changed over the years. A few years ago, most products were for women (vibrators and dildos). This year I noticed that most items were for men and emphasized self pleasure. Most of what I saw does not require another person, they are designed for a solo experience. The quality and branding of most of the items was impressive and marketed in a way to remove the potential awkward-factor for the consumer.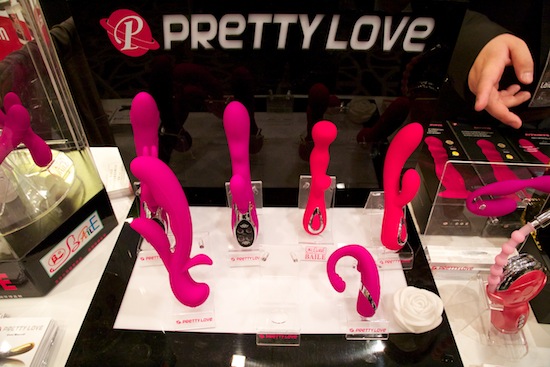 (Photo by Circus Boy)
With reports of at least 30,000 attendees, you are bombarded by people everywhere you turn. (Fans wait in long lines to get an autograph from their favorite porn star; the performers are always beautiful, picture perfect and surrounded by the masses.) Yearly attendees and adult insiders were commenting on how much smaller the expo seemed than before. I discussed this with Dan O'Connell, the founder of Girlfriends Films.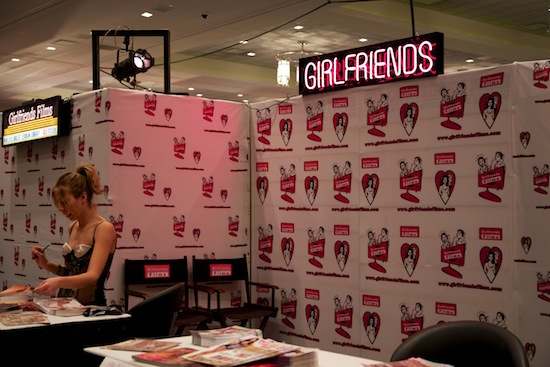 (Gilfriends Films Booth at AVN/AEE Expo, photo by Circus Boy)
O'Connell made a documentary about lesbians, entitled Lesbians Uncovered. He came to AVN/AEE to market it 11 years ago and people told him to do something, "closer to porn," which is how Girlfriends Films got started: "I decided to do something with a story line. It's always women and now we have over 400 movies." says O'Connell. He also remarks that 11 years ago, "...there were more booths with directors, but so many have gone under. Piracy and people getting porn for free has really hurt the industry of adult financially." O'Connell has been fortunate; he reports shockingly, that 75 percent of his revenue still comes from the sale of DVDs. Girlfriends Films employs a company to make sure, that their content is not stolen by Internet pirates.
So, who do you call when your product gets pirated? Nate Glass, that's who. I spoke with Nate Glass, who owns Takedown Piracy. "It's super easy to take content. We are talking about millions of people on the Internet who are virtually anonymous. There is a disconnect in this generation. They feel very entitled and that they don't have to pay for content" says Glass.
Take Down Piracy, will send a letter to offenders, giving them 24 to 72 hours, to remove the stolen content. If they do not comply, matters tend to escalate. Glass says: "Most sites tend to comply once they are held accountable." Glass hopes that people realize the repercussions of intellectual property theft. Not all adult-themed companies have seemingly endless financial resources. Companies have had to downsize or go under due to illegal tactics of gaining intellectual property.
Sadly, the effects of piracy and even the recession have left its mark on the porn industry. Performers are making less and at times not getting paid at all. Adult film work and sex work are real work; it can be exhausting, like any other job with demands but with stigma added to the mix. I thought about this and the performers I know and was meeting as I walked to the Hollie Stevens Suite. On the highest floor of the HRH Tower, away from the crowds and noise that is the AVN/AEE Expo, this oasis was exclusively for performers and those within the industry who are allies and advocates.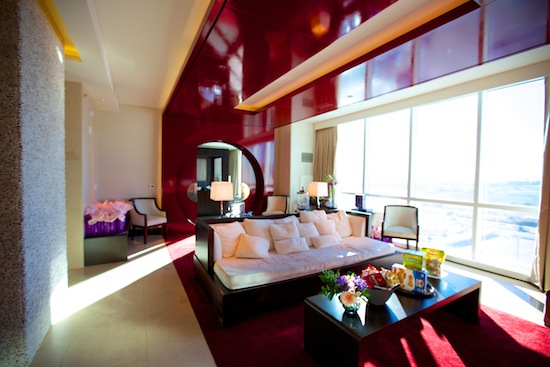 (Hollie Stevens Suite, photo by Circus Boy)
Hollie Stevens, our beloved queen of clown porn, wanted to ensure that performers had a place to relax, take a break and be treated to some love and care during one of the busiest weeks in the industry; she also wanted to offer free breast cancer screenings. Stevens died from breast cancer, so offering something practical in a setting designed with performers in mind was important to her.
Inside, performers were being pampered and allowed a wonderfully calm and safe place to take a break. Thanks to the efforts of Solace SF, 29 service providers from Las Vegas who collaborated with them and sponsors like Masque and GameLink, this event was able to take place free of charge to those it was being offered to.
When I arrived, people were laughing, catching up with old friends, making new ones and feeling at ease. Laura Lasky, executive director of Solace SF was pleased with the response: "We had a great turn out throughout the weekend. Hollie had some specifics of her favorite things she wanted everyone to have in their swag bags as take-aways. Knowing what she wanted gets to take place is humbling. We created a place for community where performers and allies can go, get taken care of and enjoy their down time. Seeing those we love happy has been my favorite part -- knowing performers feel comfortable enough to relax and having sponsors like Masque and GameLink who support us in offering compassionate care to those we love is a gift" says Lasky.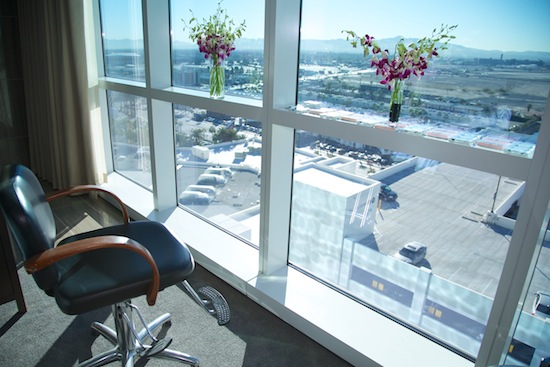 (A quiet place for hair and makeup, photo by Circus Boy)
Afterwards, I retreated to my room to prepare for the AVN Awards, which is a much different award show than any other. Prior to the awards, I interviewed Stevie J and Joseline Hernandez, who were presenting awards at The AVN Awards. Hernandez is a new latina rapper and singer, taking the urban market by storm. Hernandez, a former stripper in Miami prior to being discovered by Stevie J, is enjoying this job much more than her last. "I'm fun, young, fly, and someone for the Spanish community to follow" says Hernandez. J, the three-time Grammy award-winning songwriter, musician and producer, is throwing all of his energy into Hernandez along with a line of merchandise he is designing with Liberator.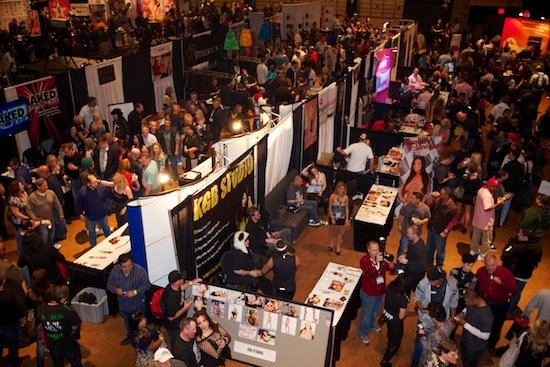 (AVN/AEE Expo 2013 group shot photo by Circus Boy)
The red carpet for The AVN Awards featured performers channeling old school glamour as well as latex and fishnets. Entertainment for the awards featured Tyga, along with Cirque De Soleil performing a scene from Zumanity and with some of the most interesting categories for awards you will never hear mentioned at the Oscars. All in all, my time at the AVN/AEE Expo was an experience. While it may be different for every person, it is definitely in a class of its own. Here's to 2014's adventure!
Calling all HuffPost superfans!
Sign up for membership to become a founding member and help shape HuffPost's next chapter