I love sex. I love arousal and seduction. I love sensuality. Watching Megan Fox and Amanda Seyfried kiss in Jennifer's Body makes my inner middle-school nerd quiver with delight. And, yes, I know those women are not gay.
If I love sex, then why is it that I don't always love porn?
Well, this diary will tell you. It covers my trip to Las Vegas for the annual Adult Entertainment Expo and the Adult Video New Awards, which I call the "Sexpo" and the "Oscars of Porn," respectively.
Hop a direct flight to Sin City from JFK. I'm flying with my makeup artist, "K." My sweet wife calls and gets K and me upgraded to first class. Free champagne? Four glasses, please.
Up and into outfit number one, a Dynasty-inspired business look. K gives me a blowout. I trot over to the Sexpo to check out adult novelties. Entering the adult toy fair, I instantly locate some lesbians and head over to check out the dildos they are wielding. I stroll through the aisles and happen upon a booth where a bevy of beauties is hocking a breath mint strip that masks the taste of vagina. Does it really need masking? I hold countless vibrators in my hands in all sizes and colors, including one that is shaped like a Siamese cat.
My first day at the booth for my DVD distributors, Girlfriends Films. As I find my way to the booth, I pass by at least six stripper poles and three full-on beds -- all occupied, of course. As you would expect, the walls are covered with giant posters of women with giant breasts. Thursday is mostly a trade day, so I do tons of interviews with the media, and during downtime I chat with the Girlfriends contract stars who are also working the booth.
Two of my Juicy Pink Box stars, Ela Darling and Charlie Ninja, join me in the booth after we've spent a collective five hours getting primped and styled. Walking through the Sexpo with Charlie, who is black, I suddenly realize that there are almost no African Americans around. It brought to mind a red-carpet question that Howard Stern's radio team asked me year before. The producer shoved a microphone at my mouth and shouted, "Why does doing interracial porn ruin a girl's career?!" I believe I said something like, "That's ridiculous, and the sheer fact that it's called 'interracial' porn signals a problem to me." But something becomes very apparent as you snake through the booths in the exhibition hall: everything is segregated.
Another issue is nagging me as I walk to my station, but I can't pinpoint what it is.
All day long, the fans pile in to meet us and get an autograph or a photo. Mostly, the fans are very sweet. However, a significant portion of them could really use a good shower with a strong, antibacterial soap. Inevitability, some fan who smells like a homeless man will say, "Can I git a peeetcure with ya? Can ya stand over here with mah?" So, you stand next to him, and as he lifts his hairy arms to wrap them around your waist, his stench comes wafting into your nasals. Of course, this is also the time that the idiot he has chosen to work his digital camera cannot figure out how to take the picture, so you stand there with him attached to you and simply try to hold your breath and smile. Say "cheese"!
The creepiest fans are the ones who walk around the Sexpo with both hands in their pants. Some men have been known to cut holes in their pockets and walk around the convention masturbating. That's one reason why the kind and attentive bouncers at our booth squirt hand sanitizer every 20 minutes or so.
Back at the booth with Charlie and Ela. We are all repeatedly asked in our media interviews, "What is the current state of the porn industry?" My response is entirely too long to fit here, so I'll leave that for another column. The girls and I sign autographs for several hours, and then we head back to the hotel suite to prep for the red carpet at the Oscars of Porn.
The crowd of colorful industry folk entering the red carpet is a people-watching delight, but when I spot the small group of San Francisco queer porn compadres, I realize how much I wish that there was not a completely separate convention and awards show for gay male porn. Oh, did I forget to mention that lesbian porn is actually considered straight porn?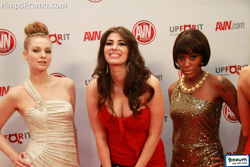 Up for seven Porn Oscars, I'm feeling very nervous, but I put on a good game face for Ela and Charlie. After posing for red-carpet pics, we walk the carpet, making stops for a few different outlets like HBO Latino and Showtime, where we are interviewed by Jesse Jane.
When we finally settle in at the auditorium with a cocktail, we sit back for the show. It's actually very entertaining -- until the porn clips start. Then I realize what's been bothering me all week long: extreme depictions of male dominance and the glorification of abuse.
What do I mean by extreme depictions of male dominance and glorification of abuse? There were probably 10 clips of a man sticking his dick so hard in a woman's mouth that she audibly gags. There were countless more where women's heads were shoved into the bed and their arms were stretched back like some sort of wrestling move. You see, male dominance is the standard in porn. Female dominance? Oh, that's just a fetish, silly. Girls are supposed to love getting rammed, right? Right? Wrong.
Well, what do you know? I guess I am a feminist after all.
I'll see you next week when I delve into the murky waters of my own history with a piece on one of the most popular sexual fantasies: having a threesome.
REAL LIFE. REAL NEWS. REAL VOICES.
Help us tell more of the stories that matter from voices that too often remain unheard.