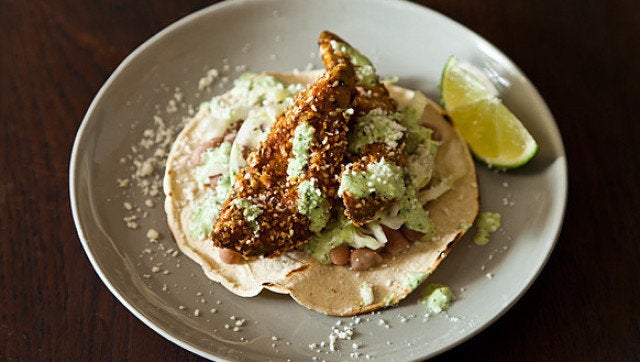 Bagging a recipe that appeals to everyone these days is no small order. Legitimate as the ever-growing list of dietary restrictions of friends and family often is, the pressure on a home cook to deliver crowd-pleasing meals is arguably greater than ever. And now it's nearly time for Game Day. Guests will be expecting creamy dips, saucy chicken wings, and cheesy pizza, along with a slew of gluten-free, vegetarian, and dairy-free options, to name just a few concerns.
Enter: Fried Avocado Tacos. Like no taco you've ever seen, it features creamy, crispy breaded avocado at center stage, supported by a sesame cabbage slaw, cilantro-kissed crema, and simmered pinto beans.
Take the recipe as it is, and you've got a gluten-free entree as long as you use gluten-free cornflakes (they're not terribly hard to find) to coat the avocado slices and stick to the recommended corn tortillas. Go one step further by removing the salt pork from the pinto beans, and voila! The tacos are now vegetarian and gluten free.
To make them dairy-free or vegan, you'll need to find (or make!) vegan substitutes for the sour cream and cotija cheese, and that's easily accomplished with plain yogurt and cheese made from alternative milks like soy, almond, and coconut, which are now available in many grocery stores. In place of the egg wash for the avocado wedges, use a flax egg.
Whatever version you end up making, the simultaneously crunchy and soft textures of the cornflake-coated fried avocado will have you and your guests in delicious disbelief. And that's the only kind of disbelief we'll accept come Game Day.