Today, on National Avocado Day, it's time to honor the avocado.
But in this ever-tensing political climate, we didn't realize that the country's love of this healthy green fruit has made its popularity soar higher than some of the most powerful men and women running our country.
We took a look at Google Trends, an analytical tool that charts out how popular a term is based upon how much it has been entered in search. We looked at the past 12 months of searches from around the world, and found that 10 of our highest-ranking politicians are less popular than avocados. Take a look: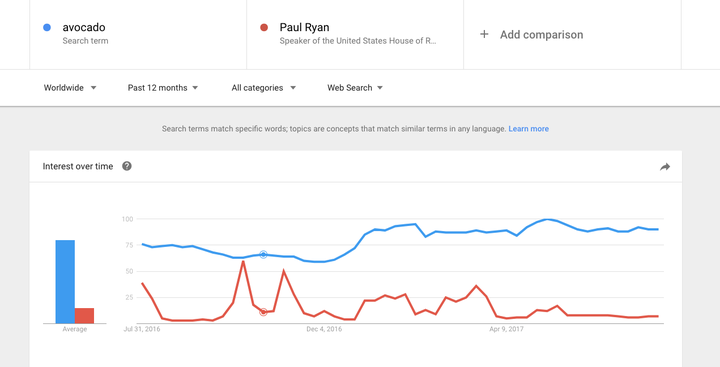 The line blue represents searches for the word "avocado," and the red line represents searches for Speaker of the House of Representatives "Paul Ryan." That's right, Ryan ― a man who is heavily involved in reworking of healthcare ― has never even come close to being as popular as the avocado.
Now let's take a look at the outcomes of the contests between the avocado and some more of our politicians.