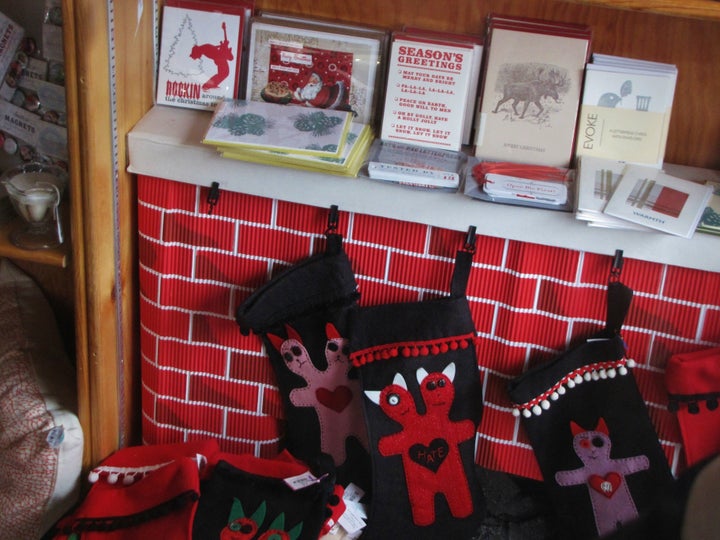 When you're trying to declutter, the holiday season can be a challenging time; with all those gifts flying around, it's almost guaranteed that one or more unwanted presents will land in your lap. But after you've spent so many hours cleaning out your drawers and closets, the last thing you want to deal with is more stuff.
Never fear -- my handy Gift Avoidance Guide is here! Put these tips into practice, and you'll greatly increase your odds of coming through Christmas unburdened with extra things. Just think: no more items to return, regift or defeatedly stash away. Who wants to store a tacky tchotchke in case the giver drops by six months from now?
1. Propose a gift-free holiday. Ah, if only it could be so simple! Admittedly, this strategy has a slim chance of working in many families and social circles -- but it doesn't hurt to try. You may as well swing for the fences; if this meets with success, you'll wipe out all your worries in one easy step.
2. Opt out of gift exchanges. It's all too easy to be pulled into "obligatory" gift exchanges -- whether it's among friends, coworkers, colleagues, neighbors or extended family members. The more you can wriggle out of, the less cluttered your holiday will be. Cite your choice of financial, religious, philosophical, environmental or personal reason for declining participation.
3. Distribute gift-exemption certificates. I've designed a "One Less Gift" certificate that you can print out, or simply email to friends and family. Send this to someone at the start of the season, and you'll both have one less gift to worry about.
4. Request a get-together in lieu of gifts. Instead of buying each other scarves and knickknacks, go out for lunch or coffee with the people on your gift list. Pick a place with festive décor and ambience to soak up the holiday spirit.
5. Request donations in lieu of gifts. Ask friends and family to put their money to better use, and donate to your favorite charity. Explain that you're already blessed with enough stuff, whereas so many others are truly in need.
6. Request good deeds in lieu of gifts. Ask your tech-savvy friend for computer help, your sister for a manicure or your teenage son for a car wash. Reciprocate by giving them "coupons" for some of your services.
7. Request that the giver go green. Mass-manufactured goods are a huge drain on our planet's resources. If a no-gift policy doesn't fly, ask the giver to plant a tree in your name (see the Arbor Day Foundation for details).
8. Propose a virtual gift exchange. Have fun giving and receiving private islands, luxurious vacation homes, celebrity-worthy bling, professional sports teams and other wild extravagances. Simply send a digital photo of your "generosity" to the recipient. It's a light-hearted, tongue-in-cheek twist on holiday consumerism -- with no material items changing hands.
9. Don't reciprocate. If all else fails, this is a last-ditch, tough-love attempt to end a gift exchange. Accept what you're given graciously, add an, "Oh, you shouldn't have" and don't offer anything in return. Chances are pretty slim you'll receive something from that person next year. Yes, it's awkward, but typically rather effective.
10. Disappear. The holidays are a great time to jet off to a tropical island or other exotic locale. People can't gift you if they can't find you!