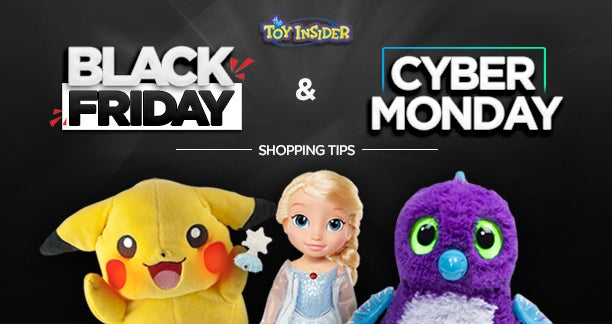 Thanksgiving is just days away, and that means quality time with family, lots of turkey, and, of course—holiday shopping. Black Friday and Cyber Monday can be a stressful days, from finding the best deals to planning where to go for them. Toy aisles and major online retailers will be filled with some amazing deals for the hottest holiday toys topping kids' wish lists this year, so follow these tips to save you time and stress:
1. Do your research: Always look up the MSRP (manufacturer suggested retail price) before you start online shopping. Sometimes you may think you're getting a great deal, but you're actually only saving a few dollars. Avoid overpaying for toys by knowing how much the company that makes the toy says it's worth. The Toy Insider lists all MSRPs for every toy on its website. 2. Check through your "junk" email: Every time you go into a store, the cashiers try to collect your email address to send you promotional emails. Normally, it's just annoying and it clogs your inbox, but when Black Friday and Cyber Monday hit, keep your inbox open. Lots of retailers will send out emails with deals that only last a few hours— or even less. 3. Sweat the small stuff: Pay attention to things like tax, shipping costs, and layaway and service fees. You may THINK you are getting a good deal on hot holiday toys, but these little charges add up quickly. 4. Make a list, check it twice: Come into Black Friday with a game plan. Don't try to start brainstorming ideas on the spot. Know what kids you are buying for and what they might like. This will prevent you from overbuying, and keep you less stressed when you are trying to get the best deals. The Toy Insider's wish list feature can really come in handy with your Black Friday shopping this year. 5. Avoid Third-Party Re-sellers: Third-party resellers on sites like eBay and Amazon sometimes hike up the price of hard to find toys. Don't overpay—it's not worth it. Only use trusted retailers and avoid paying three to four times the amount a toy is actually worth. 6. Look for licenses: Toys featuring kids' favorite characters are the hottest and quickest to sell out every year. Think Paw Patrol, Pokémon, Frozen, and Star Wars— these toys fly off the shelves, but they will be well stocked on during these few crazy shopping days, since retailers are looking to move out as much product as possible. Even if there isn't a great sale on toys featuring some of the hottest licenses, including PJ Masks and Hatchimals, buy them anyway, it may be the only time you see these toys on shelves. You can always return them IF you get a better deal later on.
7. Use comparison shopping apps: Use apps like ShopSavvy and RedLaser to check if other retailers have a better deal on a product you're looking at in store. Google Shopping is also really easy, and will give you an easy list of other retailers that carry the product you're searching for.
8. Take advantage of price matching: Make sure you know which retailers offer price matching, like Best Buy and Walmart. That way, you may still be able to buy the item at the store you're in even if another retailer has a better deal.
9. Be social: Social media is a great place to check in on deals, discounts, and even inventory. Some retailers will tweet about special deals and others will let you know when items are coming back in stock. Pay attention—sometimes these special bargains don't last very long.
10. Protect your identity: Cyber Monday is prime time for identity theft scams. Be sure that you are familiar with the websites you shop on, and watch out for copycat websites that may look like their legitimate counterparts with slightly off formatting or spelling.
Laurie Schacht, also known as The Toy Insider Mom, has covered the toy industry for more than 20 years. The Toy Insider is a year-round resource for parents, grandparents and other gift-givers looking for the best toys for their kids. The Toy Insider also produces an annual holiday gift guide featured in Family Circle magazine. Visit thetoyinsider.com for the latest toy news, reviews, giveaways, and more.
Calling all HuffPost superfans!
Sign up for membership to become a founding member and help shape HuffPost's next chapter
This post was published on the now-closed HuffPost Contributor platform. Contributors control their own work and posted freely to our site. If you need to flag this entry as abusive,
send us an email
.