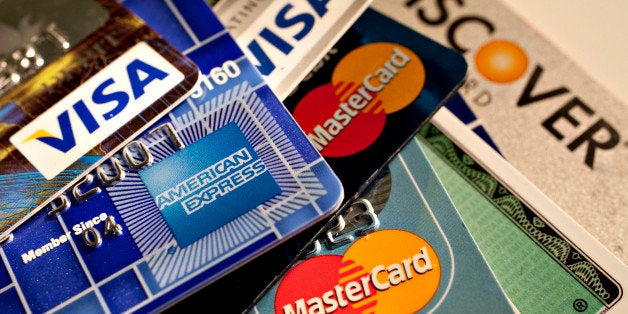 Although I love this time of year for the time spent with family and friends around cozy fireplaces and dinner tables, I dread it for the post-holiday havoc it will play on the credit lives of many Americans. Let's try and keep the joy in the season by being mindful of these three joy-killers when it comes to the holidays and your credit.
Mistake #1 - Falling into the trap of opening new credit accounts.
If you are like most Americans, you have plenty of open credit card and store card accounts and probably do not need any more. However, it becomes so tempting to get the free gift or discount, especially when it seems we get asked and offered such great incentives 30 times a day while we're out holiday shopping. Remember to stick to your plan and if using your store credit or signing up for one is part of your plan to build and maintain healthy credit, then by all means take advantage of the benefits. But if not, just set your mind to it that every time you are offered you will politely say 'no, thank you.' Remember that if you can anticipate all the offers now and plan your response, you will be less tempted to sign on for something that doesn't fit in with your plan for building healthy credit.
Mistake #2 - Not expecting the unexpected.
We've all been there and for me it still seems to happen every year. I think I've made my full list of gift for family, friends, neighbors, colleagues, clients, teachers all the way to the postman, my hairstylist. Yet I always seem to forget someone or get a last minute party invitation and need a little white owl gift. It's endless and the only way for my budget to survive all of this unplanned spending is to plan for the unexpected. For example, say you'll have ten unplanned gifts or whatever you think is realistic and the average you might spend on them and include that figure in your holiday budget. You may even want to keep the cash equivalent in a special envelope so you can quickly go to it without having to try and remember how much you have in the budget and instead reach for the credit card.

Mistake #3 - Holiday spending ruining your New Year's plans
Have you set any financial goals for the New Year? Do you plan to buy or refinance a home? Send a kid to college? Replace an aging car? Opening up a bunch of new credit accounts, having too many credit inquiries, running up high balances on your revolving credit accounts, and paying credit cards late could put a major damper on those plans by dropping your credit score. It's great to get caught up in the joy of the holiday season but not in the over-indulgence to the point that it will hurt your financial plans for the New Year.
So, this year, make sure you have a set budget for holiday shopping and know exactly how you will pay for it, then stick to your plans. Your joy will overflow throughout the coming weeks, even into the New Year!
PHOTO GALLERY
Biggest Money Mistakes 20-Somethings Make
REAL LIFE. REAL NEWS. REAL VOICES.
Help us tell more of the stories that matter from voices that too often remain unheard.