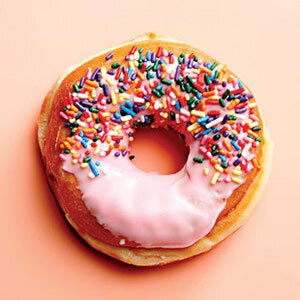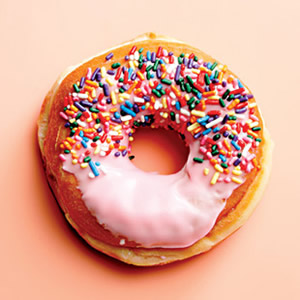 By Brierley Wright, M.S., R.D., EatingWell Nutrition Editor
When you consider how many fake-colored foods abound, especially "kid-friendly" ones, I guess it's not so surprising that Americans are now eating five times as much food dye as we did in 1955. (Think beyond candy to rainbow-colored breakfast cereals, electric-blue yogurts and fluorescent drinks.)
But the hot, newsy topic this week is the FDA Food Advisory Committee's decision to re-evaluate food dyes like Red 40 and Yellow 5 and whether they're linked to hyperactivity and other behavioral changes in children.
Last week the Committee announced its findings: there isn't enough evidence to conclude that these and other man-made food dyes cause behavioral changes in kids. The Committee also narrowly voted against labeling food products that contain dyes. The upshot? It recommended more research be done.
If you're still concerned, the easiest way to to cut back on or cut out synthetic food dyes is to trade processed colored food for naturally colorful unprocessed fruits and vegetables. But if/when you are purchasing processed foods, here are a few tips on what to look for at the grocery store:
1. Go organic.
Look for foods bearing the green-and-white USDA certified organic label, but be aware that foods labeled "made with organic ingredients" may still contain synthetic dyes.
2. Avoid numbers.
Man-made food dyes appear in ingredient lists as a name of a color with a number following it: Blue 1 and 2, Citrus Red 2, Green 3, Red 40, Yellow 5 and 6. Avoid these.
3. Seek out au naturel names.
Check product ingredient lists for beet, carotenes, annatto or capsanthin (a paprika extract)—all are natural colorants.
4. Don't be fooled by the term "artificial."
Counterintuitively, the terms "artificial color," "artificial color added" or "color added" indicate that nature-derived pigments were used, since synthetic dyes must be listed by their names.
How do you avoid synthetic food dyes?
By Brierley Wright, M.S., R.D.
Brierley's interest in nutrition and food come together in her position as an associate editor at EatingWell. Brierley holds a master's degree in Nutrition Communication from the Friedman School of Nutrition Science and Policy at Tufts University. A Registered Dietitian, she completed her undergraduate degree at the University of Vermont.
Related Links from EatingWell:
Related