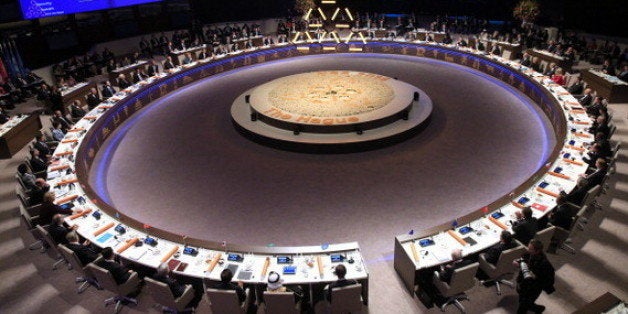 Michelle Cann | Director of Operations and Projects
Get ready, Washington: the traffic jams are coming. The cherry blossoms are in full bloom and delegations are arriving for a global summit to prevent nuclear terrorism.
After six years and three previous summits, the 2016 Nuclear Security Summit will bring more than 50 world leaders here on March 31 to tell us what all that time, money (and traffic) have achieved, and also to explain whether they have succeeded in closing yawning gaps in the global system to keep nuclear materials out of the hands of terrorists.
The glass is half full. More than 1,500 kilograms of highly enriched uranium (HEU) and separated plutonium have been recovered or eliminated. Fifteen countries have become HEU-free since President Obama launched the summit process in an April 2009 speech in Prague. These are important achievements, as HEU is the nuclear material a terrorist group is most likely to use in an improvised nuclear device.

The summits have also pioneered the use of regular, progressive commitment-making by participating states. All states have pledged at least one specific national action, known as a "house gift," that they will take to improve nuclear security. More than 90 percent of the states also have banded together to offer multilateral commitments, known as "gift baskets." These are statements of shared priorities, mutual goals and actions states will take together. Some 90 percent of states also have issued voluntary progress reports on their efforts.
The voluntary commitment model is responsible for many of the summits' achievements. It is a key innovation of the summit process, a new, flexible tool for galvanizing action on this and other complex global issues. Adapted versions of commitment-making have appeared at recent world forums on climate change and global health.
However, this and other valuable aspects of the NSS process are in danger of being lost after 2016. The summits' ultimate legacy is not clear. The process has not resulted in any new programs, institutions or formal agreements, and it is in danger of ending without a real plan for preserving the progress made or ensuring its continuance.
Despite the high-level political attention the summits get, the global nuclear security system itself has not really changed since 2010. More countries have ratified international agreements on it, but the main one, the 2005 Amendment to the Convention for the Physical Protection of Nuclear Material, still has not received enough support to enter into force. That is a key summit goal. Further, the international system lacks any legally binding security standards, information-sharing mechanisms or regular review structures to keep pace with the increasingly decentralized threats from groups like ISIS. And the greatest NSS shortcoming is its unwillingness to address such governance gaps.
Today's nuclear materials security regime is underdeveloped compared to systems in place for nuclear weapons safety and safeguards. Addressing the issues is not simple, and expecting the 2016 summit to resolve them all is unrealistic. But so is waiting for a serious nuclear or radiological incident before acting.
Last year, the expert community developed the 5 Priorities for Global Nuclear Security to help policymakers understand the most important steps needed. To accompany this wonky initiative, they launched a promotional campaign to share the priorities with the public and explain their impact on daily life. The group behind this outreach effort, the Fissile Materials Working Group, is a coalition of 80 civil society organizations from around the world. The coalition's nongovernmental side summit before the official gathering will spotlight the importance of establishing sustainable nuclear security governance and the role of civil society. The goal is to hold leaders accountable for their procrastination in this area, providing actionable policy solutions and educating the public about what is at stake.
This summit will affect the daily lives of people around the world. That is because the radioactive materials involved are not sequestered away like bombs in military silos deep underground, but are used every day in energy production, research and medicine. Nuclear power plants currently provide more than 10 percent of the world's electricity production, and that number may expand as more countries seek carbon-free energy options.
So, Washingtonians, pay attention to what happens at this summit. A lot more is at stake than a gridlocked commute.

Michelle Cann is the Director of Operations and Projects at the Partnership for Global Security. She is the co-author of a series of reports tracking the outcomes of the Nuclear Security Summit process and a member of the Fissile Materials Working Group. @cann_michelle and @PGSNuclear
The views expressed above are the author's own.
This post is part of a blog series produced by The Huffington Post and Carnegie Corporation of New York about issues related to the 2016 Nuclear Security Summit. World leaders will gather in Washington, D.C., on March 31-April 1 to address the threat of nuclear terrorism and steps toward creating a global nuclear-security system to prevent it. To view all of the posts in the series, visit here. Join the conversation on Twitter at @CarnegieCorp, #NGOsummit, #NSS2016.
Popular in the Community