When the recent news about the tragic death of Avonte Oquendo that so many had been dreading, the ongoing quiet, powerful social media movement in his support was elevated to another level by the words of a gifted young writer named Danson who is also autistic and nonverbal and a published poet in a letter he wrote to Avonte's mother:
Dear Ms. Fontaine (Avonte's Mom),
I behave in escaping ways also.
The feeling of freedom can be found.
This does not mean his blessing has ended. I am an autistic teenager. I do not talk with my mouth but I think. Avonte is shining.
Peace, Danson Wambua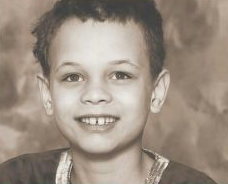 Danson's words took my breathe away.* So did the fact that so many special needs parents changed their profile pictures to Avonte's sweet and innocent face. Posts about his disappearance have dominated my personal Facebook feed since his disappearance, but when the nightmarish news about how/when/where they discovered his body broke, the posts and tweets hit parents everywhere hard -- especially the autism community -- and social media reflected our communal mourning and grief.
Special needs parents regularly deal with wandering -- most especially but not exclusively -- the autism community. In fact, a 2007 online poll through the National Autism Association revealed the troubling statistic that 92 percent of parents reported that their children with autism have a tendency to wander and I'm certain those statistics are still valid in 2014.
Michele Pierce Burns is Danson's mother -- she is a dedicated autism advocate and Executive Director at Association of Excellence for Autism, Director of Special Projects at Ramapo For Children and a beloved friend who infinitely inspires me and other special needs parents with her mix of passion, leadership and love-fueled action. I reached out and we spoke shortly after Danson's letter went live on Facebook and through tears of grief mingled with the desire to turn our collective pain into positive action and ultimately change, Michele shared some of the powerful reactions to his prolific words.
The responses are overwhelming:
"Danson Mandela Wambua has lovingly cracked the door to his inner universe and let us peek in at his hiding place. What you will discover, as I did, is truly and undeniably astounding"
--Suzanne Wright, Co-Founder Autism Speaks
"In Danson's words all who grieve for Avonte can find solace. I believe, as Danson has declared, Avonte is shining for he paid the ultimate sacrifice, and in so doing has taught us all that we must work together to protect the children."
--Jennifer Jones Austin
Co-chair of Mayor-elect Bill de Blasio's Transition Committee
Chief Executive Officer and Executive Director
Federation of Protestant Welfare Agencies
When our conversation turned to Danson's writing and the book he wrote when he was 8-years-old, the words from the page took on new meaning in the context of Avonte's death "Until I am able, give me your voice... Roar for me..." and it was this line that prompted the two of us to commit to helping educate communities about wandering and begin a "safety project" with the single goal of protecting children -- all of our children.
In that instant, KeepAllOurChildrenSafe.com was born. The two of us have officially partnered with Ramapo to develop a "Keep All Our Children Safe" training, manual and accompanying digital media. Among other programs, Ramapo For Children runs a special needs camp in Rhinebeck (New York) that is 90-years old and also offers 1200 coaching & training sessions per year to over 250 schools and community organizations serving over 10,000 educators, parents, grandparents, and youth-service workers.
In the spirit of safety and community mobilizing (similar to Neighborhood Watches ) and the Subway Guardian Angels, fundraising has already begun to cover the costs of creating the materials so that Keep Our All Children Safe can offer them at no cost to parents, families, teachers, neighbors, educators, advocates and first responders.
In the words of Susan L. Taylor, Editor-in-Chief Emeritus ESSENCE Magazine and Founder/CEO of the National Cares Mentoring Movement (serving 140,000 clients in 55 cities):
"The safety guide is a great gift to parents and all who love, serve and want to protect children. The National CARES Mentoring Movement is so looking forward to distributing the guide in the 58 U.S. cities in which our local CARES Mentor-Recruitment Affiliates are devoted to recruiting mentors for vulnerable children and keeping them safe."
On January 25, 2014 hundreds mourned Avonte at a tearful funeral and countless numbers grieved online.
Now more than ever, special needs parents everywhere want to take action because Avonte was our son, our child, our brother and now is our hope.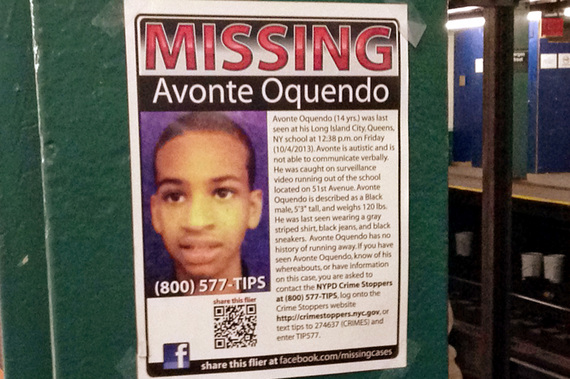 To date, in less than 24 hours, and in honor of Avonte Oquendo and his family, Keep Our All Children Safe has raised funds to offer 10 scholarships for RPM initial evaluations to help others. For more information on the scholarships email: KeepAllOurChildrenSafe at gmail dot com.