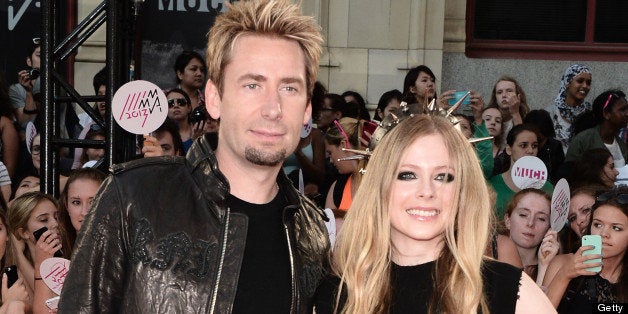 After marrying in a French castle last week, Avril Lavigne and Chad Kroeger are celebrating their first few days as husband and wife in another European nation: Italy!
On Monday, the Daily Mail shared photos of the newlyweds honeymooning in Portofino, Italy. The two were snapped cuddling while enjoying a boat ride around the city and dining at a local restaurant.
In an interview with Hello! magazine Monday, Lavigne said that the inspiration for her wedding came from her obsession with castles and love of French decor, and that she wanted the event to be "over the top." The ceremony, held at Chateau de la Napoule last Monday, was the culmination of a three-day vacation for the guests. Lavigne wore a black Monique Lhuillier gown and carried a bouquet of black flowers, while Kroeger wore an all-black suit.
Lavigne said her body was "overtaken by emotion" as she walked down the aisle.
"I saw him and he was so calm and happy. He had a tear coming down and he wiped it away," Lavigne said. "I felt so good walking to him. It made me feel like a complete woman."
The couple met in 2012 while working on Lavigne's new album, and got engaged in August after a month of dating.
Click through the slideshow below to see who else has tied the knot so far this year.