R&B superstar Ne-Yo and Third Eye Blind rocked a charity concert by performing at the Intrepid Air, Sea, and Space Museum in New York City last Thursday. The benefit raised money for the Alliance for Veteran Support (AVS), an umbrella group that funnels money to five beneficiaries, all of whom share a common goal of helping those who have given service to the U.S. military. Other attendees included MC Jason Dundas, Stephen Baldwin, Miss Universe, and Orfeh.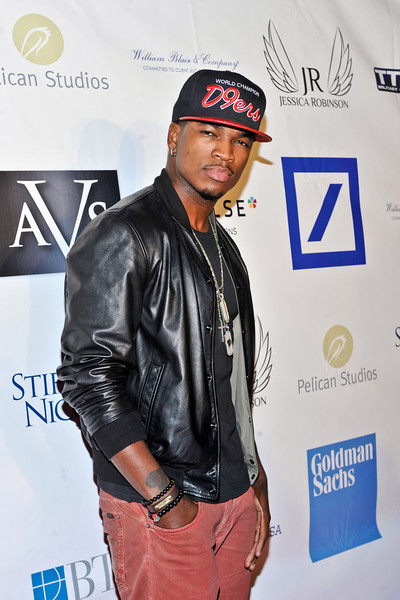 Seeing as he was wearing dog tags with diamonds on them, I asked Ne-Yo if he'd ever join the army. "No!" he responded resoundingly. "I have a few uncles in the armed forces, Marines, Army, some navy people," he explained. "I always remember them being very, very very strict and a little mean."
The "Let Me Love You" singer isn't all soft, though: he's done two military movies (Battle: Los Angeles and Red Tails), so he knows the drill. "Training for those movies gave me an all new kind of respect for these dudes," he said. "Because it takes a very special kind of individual to do the things they do."
Ne-Yo posed for photos with the veterans from the Marines, Navy, and Army in attendance; for more photos of the concert by photographer Steven Ekerovich, see the slideshow below.
Third Eye Blind frontman Stephan Jenkins, who was almost hit by a cab driver on the way to the concert on his bike, had a refreshing mix of liberal and conservative politics in his chat with me.
"Bicycles were here before cars were, so... " he reasoned, "This should be a bicycle town, it's flat. It doesn't need to be made more efficient for cars. I don't think that's going to make the city run better."
The bike lover, however, did feel some populist rage towards America's enemies, and said he had considered enlisting in the past:
When Gulf War I happened, they started a registration for the draft, and I had to really think about that, because I was opposed to that war. But yeah, I signed up. I think after 9/11 I felt the same way a lot of people did. It really just woke up this ire. I just wanted to go over and slit those guys' throats... It really made me angry. It made me feel furious at Afghanistan, and also the Taliban for hosting them.
On other issues, like regulation of Wall Street, Jenkins was more left-wing. The topic was germane was the event's main constituency were Wall Street bankers. The sponsor list reads like a who's who of investment banking and hedge fund heavyweights, including: BTIG, Barclays Capital, Knight, Macro Risk Advisors, Goldman Sachs, and Stifel Nicolaus.
Said Jenkins of the banking establishment:
I think they should be regulated. I think that they should account for a much, much much smaller portion of the GDP. I think that bankers used to be boring and make a good income. I don't think that bankers should make more money than, say, doctors. I think it's completely out of control. The financial industry is responsible for one-fifth of the net worth of the United States. I also think that they have compliance departments that make it possible for them to deal with federal regulations that we put on them. That said, I'm glad that they showed up and wanted to donate money.
I also got the chance to speak with Omar Itum, who founded AVS just nine months ago in January 2012 and now acts as its chairman of the board and CEO. It's interesting to note that the very patriotic event is the brainchild of someone born overseas:
I grew up in Saudi Arabia. I remember 1991, when I was growing up, 15 minutes away from my home, SCUD missiles bursting. It was kind of a big experience. There was Iraqi forces amassing on the northern border of Saudi Arabia. It was a very scary time for everyone, and it was the U.S. armed forces who came to our rescue. This is my way of saying that the U.S. has a duty overseas, and my way of saying thanks.
Earlier in the day, Itum's brother Khalid rang the NASDAQ opening bell with other fellow board members of the AVS, including Stefan Kahandaliyanage, COO; Chris Arcamone, Head of Entertainment; Mark Pfeiffer, Head of Food & Beverage; David Rodolitz, Head of Event Production and from the Impulse Event Productions; and Khalid Itum, Alliance Ambassador.
Other sponsors of the event included Deutsche Bank, Alliance Bernstein, BNP Paribas, Citigroup, Canaccord Genuity, Cantor Fitzgerald, Cowen Group, Credit Suisse, KeyBanc, Lazard, Macquarie, OTR Global, QlikView, Sterne Agee, UBS, Weeden & Co, Wells Fargo, and William Blair.
Beneficiary JoAnn DiFede, Ph.D., who runs the Program for Anxiety and Traumatic Stress Studies at Cornell Weill Medical School, told me that she's looking to spend the money on outreach to veterans, so that the strong men will accept care. Said DiFede:
One of the biggest problems is persuading veterans to come in for treatment. But if we can get them into places around the country that offer the standard of care, there is a very good chance that their symptoms will go into remission, and that over time the quality of their life can be restored... The principal treatment though is a behavioral therapy in which you have to confront what happened to you, which is really really hard to do. But if you keep in mind that most people with PTSD have the images of their experience sort of bouncing around in their brain with no control over it, this is a way to organize it and help the person make meaning of it so that they can move past it.
I also had the pleasure of interviewing Retired General Wesley Clark, who talked to me at length before delivering keynote remarks at the event.
Evan Mulvihill: Are we doing enough for veterans these days?
Ret. Gen. Wesley Clark: We've never had any greater needs for our veterans' community than we do right now. Because what's happened is, although there's no conscription, the same soldiers and marines and airmen and sailors have been asked to go back again and again and again. The stresses and strains and injuries of these repetitive tours are unprecedented in terms of the hardships they inflict on our veterans. In addition to which, a lot of the hardship is inflicted because our troops are necessarily on the receiving end of things like improvised explosive devices. Where they can't return fire. There's no one to shoot at in many cases, though they know they're going to be attacked. This creates its own psychology.
Does this create PTSD, where they're paranoid a shooter is around every corner?
In general, the more active the troops can be, the more they can act of their own free will and volition, on the offensive rather than on the defensive, my theory at least is that that reduces the prevalence of PTSD. We know it's also reduced by higher levels of authority, greater levels of education. It hits harder to those who feel less empowered, and in the wars we've been fighting where we're going against improvised explosives.
Did you see The Lucky One? It's a Nicholas Sparks movie where Zac Efron plays a Marine who comes home with PTSD.
I saw it. I think that there will be a lot of movies and a lot of efforts to come to terms with what the meaning and significance and impact of what this will be. We may have hundreds of thousands of people who have been afflicted by this war. In World War I, they called it shell shock. In World War II, the same. After Vietnam, we had the term PTSD. It happens after every war. This seems to have hit unfairly, because of the repetitive tours. On the most patriotic and able of the volunteers.
Tell me about your involvement with the Alliance for Veteran Support.
I'm new to it. I am involved with several employment efforts for veterans. I think this is a great opportunity to raise awareness and raise funds for some very important charities.
Today marks the one year anniversary of the repeal of DADT. What does it mean for you?
Well, I'm glad to see people treated with respect and dignity. I never anticipated there would be any problem with it, and there hasn't been.
So you were happy to see it go?
I was. I called for its repeal when I ran for president in 2003. I was way out in front on issues like that. I remember talking to an army officer, and he says, "Sir, I don't agree with you on your position on gays." I said, let me put it this way: "If your son was gay, would you still love him? Would you want him to be treated fairly, with dignity and respect?" And he said, "OK. I think I see it."
There's a lot of Wall Street folks here. What are you thoughts on the financial establishment?
Well, I'm part of Wall Street. I like Wall Street!
You can make a lot of money, right?
You can also lose money. Markets have risk, and markets have psychologies. There's always lots of things that go wrong, and can embarrass. People don't like to lose money, people like to make money. And right now, the stock markets are in pretty good shape, but Main Street's not doing as well as Wall Street. Somehow as a nation we've got to bring the spirit of entrepreneurship and optimism and hope and promise back to Main Street.
So we need to raise consumer confidence in the market.
Right. Consumer confidence is a big part of it. And deleveraging consumer debt is a big part of it. And that starts with people's wealth that's tied up in their homes. You may have seen the recent headlines that said, net wealth has gone down 40 percent for average Americans, because of lack of value in the home. It'll go back up, but until it does, and until it starts moving up, people are going to be very wary. And that wariness then scares off investors. It leads companies to just buy back their own stock, rather than expanding production.
It's a matter of working our way though the financial crisis.
Should the government be involved?
The government is always involved, through market regulations, through employment policies, through the work of the Fed, which is quasi-governmental. It's always involved. There's no such thing as a market without the government.
Has the government been successfully involved?
I think what's happened is that we were successful in staving off a disaster. The private sector is moving back. In the near term, we've got to focus on employment, and in the mid term we've got to reduce our national deficit and debt.
What did you think of Romney's 47 percent comment?
I don't know if he was just being inarticulate or actually speaking sincerely. That's what we need to sort out.
Do you know Ne-Yo and Third Eye Blind?
Sure, everybody's heard of them.
What do you think of Ne-Yo?
I think he's been an incredibly successful performing artist. I listen to popular music, and I always enjoy it. It changes from time to time, but my appreciation of popular music goes back a long way. I've seen it all.
Photos courtesy of Steven B Ekerovich Photography
REAL LIFE. REAL NEWS. REAL VOICES.
Help us tell more of the stories that matter from voices that too often remain unheard.