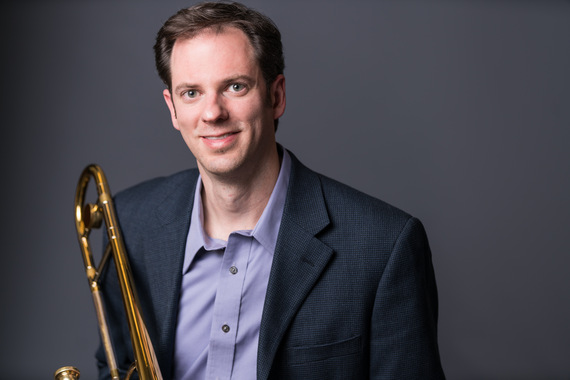 Awakening Joy Through Jazz Studies
By Joel Yennior
Albert Einstein once proclaimed, "It is the supreme art of the teacher to awaken joy in creative expression and knowledge."
I find these words to be particularly applicable to my work in the field of jazz education, where I am tasked with the responsibility of imparting musical/theoretical knowledge, sharing practical strategies for applying this knowledge, and fostering creative expression (which is a central component of jazz music).
These goals remain central to my teaching whether I'm working with adult students through New England Conservatory's School of Continuing Education, or younger learners at NEC's Preparatory School. In teaching both groups, I have a similar process in terms of assessing, evaluating, and identifying goals for study. But over the years, I've found that there are a number of key differences between adult and school age learners that influence the way I teach each group.
Although a small number of my adult students have found success playing jazz professionally or semi-professionally, most are not actively pursuing a career in music. The typical adult I encounter is firmly established in their profession, and is mainly interested in developing a deeper understanding of jazz music, and opening the door to creative expression through jazz improvisation.
Adult students are experienced learners, and I've found that they generally have an advantage over younger students when absorbing facts and extracting the central concepts from a lesson. But because each adult begins study with his or her own unique set of prior experiences, they occasionally need additional time to ask questions and make connections when presented with new information. I've found that sharing personal anecdotes, creating analogies to emphasize ideas, and pursuing the occasional tangential discussion are all valuable ways to help students to make connections and better understand core concepts.
On the other hand, younger students are less experienced and less disciplined learners than they ultimately will become. I've found that prioritizing a small number of key fundamental skills and concepts, and reinforcing these concepts through a variety of instructional techniques is vital to helping young learners develop a strong foundation for continued growth.
By nature, learning to improvise requires a degree of humility and self-confidence. When practicing improvisation, younger musicians are much less self-aware than adults, and are far less likely to be encumbered with the fear of making mistakes when learning. Of course, this is not unique to learning jazz. There must be scores of best sellers - Timothy Gallwey's The Inner Game of Tennis, and countless others - that address the issues of self-doubt and anxiety so prevalent among adult learners and performers.
In my experience, most adults can overcome these internal barriers when issued a thoughtfully tiered set of challenges presented within a positive and nurturing learning environment. Setting the bar low at first to help guarantee initial success, and outlining a clear and logical sequence can help build confidence and illuminate the path toward musical growth.
Ultimately, with a bit of thoughtful guidance, there is joy to be awakened in the pursuit of knowledge and creative expression - for students both young and old.

About Joel Yennior
Joel Yennior is a trombonist, composer, and educator currently residing in the greater Boston area. He has performed and/or recorded with an array of notables including Ran Blake, George Garzone, Jerry Bergonzi, Mulatu Astatke, Medeski, Martin & Wood, and the Either/Orchestra, and was named as a "Rising Star" on trombone in Downbeat Magazine's 2013 and 2014 Critics Poll. His recent recording debut as a leader, entitled "Big City Circus" (Brass Wheel Music), was described as "soul music" by renowned author and NEA Jazz Master, Nat Hentoff. Yennior currently serves on the faculties of New England Conservatory and the Westwood Public Schools (MA) and has previously written for the Massachusetts Music Educators Journal, the International Trombone Association Journal and Learn Jazz Faster.com.
Calling all HuffPost superfans!
Sign up for membership to become a founding member and help shape HuffPost's next chapter