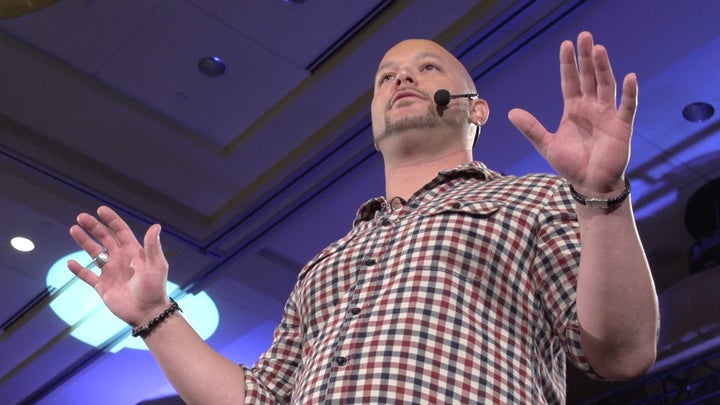 Not that long ago, Keala Kanae found himself filled with debt, insecurities, and unable to afford a birthday gift for his girlfriend. It was a recipe for an unhappy life. Changing some inner beliefs, connecting with his passion, and leveraging it all to help others find their inner magnificence flipped his life upside down…for good.
"My passion first comes from the belief that everyone is magnificent," Kanae, 34 years old, said. "God or the Universe does not make ordinary people, ever. I inspire people to remember that they are extraordinary. I bring their magnificence into reality."
For himself, the growth he's experienced has been through a lot of inner work and shifting his own mindset.
"I didn't get here by accident," Kanae, a native of Hawaii, said. "I focused my energy and visualized myself being here. I remember that I would walk around working as a waiter at a restaurant saying an affirmation to myself, 'I'm an Internet Marketing millionaire.'"
His affirmation, backed with focused action and intention, became a reality.
Kanae has leveraged his passion into becoming a millennial millionaire entrepreneur. His business went from $1 million in its first year to being on track to do $30 million this year. He co-founded AWOL Academy, an Internet Marketing education and mentorship platform designed to help small businesses find their right marketing approaches, reach their target audience, and run successfully.
Does he sometimes pinch himself to make sure all of this is really, well, real? "At times, I do pinch myself over the life I have and the people I get to surround myself with today," he said. "I really do find myself in a deep sense of gratitude."
Entrepreneurs who tap into a higher level of success and prosperity usually have people they've looked up to along their path. Kanae is no different.
"For me, the two biggest influences upon my career and path are Ryan Deiss and Frank Kern," he said. "These two characters, as far as professionalism and bravery go, had the most influence on me. It's inspiring to see – both men had businesses they could have sold – yet they keep on growing. Deiss and Kern keep innovating and stay on top of the industry."
Through his own experiences, education, and continual learning processes, Kanae, along with his business partner Kameron George, developed AWOL Academy.
"It's been around close to two years, really about a year and eight months since we had our first customer," Kanae said. "This blossomed out of a random conversation in February 2015, then we had our first customer in September 2015. In 2016, we took it pretty slowly and opened and closed the door here and there for business. We were busy targeting specific markets during this time, though. By the end of the year, we took on new customers.
"Neither of us imagined it would be that big. Now we have 50 employees, I have a private office in an 11,000-square-foot building, and I have an executive home in Las Vegas. As we've grown, the vision for our company also grows and expands. I'm not surprised that we are where we are."
Kanae has been turning his attention recently toward his company's "AWAKEN Live Experience," coming up on Aug. 24-27 in Las Vegas.
"People have a misconception," he said. "They end up getting no results in their business and life, so they believe they need more information. They become a professional student and keep investing more. Most people have the information in their minds and know what they already know."
He pointed out one singular difference, which provides a powerful shift in people who attend this experience. Their mindset shifts.
"There is a habitual way of thinking around the way all people approach success," Kanae said. "It is mindset. We help them become the architect of their lives. They have a real-life experience of how they're showing up in their lives. What ends up happening is their limited beliefs and small mindset get stuffed."
With all of his professional and personal success, it could get a bit too much to handle for some people. Kanae has been able to find a balance, and even a little happiness, after some choppy waters.
"Happy? Absolutely yes but that does not mean there are not challenges," Kanae said. "A year ago, I had this John Wayne-style of belief that I had to do it all on my own. Here I have a 50-person team, become CEO of this business, and people report to me. Well, I had to learn to flex some new muscles.
"What I've learned is that it is important for me to take care of myself. I sacrificed a lot and built up so much anxiety and stress. I had to step back and re-evaluate how I show up in my business. Now, I bookend my time and bring that balance back into my life."
In a sense, Keala – which translates into "The Pathway" in Hawaiian – found his own path and is laser-focused on following it in service to his own heart and others. His path is filled with life lessons, ones which continue to keep him looking ahead and not behind.
Related
Popular in the Community