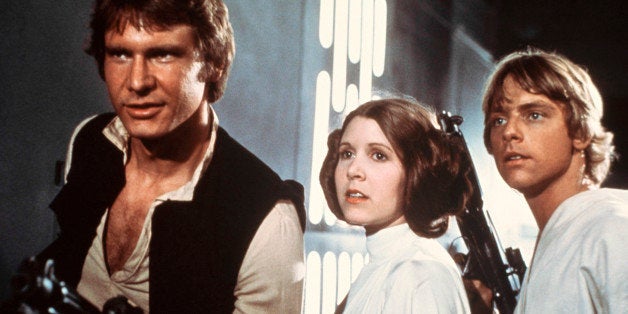 There's a funny video blending the new trailer for Star Wars: The Force Awakens with footage from Interstellar. It's clear the person who created this was someone who got what the trailer means -- or could mean to longtime fans.
I am too old and too geeky and too much a fan to be embarrassed to say I reacted pretty much the way Matthew McConaughey did in that mash up. Why? Well, because Star Wars is an amazing part of my life. In fact, I may look at my life in terms of BSW and ASW. Before Star Wars, I was just a geeky, nerdy kid who enjoyed science fiction and fantasy but didn't really connect with too many others. After Star Wars, things changed. Star Wars was the door that opened the entire world of fandom to me. And while I was still geeky and nerdy, I found friends who didn't notice, let alone care.
Star Wars offered me the opportunity to make new friends who reveled in that movie. But it wasn't as if that one film was all we had in common. Oh no. I soon discovered my new friends had varied interests just like me -- everything from politics to love of film, love of old film, love of science fiction, history, science, travel and so many other things. It's fun to remember those early years when we would spend hours on the phone with one another. And I do mean hours.
The signal for me to get off the phone wasn't call waiting (that was a long way off), it was a pantomime scissor action my mom would make with her fingers telling me to "cut the line".
"How can you have so much to talk about?" she always wondered, and while I don't think I ever had a satisfactory answer, I imagine the reason was these new friends were soul mates. They understood me in a way no one ever did.
And when we would get together, the same thing would happen. We would spend hours and hours and hours just talking and sharing and laughing. There was always a great deal of laughing. And when we went to sci-fi conventions together, more often than not we went in costume, and we made new friends. And what talented people they were -- artists, costumers, writers, actors. Just an amazing array of nerdy, geeky people who had so much to offer if the world could look beyond our weight, pimples, glasses, odd laughs, and social awkwardness. But it didn't matter really because, as I mentioned earlier, we got each other and that was enough.
So when this new trailer premiered the other day, I watched it through tear-filled eyes. Tears of hope that maybe I would again experience film magic the way I had nearly 40 years ago. Tears at the realization that 40 years had passed and things in my life are nothing like they were when I was a kid. Tears in the awareness that one of my best friends won't be able to share in hours-long conversations reliving our excitement. Ultimately, however, tears of joy. Joy in knowing the friends I made so long ago remain my friends today. Remain the people who know me so well, who are as excited and geeky, and nerdy and fannish, in the way that I almost forgot I could still be.
So when Han Solo says "Chewie, we're home," the tears streamed down my face. Because for the first time in almost 40 years, I think I've come home too.
REAL LIFE. REAL NEWS. REAL VOICES.
Help us tell more of the stories that matter from voices that too often remain unheard.