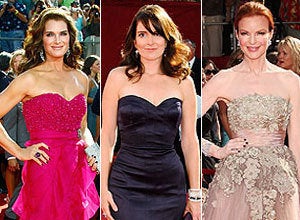 It's a storied tradition that brings out the stars. The ones who walk away with the prizes are photographed and go home happy. The Emmys? The Oscars? The Golden Globes? No, The Gifting Suites. Think Swag, rhymes with Bag. As in, a bag full of free stuff.
These gifting suites pop up all over town in the days leading up to the big event. Celebrities from the A-list to the D-list make their rounds to collect free goodies and last week was no exception. With the Emmys airing this past Sunday night, gifting suites began as early as last Tuesday. And now, in the spirit of award giving, The Huffington Post is bestowing its own awards on the 2008 Emmy Awards Gifting Suites.
The 2008 Huffington Post Emmy Suite Award for "Best Charity Tie-In" goes to:
Silver Spoon's A Passion for Pink: The two-day event began with a luncheon in honor of the 60th Diamond Anniversary of the Emmy Awards in conjunction with Breast Cancer Awareness. Cheryl Hines hosted with guest speaker and cancer survivor Stephanie Robin, who founded Think Pink to promote breast cancer awareness.
Highlights: New Balance running shoes and apparel featuring the pink ribbon, a pink Butter Bell Crock and Spreader emblazoned with the pink ribbon, flip flops by Matisse footwear and Fran Dresher's Cancer Schmancer Movement, super-soft and sexy pink t-shirts by Erge, collapsible (yes, you heard me!) hoola hoops by Swirly Hoop, pink silk ties by Antoine Harris, and 20th Century Fox's "DVDs for the Cure" featuring such titles as Thelma and Louise, The Princess Bride, When Harry Met Sally and Moulin Rouge.
Celebrity attendees: Cheryl Hines (Curb Your Enthusiasm), reality stars Denise Richards, Tila Tequila, Audrina Partridge, Lo Bosworth and Tori Spelling. Plus actresses Rosanna Arquette, Eliza Dushku, and Miss USA's Rachel Smith.
The 2008 Huffington Post Emmy Suite Award for "Best Brand Names" goes to:
Kari Feinstein's Style Lounge: While it's fun to discover new designers and be the first to experience brand-new products at these suites, let's face it, recognizable brand names will always draw a crowd. And judging by the guest list, the stars concur.
Highlights: Reebok shoes and apparel, which included their vintage t-shirt collection, Solstice Sunglass Boutique's cool shades by Armani, Gucci and Dior, long-sleeved t-shirts and stripped scarves by Michael Stars, Nine West shoes, Lorac make-up and a smorgasbord of goodies from Claire's accessories including knit scarves, berets, leather hair bands and hippie tote bags. Also, Lutron, the home lighting control systems, unveiled it's new eco-dim collection which guarantees at least 15% energy savings over a standard light switch and extends light bulb life three times as long. Sweet!
Celebrity attendees: 30 Rock's Tina Fey, Pushing Daisies' Kristin Chenoweth and Chi McBride, Heroes' James Kyson Lee, Dania Ramirez and Nora Zehetner, House's Oliva Wilde and Jennifer Morrison, High School Musical's Ashley Tisdale, Monique Coleman and Kaycee Stroh, Mad Men's Aaron Staton, Michael Gladis, Rich Sommer and Vincent Kartheiser, Grey's Anatomy's Eric Dane and James Pikens Jr., Samantha Who's Jean Smart and Jennifer Esposito, Entourage's Perry Reeves and Rex Lee, and 90210's Jessica Loundes, Kellan Lutz and Adam Gregory. Plus Dennis Quaid, Emmy Rossum, Balthazar Getty, Bill Maher, Marlon Wayans, Regina King, Jerry O'Connell, Michelle Trachtenberg (Gossip Girl), Robert Knepper (Prison Break) Douglas Smith (Big Love), Melora Hardin (The Office), and Dave Annable ( Brothers & Sisters).
The 2008 Huffington Post Emmy Suite Award for "Best Overall Variety" goes to:
The Secret Room Presents 2008 Style Lounge: Man, woman, child or pet, this suite had something for everyone.
Highlights: Towel Down, a multi-purpose beach towel/blanket that turns into a tote or backpack; Beco baby carrier that adjusts from newborn to toddler; Lulu, a fully illuminated leash for those walking their dogs at night; Pick Me Up invisible tape that lifts those sagging boobies up to two inches, from Pure Style Girlfriends. Cheaper than breast lift surgery! Shoes and boots by Shane & Shawn; Matte for Men, a skincare line that includes a Head Care Lotion for those who shave their head and the all important Man Powder for those you-know-where places! Wine from Northern California's Leona Valley Winery, where California's first wineries were established but then shut down during prohibition. Resurrected in 2002, the winery is now gearing up for it's first annual Grape Stomp Event next month, open to the public! Also, psychic Dawn Christie, whose Psychic Retreat & Spa balances your spirit, mind and body. We should all go for such a tune-up.
Celebrity attendees: Not provided, but we did spot an Olympic silver medalist from the U.S. water polo team.
The 2008 Huffington Post Emmy Suite Award for "Classiest Suite" goes to:
Platinum Guild International USA: In a world of free-for-all suites with over-worked vendors, Platinum Guild stands out by not having any color bracelets dictating one's status. Rather, Host Niki Ostin treats everyone as an A-lister, no matter if you're a stylist, a manager, a star or media. "Freebies" are all put together in a beautiful Aldo tote that visitors receive on their way out. The by-appointment policy ensures that it never gets crowded.
Highlights: La Prairie handed out make-up kits and its newest product, the Cellular Cream Platinum Rare. The gift tote contained such items as an iPod Nano, Frederick's of Hollywood lingerie and gift certificates for laser hair removal, tanning and boot camp fitness.
Celebrity attendees: Actresses Nicollette Sheridan and Cheryl Hines, Dancing with the Stars' Karina Smirnoff, Sean Patrick Thomas (Raisin in the Sun), Andrea Schroder (Top Design), The Offices' Creed Bratton, Phyllis Smith and Kate Flannery, Roma Maffia (Nip/Tuck), and Jacqueline Pinol (CSI:NY).
The 2008 Huffington Post Emmy Suite Award for "Hippest Threads" goes to:
Melanie Segal's Gift House: Celebs have stylists to dress them for those black tie and red carpet events, but once that's over, who helps the hopeless look hip during daytime hours? At Segals' event, she made sure her guests left with the ultimate daytime wardrobe of being the casual L.A. hipsters they always envisioned themselves to be.
Highlights: Perry Ellis windbreakers and totes, Chip and Pepper A-line polo t-shirts for women in bright sorbet colors, high-heel shoes from Klub Niko, retro zip-ups and t-shirts from Australian street wear label Zanerobe, jeans by The Proportion of Blu, Dussault Custom Ink hoodies with embroidered patches on the back, faux mink fur that lines the hood, pockets and cuffs and the piece de resistance: inner lining made of Chinese silk! Also, awesome destiny readings by astrology & tarot master Brad Kronen and Bullets 4 Peace jewelry that uses actual bullet casings to create gorgeous fashion statements.
Celebrity attendees: The Office's Ricky Gervais, Jenna Fischer, Angela Kinsey, Leslie David Baker, Kate Flannery and Phyllis Smith, former Dancing with the Stars contestants Ian Ziering and Joey Lawrence, singer and former American Idol contestant Elliott Yamin, Mad Men's Aaron Staton, The Bachelorette's Deanna Papas and Jesse Cscincsak, Californication's Madeline Zima, Greek's Jessica Rose and In Plain Sight's Christian de la Fuente. Also, 90210's Adam Gregory and High School Musical's Monique Coleman and Kaycee Stroh.
The 2008 Huffington Post Emmy Suite Award for "Best Socially Conscious Swag" goes to:
Alive! Expo Green Pavillion Emmy Suite: If you're concerned about the environment, obsessed about all natural products and feel that organic is the way to go, this suite offered healthy and alternative solutions for a long lasting life.
Highlights: Got Wheatgrass, an beverage that most recently sponsored the US Olympic Athletes; Aubrey Organic make-up and skin care; Oregano Nasal sprays (don't laugh-they're pricey!), organic baby clothing; recycled earrings from Smart Glass and Sara Sue handbags made from recycled cloth. Guests could pop into the Hyperbaric Oxygen Chamber and soak tired footsies in a detoxifying footbath.

Celebrity Attendees: Dukes of Hazard's John Schneider, pop singer/reality host Joey Fatone, Days of Our Lives' Dierdre Hall, Californication's Madeline Zima as well as actors Keith David, Joshua Feinman, Tachina Arnold, and Sheryl Lee Ralph. Comedian Judy Tenuta and Chelsea Handler's resident little person, Chuy Bravo were also on hand. "The Brady Bunch's Susan Olson and real-life Brady wife/reality star Adrienne Curry took part as vendors, so to speak, representing the animal rescue group Precious Paws.


The 2008 Huffington Post Emmy Suite Award for "Most Eclectic Gifts" goes to:
WOW! Creations Lifestyle Gift Lounge: You know how there are things you'd never buy for yourself, but if someone treated you to it, you'd be so thrilled that you'd want to treat your friends to the same gift? Look no further than host Mark Harris' suite whose WOW! namesake says it all.
Highlights: Costa Rican vacations from Surf and Safari Club; skin consultations from dermatologist and author Jeanette Graf; SmileWorks dental care, personalized photo handbags from Gina Alexander, plus such Jane Hart equestrian jewelry featuring different equine disciplines (Dressage collection) and breeds (Quarter Horse collection) and of course, the beloved Barbaro; cruelty free make-up and skincare from Saphoro's.
Celebrity Attendees: Just as eclectic! Actress Mimi Rogers, The Suite Life of Zac and Cody's Brenda Song, Ernie Hudson, Danny Bonaduce, Charlene Tilton (remember her from Dallas?)
The 2008 Huffington Post Emmy Suite Award for "Best Support of Local Designers and Labels" goes to:
S/M/G - Little Black Dress Style Lounge
Highlights: Structured almost like a showroom, this suite offered the best from L.A. designers including Galina Sbolove's feminine Single Dress designs, Paula Doherty's handmade cashmere sweaters, organic clothes from Margaret and Jude, Chantell Louis couture gowns and Sledge t-shirts. Also on the local scene, belted handbags by Magali Designs, neckties from Santos Ferguson and threads from Dye 4 Gething, a luxury fashion line making its L.A. debut in the city's upcoming October Fashion Week. Let's not forget local beauty spots such as Point de Vue Salon and Spa 415.
Celebrity Attendees: Jimmy Jean-Louis (Heroes), Karina Smirnoff (Dancing With the Stars), Kristen Renton (Days of Our Lives) and Carolyn Hennesy ( General Hospital). Also Sharon Lawrence, Michelle Clunie and Carlos Galladro.
Leah Sydney contributed to this report.