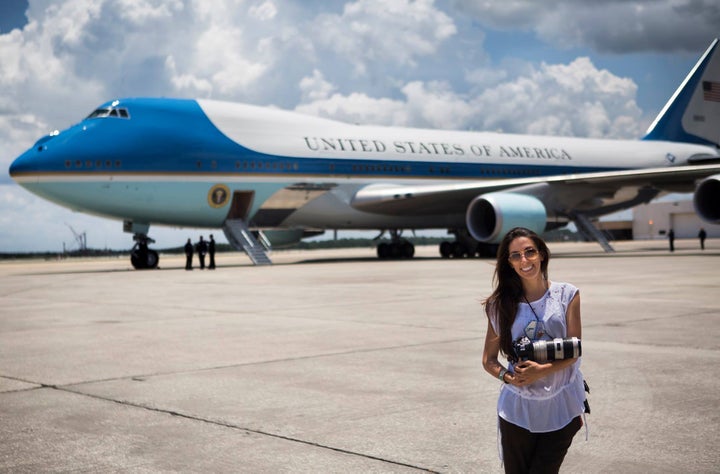 Marie D. De Jesús is a staff photographer for the Houston Chronicle. Marie has been on the ground this week in her adopted new home in Texas. PDNPulse interviewed Marie about covering Hurricane Harvey. It's an excellent read for insights into how Houston's newsroom of record is covering the devastation post-Harvey, including this gem:
"I'm from Puerto Rico," she told Conor Risch. "I'm an island girl. Hurricanes are part of our life, part of our culture, so you learn to get prepared [...] Houston is 36 percent Latino, so my Spanish has been useful to be able to learn about their struggles and document them."
Working on a feature last week with the Chronicle's great Lomi Kriel, Marie photographed Houston's undocumented victims of Hurricane Harvey.The world is learning of a crisis of half-a-million undocumented Houstonians, including many hurricane victims, are afraid to seek relief — thanks in large part to Lomi, Marie, and the Chronicle's up-to-the-minute editing desk.
Bilingual reporters have long been essential to understanding the mostly-Hispanic undocumented population of the United States. Against the backdrop of DACA, are the low-wage immigrants that will be called upon to rebuild Houston after Harvey. With more hurricanes already on the horizon, American cities are bracing for a year of many storms. Immigrants have been rebuilding America after storms for centuries. This year's hurricane season will surely be no different.
The Chronicle's reporting makes huge a difference by highlighting the humanity (and resiliency) of the American immigrant facing impossible odds in the wake of disaster —
...they did what they often have had to do while living illegally in the United States: They improvised. After all, who would come to their rescue? The president wants them deported. The governor and state Legislature enacted a law allowing police officers to report them, though a federal judge blocked it late last week. Their labor will be needed for the massive reconstruction ahead, yet they are fearful of stepping forward to help their community recover.
Amid the despair and turmoil of covering the most-vulnerable victims of Hurricane Harvey, Marie is also seeing moments of genuine hope. From her interview with PDNPulse:
Seeing people [airlifted to safety]. And then seeing people reunite at the shelter because some of them haven't seen each other for days—that's something that you carry with you forever. Or people arriving to shelters and immediately being given oxygen, things like that. I just came from a shelter and one of the dogs [that was rescued] started pulling on its leash wanting to jump into the lap of its owner who is in a wheelchair. That's the type of thing that we're seeing.
Follow Marie's work on Instagram —
More photos from Marie and the Houston Chronicle team —
Popular in the Community