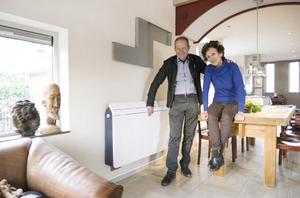 Last summer I wrote about a fascinating new start-up called Nerdalize. The company was hoping to tap into the huge amount of waste heat generated by cloud computing to provide cheap and eco friendly heating for our homes and offices.
The concept is a remarkably simple one. Rather than locate servers in huge facilities that require a vast amount of water and energy to keep cool, the team hope to distribute things by placing small, radiator size devices in the homes of people like you and I.
The so called eRadiators are to all intents and purposes regular servers, but the waste heat generated by the machines is given free of charge to the home owner.
Of course, it's not unknown for start-ups to burst into the world in a blaze of hype and publicity before sliding into obsolescence as they struggle to find a market for their wares, so how have Nerdalizer fared since their launch last summer?
The company initially teamed up with Dutch utility Eneco to test out the radiators in real homes, with the aim being to get the kind of invaluable feedback required to refine and develop the product.
They have also joined the EU's European Institute for Innovation and Technology (EIT), and this week picked up the EIT Venture Award at the INNOVEIT conference in Budapest.
"I'm very proud that Nerdalize has been recognised in the EIT Awards, and would like to thank Climate-KIC for their support and coaching. As part of the project's accelerator programme, we have built a network, gained access to customers and potential partners, and seen our system piloted in five homes - now we're ready to scale-up production," co-founder Florian Schneider said at the ceremony.
Being part of the EIT network has been crucially important in helping the team develop their proposition, both by offering coaching and mentoring but also a pan-European network of contacts they can tap into.
They have already received interest from some 3,000 people who are keen to tap into the 30-50% energy savings that initial users have received, and the key next step is to refine the manufacturing process to meet such demand.
With a number of commercial partners showing a keen interest, it seems like a technology that could have definite legs as we strive to lower both our energy bills and carbon footprint.
You can learn more about Nerdalize via the video below.
Calling all HuffPost superfans!
Sign up for membership to become a founding member and help shape HuffPost's next chapter