When we mistakenly think that pleasure innately resides in an experience, object, or person, we desire more of it. We grasp at it, crave it, and develop attachment and in certain instances an addiction to it. From this comes all of the afflictive and disturbing emotions that result in mental distress and suffering. ~ Eliot Dacher, M.D.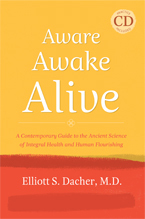 After his education in the outer, biological aspects of medicine and 21 years of full time practice of internal medicine, Elliott Dacher knew something was missing from his professional life as a healer and in his personal life as well.  Biological medicine has its genius, but there are some things that can only come from within and optimal well-being - characterized by an enduring peace, happiness, and fulfillment - is one of those things.  So Elliott closed his practice, took an extended period of quietness and reflection, and then spent much of 12 years studying Eastern philosophy, psychology, and meditative practices in India and Nepal.  That was his second medical education.  The first was an education in the outer aspects of healing and the second in the inner aspects of healing.
When he completed his inner medical education he felt compelled to teach again so he began teaching once a week 8-week meditation training programs in a local hospital.  The course guide for this course developed over 5 years and eventually become the book "Aware Awake Alive."  Elliott told me that the objective of this book was "to promote human flourishing." 
"Aware Awake Alive" is divided into four sections: the Vision, the Path, the Fruition, and the Integration. The Vision presents the prospect of "human flourishing," an optimal state of health and well-being that is known to many healing traditions around the world, but remains largely undeveloped in the our modern Western culture. The Path explores time-tested, step-by-step practices drawn both from ancient wisdom and contemporary knowledge. The Fruition elaborates on the extraordinary qualities if human flourishing - enduring happiness, a sustained serenity, wholeness, and an expansive freedom. The final section, the Integration, discusses how these practices and qualities are integrated into daily life. These are offered in progression, for both sitting sessions and practices to carry into daily life that together place you on "the path" to a larger life and health.
In addition, a CD accompanies the book with guided meditations and I found Dr. Dacher's voice to be particularly soothing and reassuring. I appreciated his emphasis on learning how to sustain inner calm while dealing with day-to-day life. In contemporary yoga, we call it taking the benefits of our practice off the mat and into the world; similarly, Dr. Dacher help us integrate meditation and mindfulness into daily lives throughout the book.
It is wonderful to have yet another Western physician expound the benefits of meditation and its use as a complementary therapy for cancer patients, people suffering from chronic pain, people dealing with myriad afflictions, ailments, and addictions as well as for normal, stressed-out people. "Aware Awake Alive" demystifies the practices of meditation and allows the practitioner to cultivate insights into the benefits of spiritual life.
This is one of the best books on meditation that I have ever read and I highly recommend it to anyone with an interest in meditation.
Calling all HuffPost superfans!
Sign up for membership to become a founding member and help shape HuffPost's next chapter