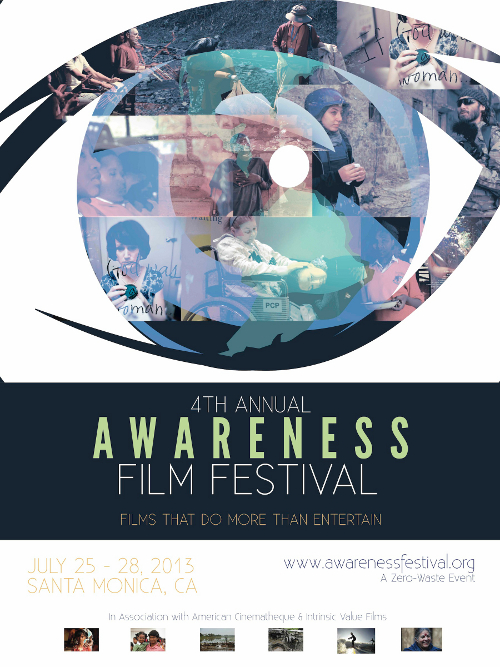 As our world evolves, so does cinema. This week, the Awareness Film Festival presents its unique and diverse take on film as both spiritual reflection and inspiration. Commencing its fourth year, the fest runs from Thursday the 25th through Sunday the 28th of July at various venues in Santa Monica. All are welcome, and you can expect to have your mind blown and your heart opened (both in a good way).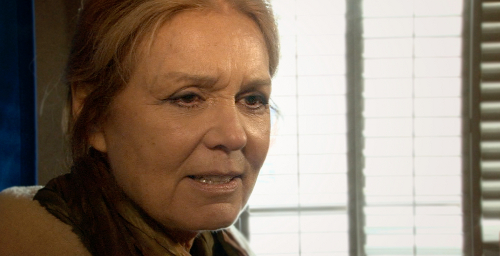 G-L-O-R-I-A (Steinem) in Femme
The opening night gala (at my beloved Aero Theatre) is Femme, from French-American filmmaker and humanitarian Emmanuel Itier. The documentary features compelling and provocative interviews with 100 prominent women, including Sharon Stone and Yue Sai Kan, Maria Conchita Alonso and Carole Wells, Ning Liang, Rose Gong, Beth Brooke and many more. (I've enjoyed several individual clips on YouTube, and am looking forward to the combined effect. More women, less war; bring it!)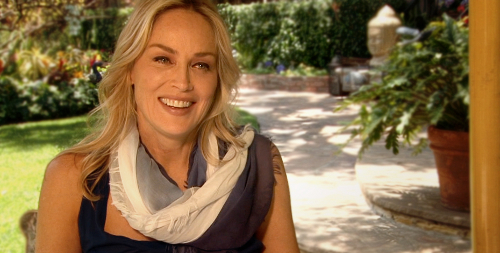 S-H-A-R-O-N (Stone) in Femme
"We always take for granted a little bit the women," states Monsieur Itier, who recently directed The Invocation, featuring such luminaries as Deepak Chopra and Desmond Tutu. He elaborates on the inspiration for Femme: "I think for me it was an instinct to recognize that even though I've been raised in a very macho, male-dominated environment -- where religion is macho, economics are macho, politics are macho -- so never a vision of the Feminine was in myself, because I'd only been given tools that are masculine. And so I wanted to recognize that: to recognize that in every human being there is femininity, and masculinity."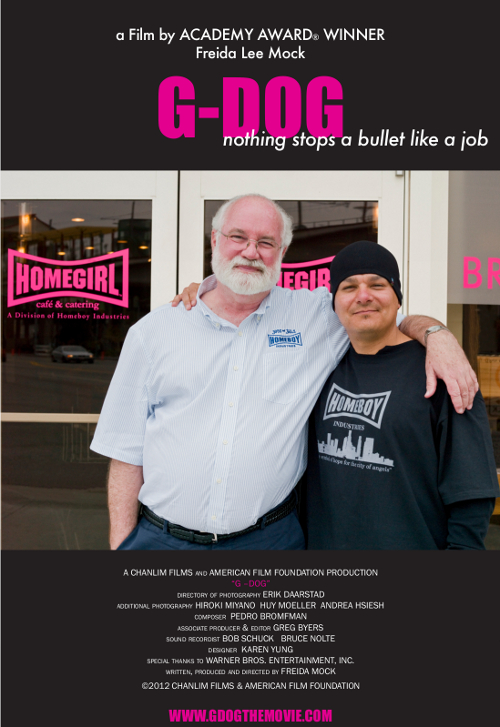 G-Dog: The Motion Picture
Speaking of modifying the macho, the Awareness Film Festival's closing night on Sunday is another biggie: G-Dog, by director Freida Lee Mock, also at the Aero Theatre (note early start time of 5:00 p.m.) This documentary explores downtown L.A.'s Homeboy Industries, under the auspices of guide, mentor and Jesuit priest Greg Boyle. Affectionately called "G-Dog" by the resident -- and increasingly gainfully employed -- "homies," Boyle and his determined crew have for a quarter century striven to create real-world opportunities for primarily Latino, Asian and African-American youths for whom "disadvantaged" is an understatement.
Although the methods at Homeboy are complex (there's counseling, tattoo-removal, a professional bakery and even the excellent Homegirl Cafe: and I've visited, thanks to Star Trek's Chase Masterson, who ardently volunteers for the organization), Boyle's foundational philosophy is simple: "Nothing stops a bullet like a job." Check it out . . . yo.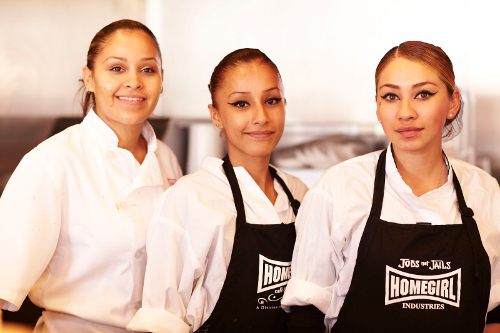 The Homegirls of Homeboy, in G-Dog
And in between is that plethora teased in the headline. The Awareness Film Festival, founded by Skye Kelly in the film capital of the world, focuses on "films that do more than entertain" -- encompassing themes such as the aforementioned, as well as green living, homelessness, veterans' issues, pilgrimages, GMOs, overcoming illness and improving life with disabilities, plus of course arts, current events and spirituality-related issues.
As but one example, at 1:00 p.m. on Saturday, July 27th at the Promenade Playhouse, a free panel will be held on (and called) "Developing New Audiences for Film." The panel concerns new technological and sociological innovations for a more inclusive cinema, including new captioning and described-video-delivery technology -- for those whose sight or hearing may not allow for standard moviegoing but who'd like to share in the experience. Pretty cool. The panel will be moderated by Marc Bovee, founder and chairman of GEMAI, with the goal of making cinema accessible to all audiences. The panel follows the screening of Driving Blind and The Most Beautiful Thing, at 11:00 a.m. at the nearby Laemmle Monica 4 on 2nd Street.
Did we mention films? There are many more. On Friday night at 7 you'll have to choose between two features, one of which is director Ken Lori's startling Authority and Expectations, concerning young Iraq war veteran Wray Harris, who escaped a domestic hell and his metalhead vices to enlist -- only to find his life (for the horrors and insanity of war, I can't top this press quote) "irrevocably transformed by meaningless combat." For fourteen months, this kid fought in Iraq, from one assault to the next, watching mosques getting blown up and people being killed. You'll see, hear and feel it. Screening is at the Promenade Playhouse, and is free to veterans.
Simultaneously at 7 on Friday, at Magicopolis (nearby on 4th), is a screening of Pad Yatra: A Green Odyssey, by director Wendy Lee, who joined her sister and 700 intrepid trekkers across the Himalayas (!) to draw attention to global warming and its troubling cousin, glacial melting. Obviously, these eco-adventurers saw and shared a lot -- including emerging with 800 pounds of plastic waste on their respective backs -- and started an environmental movement in the region. A gorgeous production, I'm likely to choose this one, as it's narrated by actress and activist Daryl Hannah, and I like listening to her talk.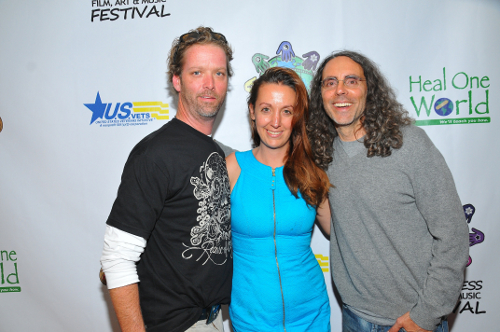 Joe Chisholm, founder Skye Kelly, and Tom Shadyac at the 2012 Awareness Film Festival
Saturday and Sunday then rock so much you'll have to check the Awareness Film Festival website (link below) for all the information. Some Sunday features of note: Genetic Roulette (Magicopolis) about the dangers of GMOs; California Winter (Magicopolis), a personal take on the real estate crash of 2008; 420: The Documentary (world premiere at Magicopolis) -- sort of a radical update on Reefer Madness; and Conscious Love (world premiere at the Promenade Playhouse), about, well, wanting to know what love is.
Then on Sunday you'll do well to attend either Talking Story or Wings of Life (both 11 a.m. at the Laemmle 4): the former concerning the lives and rituals of healers and spiritual leaders around the world, the latter concerning (again, bravo/brava press notes) "the secret lives of bats, butterflies, hummingbirds, and bumblebees" (plus narrated by Meryl Streep).
It's a vast amount of excellent material in four days, including more panels and blocks of short films (some free), so check listings! The Awareness Film Festival is one of the coolest and most progressive events in Los Angeles, but it's coming soon and lasts only four days. Look sharp for some of the most intriguing, life-affirming and indeed aware programming in the world.
photos and art courtesy of the Awareness Film Festival
Related
Popular in the Community