In recent years, African nations with large elephant populations such as Kenya, Mozambique, and the Republic of Congo have made powerful statements by publicly burning their stockpiles of ivory confiscated from poachers and illegal wildlife traffickers. At the CITES Conference of the Parties this past October, 182 governments around the world agreed to a resolution calling for the closure of all domestic ivory markets.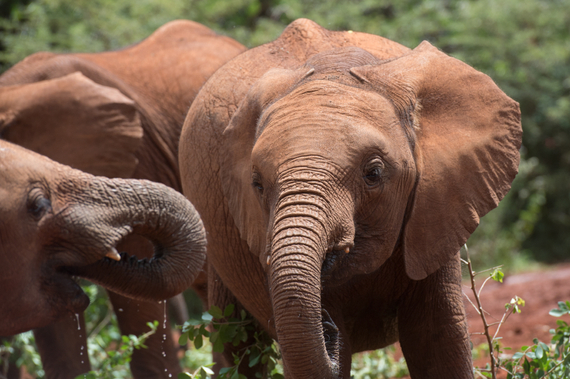 Every day in Africa today, some 96 elephants are killed -- an average of one every 15 minutes. Credit: Julie Larsen Maher.
The Wildlife Conservation Society's 96 Elephants campaign has helped bring unprecedented worldwide attention to the poaching crisis since its inception in 2013. Named for the number of elephants killed for their ivory every day in Africa, 96 Elephants has led multiple efforts that have yielded important results for elephant conservation. This year, the Obama Administration and the U.S. government joined several states in enacting a ban on the trade of elephant ivory.
While none of these measures could have been achieved without strong public support, there are nevertheless countless individuals, groups, and institutions for whom this crisis has inspired a different kind of direct action in their communities. These passionate advocates for conservation wanted to show the rest of the world how much they care about the sad fate of one of our planet's most cherished creatures.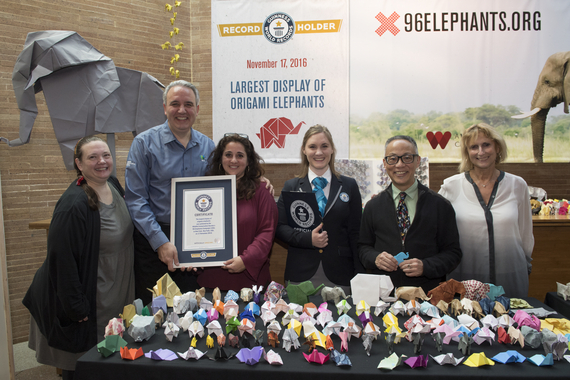 Photo, above, left to right: Wendy Zeichener, Origami USA; John Calvelli, WCS; Rachel Libretti, WCS; Hannah Ortman, Guinness World Records; artist Talo Kawasaki; and Judy Frimer, WCS. Credit: Julie Larsen Maher/WCS.
Thousands upon thousands of these people found such an outlet in an origami elephant challenge held over the past few months by the 96 Elephants campaign. The goal: to raise awareness of the elephant poaching crisis by seeking to break the record of 33,764 origami elephants held by the Zoological Society of London's Whipsnade Zoo.
Almost immediately after 96 Elephants put out the call for origami elephants, delicately folded paper animals began arriving by droves at the Bronx Zoo - home of the Wildlife Conservation Society - from across the globe. The geographic diversity of the people who sent the elephants was astounding: Iran, Kazakhstan, Egypt, and many other places.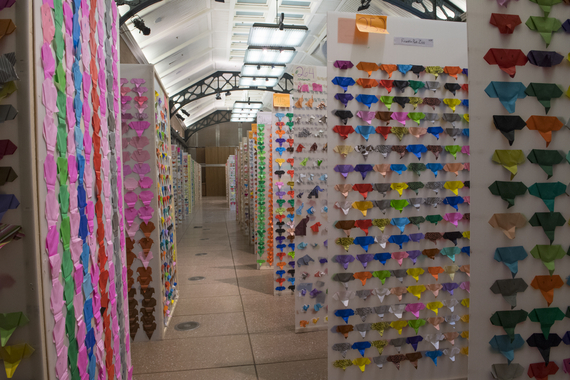 Panels of origami elephants arranged at the Bronx Zoo for adjudication by Guiness World Records. Credit: Julie Larsen Maher/WCS.

In all, we received origami elephants from all 50 U.S. states and 40 countries. Ornate origami pieces from all over the globe demonstrated that a concern for elephant poaching transcends disparate boundaries and cultures.
People from all walks of life sent in origami elephants and the stories behind them were quite touching. The campaign partnered with Origami USA, along with several other organizations that included the Boy Scouts of America and the Girl Scout Council of Greater New York, as well as 45 different zoos and aquariums.
The folders covered all age groups -- from young school children (including students at a school for the deaf) to a 109-year-old woman, Opal Goode, born in Oklahoma just a few months before it became a state. One school principal in Massachusetts wrote to say that her students had been so excited to participate that they ran through all their supplies. "When we ran out of origami paper," she added, "the students began to make elephants out of any paper they could find," including Post-It notes.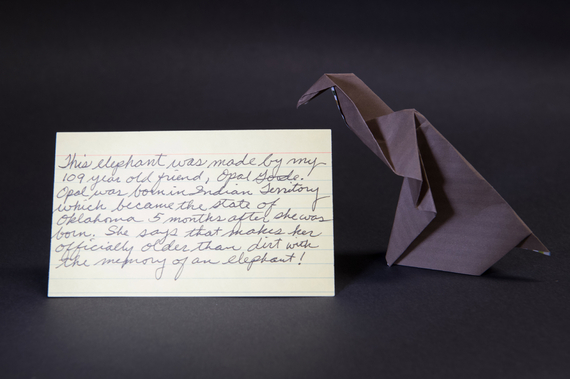 Origami elephant submitted by 109-year-old Opal Goode, born five months before Oklahome became a U.S. state. Credit: Julie Larsen Maher/WCS.

The origami themselves are stunningly beautiful, coming in all shapes, sizes and colors - limited only by the creativity of these elephant lovers. In total, 204,481 origami elephants were sent in - however, only a portion of these could be used in the final display, because they would not all fit inside the Bronx Zoo's Schiff Hall. When the official adjudicator from Guinness World Records completed her review of origami elephants mounted at the zoo on 300 panels, a new record had been set as 78,564 origami elephants were certified - more than doubling the previous record.
Those who feel the need to do something tangible to spread awareness of the elephant poaching crisis can continue to create these beautiful paper sculptures. The more digitally dexterous might try their hand at creating an online design at 96 Elephants.org.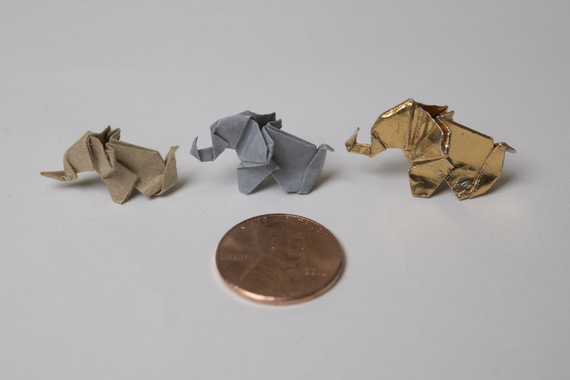 WCS received origami elephants from all 50 U.S. states and 40 countries, with some submissions no larger than a penny. Credit: Julie Larsen Maher/WCS.

Many of the origami elephants will be incorporated into a holiday exhibit at the Bronx Zoo for public viewing through the month of December. The exhibit will showcase the overwhelming global support generated by the 96 Elephants campaign to protect elephants and end the ivory trade. With a simple gesture, thousands of caring people from around the world have demonstrated they are standing with the nations of Africa to save these majestic animals from extinction.
Related
Popular in the Community