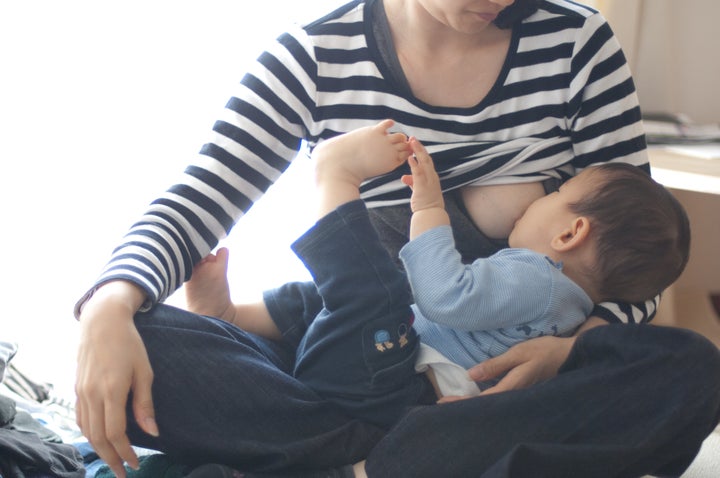 Breastfeeding ultimately comes down to two people -- a mother and her baby. But there is so much that can be done to nurture that relationship. Experts and loved ones can lend support, as can institutions and thoughtful products that streamline the process. In honor of national breastfeeding month, we're looking at a handful of innovative efforts aimed at bolstering breastfeeding efforts in this country from all different angles.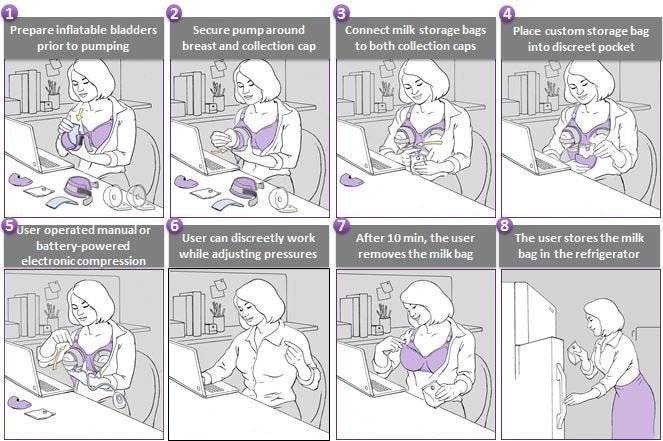 Breast pumps haven't changed much in the past decades, clinging to what tends to be a noisy, hard-to-clean and not especially discreet design. But the last several years have seen some exciting movement on that front: In 2014, MIT hosted a "make the breast pump not suck" hackathon. And earlier this year, it granted one of the participants -- Kohana Inc. -- $10,000 to move forward with a prototype compression pump.
The Gala Pump is the brainchild of the Kohana's founders Susan and Andrew Thompson, married engineers who came up with (then repeatedly revised) the design. A compression pump mimics hand expression, Susan told The Huffington Post, by using a custom inflatable bladder, which she likened to a blood pressure cuff, but gentler. And the pump can be inserted into a bra, so it's relatively discreet for working mothers.
"My husband and I have a unique combination of skills," Susan said. "It's not that compression pumps are completely unique -- people have tried them before -- but we're both mechanical engineers and [he] worked for compression company." She also breastfed the couple's two children.
Kohana has run a small clinical trial with 30 moms and says the majority of those women preferred The Gala to their vacuum pumps. Now, Susan and Andrew have launched a crowdfunding campaign to generate the additional $40,000 they need to complete a follow-up trial directly comparing their pump to a vacuum model -- and to hopefully get the pump to market soon.
Lactation consultants... for everyone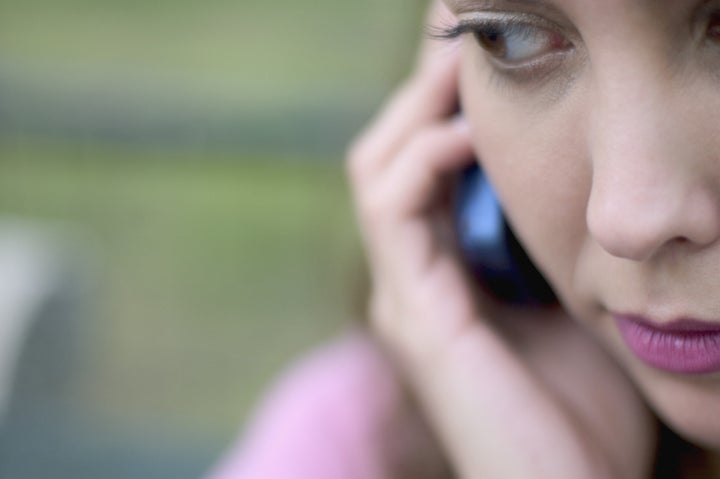 Breastfeeding is a major public health priority in this country, but while many hospitals have made efforts to get new moms started, women often feel stranded as soon as they get home. Riverside County in California has found an effective way to bridge the gap, in the form of a free, bilingual "help-line" that is staffed with certified lactation consultants 24 hours a day, seven days a week. Women can call at any hour of the night and a staff member will be paged and immediately call them back.
"We realize that it's after hours and on weekends that so many things crop up and when women need to be able to speak to someone," said Jennifer Stewart, a supervising nutritionist with the County of Riverside's Department of Public Health. Calls generally last between five and 45 minutes, she said, and consultants do everything from simply spending two minutes reassuring women they're doing a good job, to walking a mother through complex latch issues. (If the problem requires more visual, hands-on help, the lactation experts provide outside referrals.)
Last year, roughly 10,000 women accessed the service, Stewart said, out of a total of approximately 30,000 births in the county. And the helpline has served as inspiration for other areas looking to provide tangible support. "I've had different places reach out to us to find out about how we work," said Stewart.
"We have moms who are on their second or third babies," she added, "who are still calling us for help."
A guide to comfortable breastfeeding spots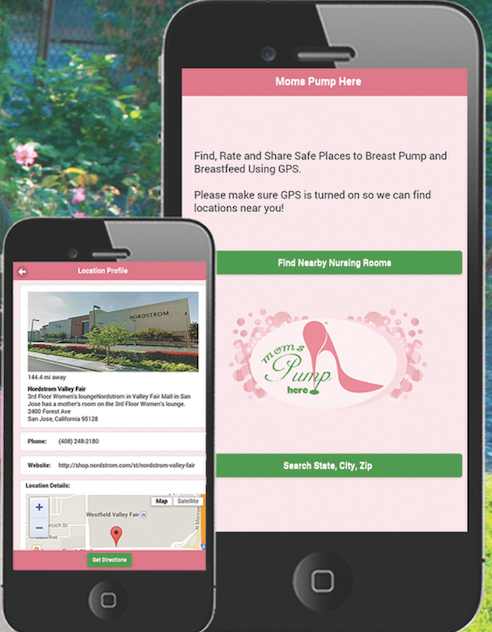 Kim Harrison and Priya Nembhard are both moms of three whose company, Moms Pump Here, recently launched a free Nursing Room Locator app that allows women to enter their location and instantly find a nearby nursing room, instead of hunching over in a bathroom stall somewhere, or in their car.
"We encourage moms to breastfeed in public, because it's a woman's right, but if moms want a more private location where they can breastfeed and pump, they should be able to find one easily," Nembhard said.
The app currently has more than 1,000 nursing-friendly locations, and provides detailed descriptions of each -- as well as photos. Women are able to submit potential locations, which the Moms Pump Here team vets by looking at Google Images, calling the establishment and checking on related forums to see if other women have also recommended it. (Nembhard said that they generally receive between two and 10 suggested locations a day.) The locations are in a variety of venues -- stores, airports, hospitals, universities and even outdoor spots where women commonly breastfeed. The quirkiest location that has been recommended, Nembhard said, is a juvenile detention center in Pittsburgh, but it does have clean and safe rooms where women can nurse.
"A standard for nursing rooms is that there needs to be a sink, there needs to be an outlet, there needs to be a comfy chair and a closed door," she said. "Not all of the locations have that, but we do provide thorough reviews on the app about what each looks like."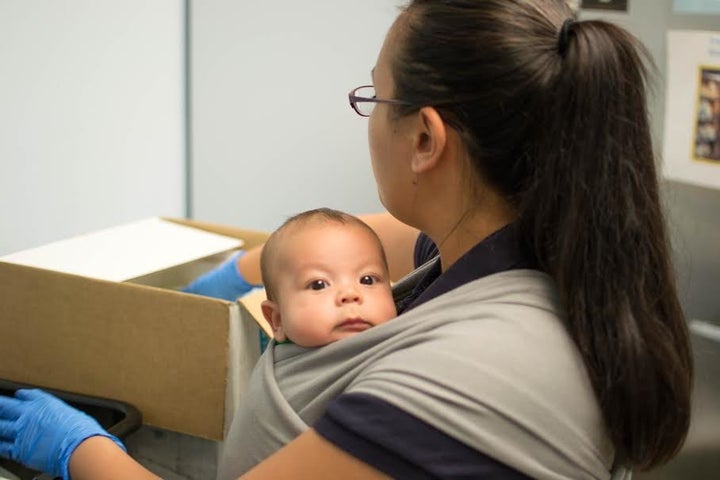 The Milk Bank is an Indiana-based non-profit that provides pasteurized donor breast milk to preterm and sick infants. (According to internal data, The Milk Bank has provided donor milk to more than 100 hospitals in 28 states.)
But the organization also promotes breastfeeding in other ways, by serving as something of a model to companies looking to support employees who nurse. The Milk Bank recently formalized a policy allowing any employees who exclusively nurse (or pump) to bring their babies to work with them for the first six months after they're born. "This is a really personal story for me, because it started with me," said Carissa Hawkins, The Milk Bank's communications coordinator. "When my first baby was born, our daycare arrangement fell through and the executive director said, 'You know what? You can bring your baby here. We're breastfeeding friendly. This is our thing.'"
The Milk Bank has a large, comfortable nursing room -- big enough to fit five people in it to pump at the same time, Hawkins said (though the organization currently has only 10 employees). And when babies come into the office, they're welcome to spend their days playing at their mothers' feet, nursing, napping in slings or in portable cribs, or being held by other employees. The policy is available to women who exclusively breastfeed or pump, Hawkins said, but The Milk Bank has certified lactation consultants on staff who can help any employee start and maintain breastfeeding.
"The idea was that we want our employees to be happy, we want them to be loyal and we also also want to support families, so for us, that was the impetus for the policy," Hawkins said. "But if advocacy comes out of that, we're certainly happy to promote it."
"We've found it's not as painful as you would think to have a baby in the office," she added, laughing. "On those days when you feel so stressed about something and then a baby smiles at you, well, you can't beat that."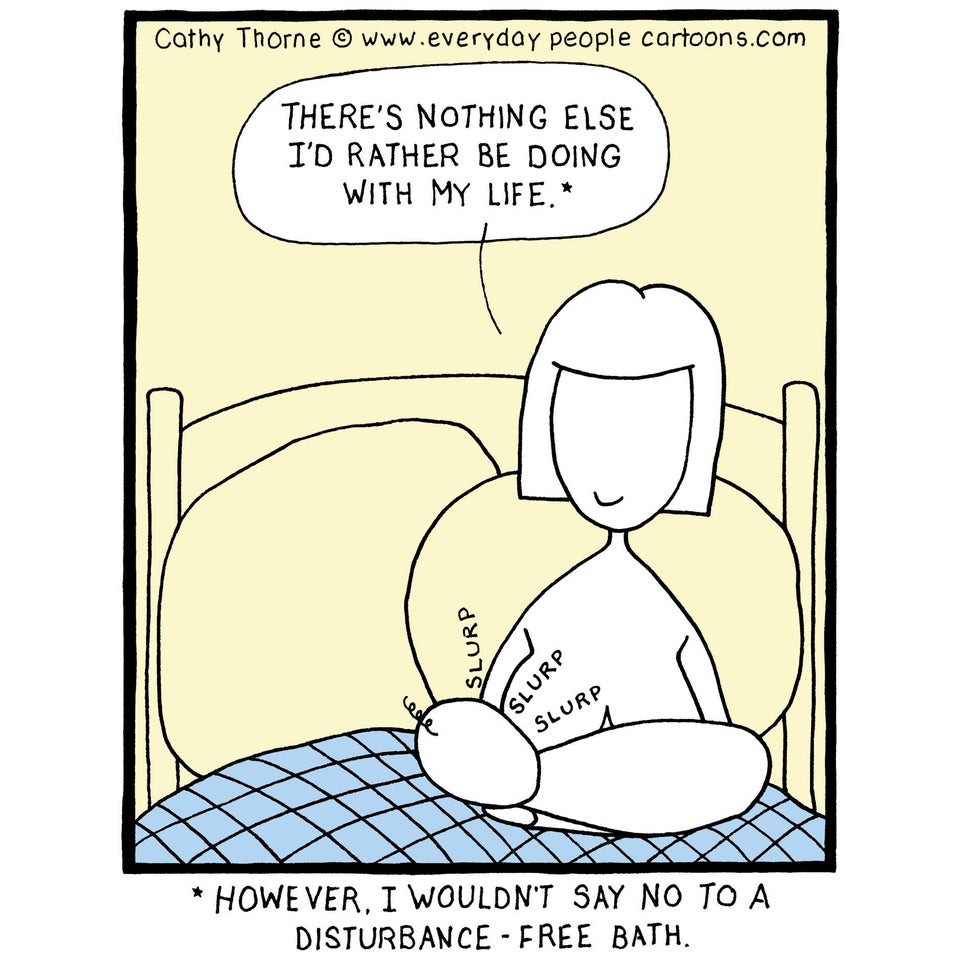 Comics About Breastfeeding