Are You AWESOME? Do You LOVE AMERICA? If so, we have the Craigslist ad for you.
It is the broiest of times. It is also, apparently, the totally bro-worst of times. For the D.C. dudes who put up this Craigslist ad, anyway: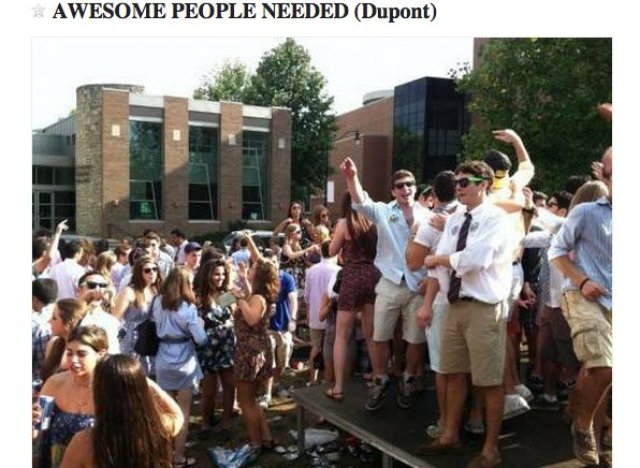 Our current friends on a Friday night like to stay at home with a beer or glass of wine and watch OnDemand on a Friday night.
They would rather have a nice time at a friend's apartment for NYE than an crazy 6 hour open bar with multiple DJ's and dance floors.
They turn down an all day bar crawl to read books, or take it easy from the night before, or brew beer. Beer is for drinking last time I checked, I let professionals brew my beer.

THEY SUCK.

It left us no choice but to:
1) Cut the Fat from our social circle
2) Reach out for All-American Partiers
3) PROFIT

Wanted: Friends that will partake in awesome stuff. We go to the bars and rip shots with bartenders, go to raging parties on Friday nights that shutdown because its Monday morning and everyone is going to work, see sick concerts with some form of substance enhancement, because that is what we do.

Applicants:

Bros:

You drink Evan Williams.
Note: Other liquors will be drank if necessary, but we're men, we drink whiskey.

Take pride in your appearance. If your closest is full of Ed Hardy t-shirts, you need not apply. Basically if you're partying with us, 90% of the time you'll be wearing a collar. Exceptions include day-longs where sleeveless is preferred (gotta let the pythons breath), or sporting events, or if we're stealing shows at a themed party.

You lift weights, your body needs to be a temple. If you never have we can train you if you fit our other credentials. We've done Tough Mudders and marathons. No slumming.

Chicks:

Attractiveness is necessary. Working out should be in your regimen. If you're blessed with a natural beauty, god bless. Hot friends are a plus.

We're not looking for girlfriends here. We have stellar OK Cupid, Tinder, and Hinge accounts for that.

You can handle day drinking. You like to party on the weekends. Nuff said.
(Warning: When you blackout you need to be one of those more fun/crazy blackouts, not messy/we have to take care of you blackouts. Be an adult and hold your own.)

Mad bonus points if you can swing free drinks at bars from dudes just 'cause. That is legit.

For Both:

YOU LOVE AMERICA. Maybe you're not American and that's fine. We live in a major international hub. But you're here for a reason so you better love living here.
If the idea of attending a multi day music festival, a horse race, or an all day tailgate appeals to you than you're in the right place.

Any questions or comments reply back
Pictures are highly recommended for quicker response.
Location: Dupont
do NOT contact me with unsolicited services or offers
The ad-placers described themselves in an email to HuffBrost as "Los Bromigos," or "three young Brofessionals" who "work for the people."
"In the quest for our little slice of paradise we had to ensure that respondents are unequivocally on the same page as us," they said, explaining why it is that their ad's language is so brover the top.
Some of the broplies, forwarded to us by these Broshingtonians, are definitely on that page.
"Friends with class are hard to come by. Friends with class who will also rage for 3 days straight are even rarer," reads one response.
Another says, simply, "Let's do this."
One respondee suggests that the ad is a parody, which the Bromigos deny, but that if it's not, "I wish STDs and misery on you all."
"Clearly you seem to rain on our parade and not down with us which is fine by our crew. That kind of harsh language is something we aren't on board with to start," reply the bros, displaying the seeming self-browareness of an imbroster, but with a hint of actual Broddhist-like wisdom. "I hope you someday take a chill pill and find your slice of paradise like we're trying to do."
REAL LIFE. REAL NEWS. REAL VOICES.
Help us tell more of the stories that matter from voices that too often remain unheard.
BEFORE YOU GO
PHOTO GALLERY
Damn You Auto Correct's 11 Funniest Texting Fails