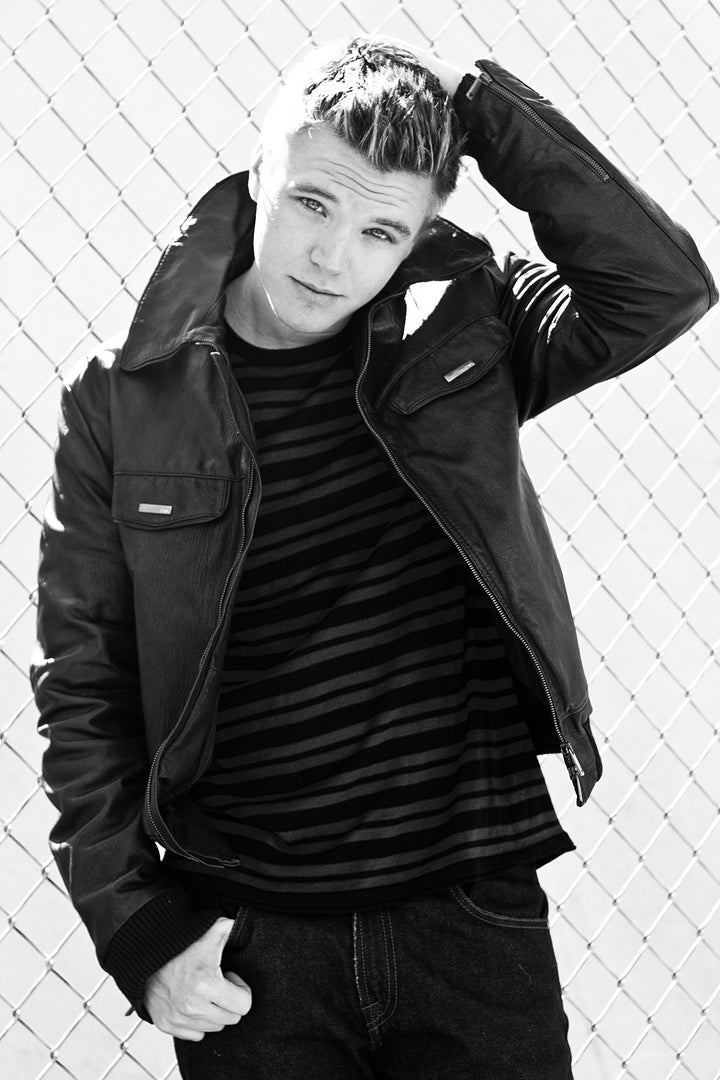 Love triangles in TV shows are as common as unresolved sexual tension between partners in procedurals and a high level of second-hand embarrassment in "Jersey Shore," but MTV's "Awkward" (Thursdays at 10:30 p.m. ET) has taken a well-worn TV trope and made it fresh again.
Now in its second season, Lauren Iungerich's snarky comedy is refreshingly witty, wordy and relatable, with Ashley Rickards' Jenna Hamilton torn between the emotionally indecisive Matty (Beau Mirchoff) and the reliable Jake (Brett Davern), all while juggling family drama and the general travails of teenhood. My colleagues have already spoken to Ashley Rickards, Beau Mirchoff and creator Lauren Iungerich, so it only seemed fair to let the other side of the triangle weigh in on what's to come in Season 2. Find out what Brett Davern had to say about Jake and what's to come on "Awkward" below.
Let me start off by saying that I'm firmly on Team Jake; I'm always pulling for the guy who builds up a girl's self-esteem instead of tearing it down.
Oh, perfect! Yes, he's definitely a good guy.
That said, it's high school, and teenagers are in a constant state of evolution and self-exploration, which is why I love the depth of the characters Lauren Iungerich has created. I think Matty and Jake are both good guys, but Matty's more of a "typical" teenager.
Yes, Exactly. I feel like we, as the audience, get to see Matty in those quiet moments or even in a little look that he gives Jenna when she's not looking, that lets us know that he is a good guy. I think it's not even so much that he's not a good guy -- maybe he's just a little immature and he needs to mature enough to let his feelings be known publicly. I guess that's everybody's issue with him, but they're both definitely good guys. I mean, they both care for Jenna a lot and they care for each other a lot. They're so completely polar opposite to each other, which is why I think everyone has trouble deciding between one, including Jenna.
As far as Jake's concerned too, this season, we're going to see a lot more of his evolution. He's such a nice guy all the time, always happy, but maybe we can see some different sides of him. Maybe he could be hurt a little bit or get his heart broken. But that's not to say that he and Jenna don't end up together; there are bumps in any relationship and we'll have to see where it goes.
I feel like, in high school, girls tend to go for the "bad boys," or the less emotionally available guys, and that's just a part of growing up -- wanting what they think they can't have.
Absolutely. Molly Tarlov on our show, who plays Sadie, always says that she is Team Matty, but only because she is too immature to be Team Jake, which is actually a funny way of putting it.
I'm guessing there's a reason why Jake's very grounded and sure of what he wants. Will we get to see much of his home life this season?
This season, we don't actually go home with Jake, or meet his parents or family, or anything like that. There's little hints to it. I think there's mention of a younger sister and things like that in a couple of lines, but just for myself, as an actor, with Lauren, our creator, we sat down and just discussed where Jake comes from. I don't even know if I should go into it because I don't know what's actually going to end up being there. But we have had that conversation about backstory and things like that, so I know where he's coming from and I'm sure the audience will someday too. But, Jake's just a good guy. He knows himself and he's that guy that was probably the leader of his class from first grade on. He's good with people, and he kind of just has an intuition about what people might need at a certain time.
The angles of the love triangle have changed now that Jake and Jenna are together, but I don't entirely believe Jenna when she told Jake that she's not in love with "the other guy" anymore -- especially since Matty was her first love. Is that going to come into play this season?
Absolutely. I think obviously, Matty is her first love and her first in a lot of ways, so it's always hard to get over that. I think Matty will always be around and we'll have to see, maybe he becomes a bit of a saboteur in Jake and Jenna's relationship. I think Matty's own morals and ethics are going to be called into question with his tactics towards that, and that's going to test Jake and Matty's friendship as well. I mean, what would be more awkward than being in high school and having your secret ex being this third wheel to your relationship, you know? So there's definitely a lot of awkward bumps in the road for Jake and Jenna's relationship, but there's ups and downs in every relationship and we just have to see how they work their way through it.
In last week's episode, we saw Matty pull kind of a douche move and declare his love for Jenna even though he knows how much Jake cares about her.
Well, that's the thing. His motives are always kind of questionable. I mean, he said that he loves her, but only after finding out that she loves him, you know? He is always kind of one step behind, isn't he? But we will have to see. He is always kind of tugging at her heart, but Jake's a fighter.
In terms of if or when Matty and Jenna's secret is revealed, what do you think would sting the most -- your best friend keeping that kind of secret, or your girlfriend?
With your best friend, I think it would just be more frustration, like, "Why wouldn't you tell me right away?" And with the girl ... I don't know if it is really Jenna's place to say anything, because she has moved on and we're together and there's really no need to bring him up. It is a little interesting how she always just says "that other guy." She isn't saying who it was. I don't know. I think they're kind of just both at fault. I feel so bad for Jake, because he's such a good guy and he has no idea what's going on. As far as Jake is concerned, he asked Jenna to the dance after breaking up with Lissa and she said "yes" and they kissed, and everything is steady. But there's all this going on behind his back, and I just feel bad for him in a way. They're having all these secret conversations ... Jake hasn't done anything wrong. He had that one impulsive kiss in the hallway, but he had his mea culpa and made up for it. But now there is a lot going on behind back that he doesn't know -- I think it's pretty unfair! [Laughs.] I think his intentions are just so pure. He just likes this girl and he likes her with all of his heart -- as much as you can in high school, you know that puppy love thing -- and he's cruising for a bruising, as they say.
Speaking of Lissa ... she was always kind of a trainwreck in Season 1. Is she still harboring feelings on Jake?
I think it is the same thing for Jenna with Matty. I think Jake and Lissa have been together since they were in the fourth grade, and so it's got to be hard for her. As far as she is concerned too, she never did anything wrong either, so she's kind of left in the dark too, and I think she's always kind of snooping around or trying to look for her window to get back in with Jake. But Greer Grammer, she plays it so well.
And Jenna's also going through a lot at home, thanks to her mom and the carefrontation letter. Does that begin to impact her relationship with Jake at all?
I don't think so. I think that's something that was so hurtful to Jenna that she just doesn't really bring it around her new relationship. But I think if she had the courage to bring it up to Jake, he would be the perfect person to help her through it.
I love that Jake's always been kind of upfront about his insecurities. He actually admitted to Jenna that he was feeling jealous of her last boyfriend, which seems rare for a teenage boy to do. Does he have any other insecurities or weak spots you've been able to explore this season?
I think down the road, for sure. I don't want to give anything away, but I think people have watched the trailer now so the footage is out there; there's definitely a fight coming up between Matty and Jake and so I think those insecurities will come out. I think Jake has insecurities just towards Matty in general. Matty is this buff jock and the sort of Ken doll. [Laughs.] So I think there are always some insecurities there with Jake, and I think those will come bubbling to the surface eventually.
What else can we look forward to in Season 2?
Without giving anything away, I think Season 2 is such an action-packed season. There is so much going on in it and they pack so much into each episode. I think it's really fan-friendly. Any of the questions that fans had from Season 1, they're all going to be answered by the end of Season 2, but that of course is going to open up new storylines and new directions that the show is going to go in. We have a lot of great guest stars coming in and a lot of new love interests for a bunch of different characters. A lot of fun stuff!
"Awkward" airs Thursdays at 10:30 p.m. ET on MTV.
Related
Popular in the Community