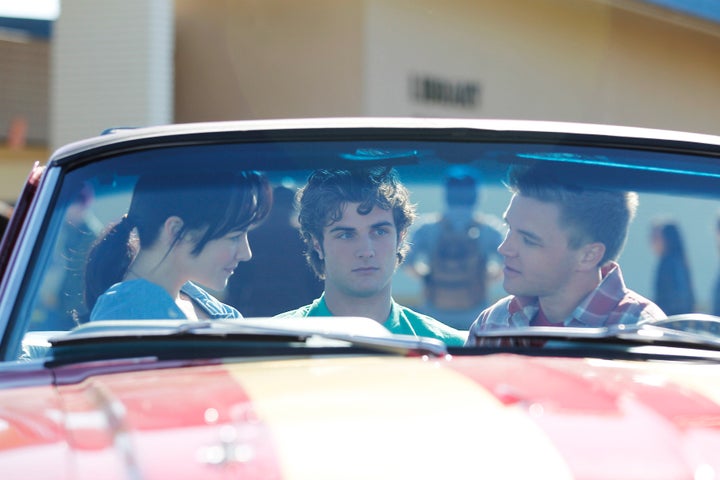 One of the most refreshing things about MTV's "Awkward" (Season 2 premieres Thursday, June 28 at 10:30 p.m. ET) is how it plays around with the rules of romantic comedy but refuses to rigidly follow any of those rules.
In a recent interview, the show's creator, Lauren Iungerich, talked about how most romantic comedies set up a conflict that isn't really a conflict at all -- there's the guy who clearly is wrong for the heroine and the guy who's clearly right for her, if only she'd realize it. Not that this is the only problem with the "terrible" (Iungerich's word) crop of romantic comedies that Hollywood has churned out in the last decade, but as Iungerich noted, there's just never much mystery regarding who the heroine will ultimately end up with.
In the first season of "Awkward" (which ended up on my Top TV of the Year list and is available online), that's not how things played out with Matty and Jake, the two guys romantically linked to high schooler Jenna Hamilton.
"They're both contenders. They're both cool, for different reasons," Iungerich said. "It's not crystal clear" who she should end up with. "There is this visceral connection to Matty, but Jake makes her feel good about who she is. I'm married now, but for many years in my twenties and thirties, I went through everything Jenna's going through. It took me a long time to pick the boy who makes me feel good about myself. My husband's actually a hybrid of both of them."
As Iungerich put it, the show set up Matty (Beau Mirchoff) to be "a little bit of a douchebag, but the truth of the matter is, he doesn't know himself yet. But what was so great was, he was never been dishonest with Jenna." But at the end of Season 1, when Matty arrived at a school dance, Jenna's choice was made: She was with Jake (Brett Davern), who'd been a kind and steady presence throughout the season.
Even though things appear somewhat settled, the show tends to "pull the rug out," as Iungerich said, every time Jenna thinks she's made a final choice -- though not in an overly soapy, overwrought way. One of the best things about "Awkward" is the ways in which it delved into not only Jenna's insecurities, but those of Matty and Jake as well. Both guys have their share of neuroses and fears, and the love triangle is complicated by the fact that Matty and Jake are good friends -- and as Season 2 begins, the likable Jake doesn't know that Matty and Jenna carried on a secret relationship for much of the first season.
That's actually another way in which "Awkward" played with expectations: Rather than have viewers spend a season wondering whether Jenna (Ashley Rickards) would get together with Matty, a handsome and popular jock, we learned in the pilot that they'd had sex at summer camp. But it wasn't just a casual hookup: Jenna really cared about Matty, and he began to have strong feelings for her too, but his hesitation at making their relationship public led Jenna to reconsider and turn to Jake more and more.
Though there's plenty of angst in the triangle (how to tell Jake about their secret past is something Matty and Jenna struggle with in Season 2), it was refreshing that the show has never resorted to the Jake-Good/Matty-Bad paradigm, or any scenario in which one guy was the villain and the other was the nice guy. And that's all part of "Awkward's" ongoing effort to avoid the expected tropes of high school-set comedies.
"People underestimate this genre because they're teenagers," Iungerich said. "We really challenge ourselves [to not do things] the easy way. That's where the conversations begins. For example, I don't like school tropes. We've seen the school election. We've seen studying for the big test. I was like, 'If we're going to do a school event, let's do it differently.'" Hence the Season 1 episode about Jenna's role as Dead Stacy in the school's annual play about the hazards of drunk driving, an installment that was really about Jenna wanting attention and not quite knowing what to do with it when she got it.
Until a co-worker pointed it out, Iungerich didn't even realize that her episodes often contain elements of another genre: At times, they unfold like little mysteries (last season, Jenna got a mean "carefrontation" letter from an anonymous source, and this season, a similar mystery begins to play out in the first episode). It took one of her editors pointing that out before Iungerich noticed the "Murder, She Wrote" elements that were embedded in the show.
"He said, 'All your scripts, they're little thrillers. There are red herrings and twists and turns,'" Iungerich said. "I never thought I was writing that way, but I grew up watching Lifetime movies, which are sort of mysteries and whodunits mixed with romance and adultery. I guess it's just kind of innate in how I write."
As for the new mystery that unfolds in Season 2, it's not quite as crucial as the identity of the carefrontation letter writer, but "it does weave in and out" and it's part of a big "turn" later in the season, Iungerich said. "I do like a good mystery."
There are also some flashbacks this season, and in Season 2, viewers will meet a memorable new character called Becca, the head of the school's powerful Asian clique. But as Iungerich notes, given the large number of cast members and recurring players on the show, "Awkward" won't be adding that many new faces to Jenna's high school, but the writers will be continuing to add texture to her world.
That's already paying off in the depictions of Jenna's mom and her guidance counselor, Valerie, characters who were often a little too cartoonish in Season 1. If I have couple of mild complaints about the first two episodes of the new season -- which were generally fine -- it's that they have less of the razor-sharp, hilarious dialogue that I recall from Season 1, and they're also very Matty- and Jake-centric. It's not that I don't like those characters or that storyline, but it feels as though Jenna's boy problems are almost the only things that occupy her life. We do get to meet Becca and I like the way the fallout regarding the carefrontation letter is dealt with -- and those are among the episodes' high points -- but I look forward to Season 2 expanding Jenna's horizons a bit.
When asked how dominant the love triangle would be this season, Iungerich said it's about far more than Jenna being torn between Jake and Matty.
"How I looked at Season 1, it was 'Who am I?' for all the characters," Iungerich said. "The teenagers, the parents, Valerie. But now people know who Jenna is, and they like her. She's now gone from an underdog to an Everygirl. She's not popular and she has no desire to be popular either. She's just yearning to be validated for who she is, which is always want she wants from her mother.
"So this season, the show is thematically goes from 'Who am I?' to 'Who should I be with?' And that doesn't just relate to her romantic entanglements -- it relates to her friendships, it relates to her family. And actually, all the characters are examining those things in their lives."
And let's get real: Am I Team Matty or Team Jake? The answer to that question is in this week's Talking TV podcast, which is
and embedded below.
Check out "Awkward" Season 2 cast photos here: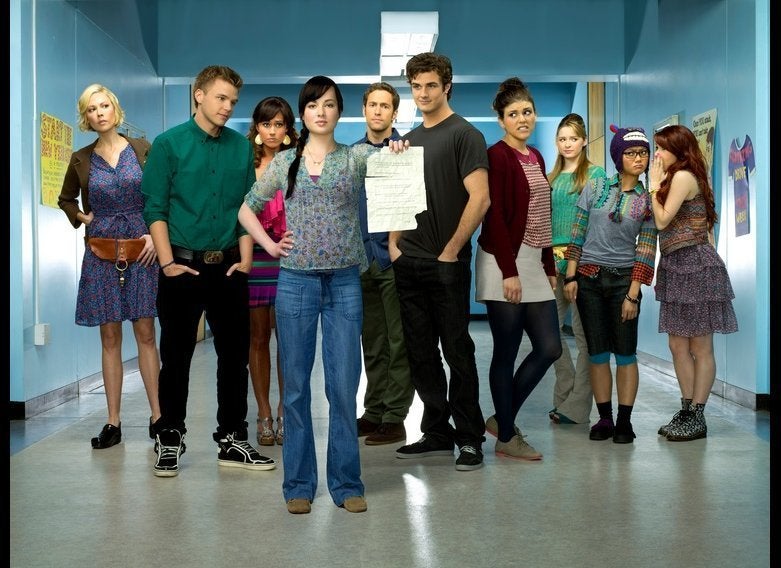 Gallery
Related
Popular in the Community