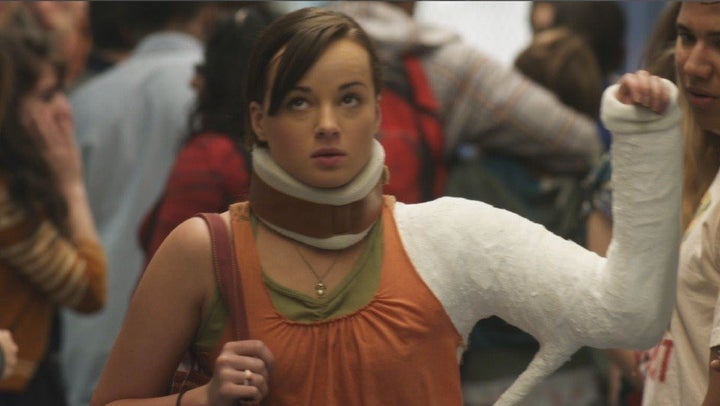 High School. For some, it's the greatest four years of their lives, while for others, it's the worst -- but for the majority of us, it's just high school, four years of good times, bad times and all of the slightly awkward moments in between.
I went through two years of high school with braces (and two years of college, but let's not talk about that), daily breakouts and more fashion transformations than Madonna -- but what made those four years so incredibly awkward was the opposite sex. And I'm sure most of you would agree that relationship drama and high school go together like gyrating moths to a strobe light. It just, well, happens. Yet, in the last few years -- not since the glory days of "My So-Called Life" and "Freaks and Geeks" -- could a show about high school actually capture these awkward moments with sincerity and authenticity. Then came along MTV's "Awkward."
Dare I say it -- it just might be my new favorite comedy.
The high school years of the lead character, Jenna (Ashley Rickards), weren't exactly going along as planned when she had a (somewhat humorous) physical mishap that resulted in the rumor that she'd tried to kill herself. She hadn't, but her unwanted notoriety complicated not just her day-to-day life but her secret romance with the popular guy named Matty (Beau Mirchoff), who she met at summer camp. When things between Jenna and Matty start getting kind of awkward, Matty's best friend, and Class President, Jake (Brett Davern) starts to develop feelings for Jenna -- and so begins the most lovable love-triangle on television.
"Awkward." was the sleeper MTV hit that no one saw coming. In fact, it's currently the network's best scripted show. That, in part, is due to the show's honesty -- a perfect counterbalance to some of MTV's rowdy reality programming. You genuinely want Jenna, with her Seth Cohen–level wit, to succeed.
"When I read the script, I literally fell in love with it," the show's star Ashley Rickards told The Huffington Post. "It struck as something completely different. It has a really unique voice. Not only is the show funny and charming, but it has the ability to cover so many different emotions in 22 minutes -- from the hilarious, to the psychological, to having a dramatic edge all in a 22 minute comedy is an incredibly difficult thing to do. That was exciting for me."
Without a doubt, Jenna's witty voice-overs make this high-school dark comedy stand out from a crowd of stereotypical high school prime-time soaps.
"I think that everyone has their own little voice-over going on in their head, and it's just even more interesting getting into Jenna's head," says Rickards. "She's pretty in control in her real-life, and then her in her voice-overs, she comes off as much more sarcastic and witty, more like her true self. I think that that's something that everyone does. She's really clever, and as the season goes on, she starts to be more of herself in her real-life."
Jenna's smart, yet insecure, and by no means is she the perfect heroine. In fact, in "Awkward.," no one is perfect. Everyone has something to hide, even the loveable goofball Matty, and that's what makes the show seem realistic. Jenna's her own unique 15-year-old heroine -- one that makes mistakes, sometimes fails but always tries again.
"In some ways, she's the hero," says Rickards. "Every time she gets kicked down, she gets back up fighting, and that's really hard for teenagers to do. Sometimes it's easier just to give up or resign. In that sense, Jenna's a real role model."
Meanwhile, Rickards' own high school experience was a far cry from Jenna's, but according to the 19-year-old actress, everyone has their own unique experiences -- so you can forget about the stereotypes.
"I was so focused on my academics as a child, that I didn't fit into any mold," says Rickards, who graduated high school at 15-years-old. "I think people are too complicated to put in molds, which is a really exciting aspect of our show. Even our mean girl is much more than that, and Matty has so much more to him than just the stereotypical jock. Everyone has a weakness, and it's interesting to see how that makes them act toward other people."
Indeed, mean girl Sadie (Molly Tarlov) is definitely not cut from the Regina George mold. Throughout the season, we've seen Sadie battle her own issues with weight and her privileged-yet-pressured home life. Because of her own anger toward her weight, Sadie lashes out at Jenna -- and wants Matty all to herself.
And here's where "Awkward." hits its stride. Real teens struggling with real issues and having real emotions. Nothing seems fake or forced, even the love triangle between Jenna, Matty and Jake, which often has you rooting for both guys to get their dream girl.
But which guy does Rickards want to see Jenna end up with?
"I'm personally team Switzerland," says Rickards. "I can't choose either."
To see who Jenna chooses -- Matty or Jake -- catch the new episode of "Awkward.," airing 11:30 PM ET Tuesday, Sept. 13 on MTV, and to catch up on season one, all episodes that have aired are available here.
Calling all HuffPost superfans!
Sign up for membership to become a founding member and help shape HuffPost's next chapter